Driving Customer Engagement & Energy with Social Listening | Dentsu Dynamo Brand Index
Digital has changed the rules of the game. Once dominant players, who commanded scale, heritage, and share of voice, are now finding themselves faced with digital disruption. For brands today, standing still is not enough. Continuously improving, upping the ante, and employing new forms of creativity are critical.

What steps do companies need to take to move fast, connect relentlessly, and engage constantly?
Dentsu's 2019 Global Dynamo Brand Index (DBI), created in partnership with Digimind, surveyed over 22,000 consumers in 10 countries, including Australia, China, Indonesia, and Japan, to identify the world's Dynamo Brands – brands that stand out with both Energy and Direction, to move quickly and with direction.

In this three-part series, we dive into what makes a Dynamo Brand, and how companies can drive Energy and Direction using social media intelligence.
What is Energy and Why is It Important For Brands?
Dentsu's Dynamo Brand Index defines Energy as a brand's vibrancy and ability to connect with consumers.
Digital connectivity has accelerated the speed at which consumer behavior changes. Take for example the mobile phone: it took 12 years to reach 50 million users, while Pokemon Go, an augmented reality mobile game, took just 18 days to reach the same level of usage.
As new innovations in technology continue disrupting established industries, energy is critical for maintaining and developing brand presence and embracing new consumer trends with the potential to super-charge growth. Constant improvement in creativity is key to thriving in the New Economy.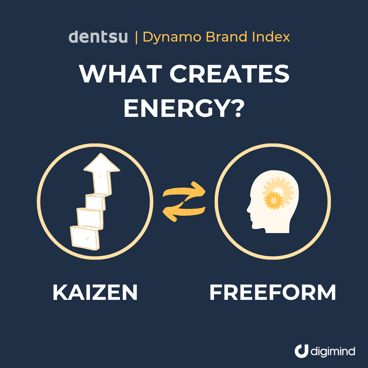 What Creates Energy?
According to the Dynamo Brand Index, Energy is created with two attributes: kaizen and freeform.


Kaizen is the Japanese business philosophy of continual improvement in business. To be successful and relevant, a brand needs to constantly progress and move forward, by upping the ante and employing new kinds of creativity. Even brands that are dominating the industry must stay on their toes – or risk domination.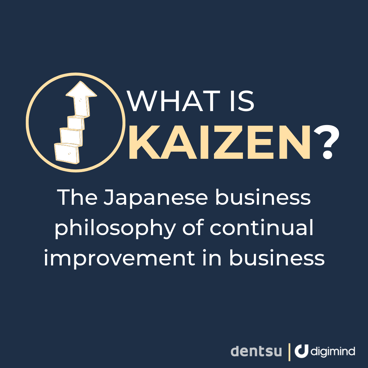 Freeform refers to how much a brand is defined by its value and not form. Having more freeform gives them the ability to evolve, innovate, and offer new things as consumers are more open to accepting a brand philosophy as opposed to merely a product.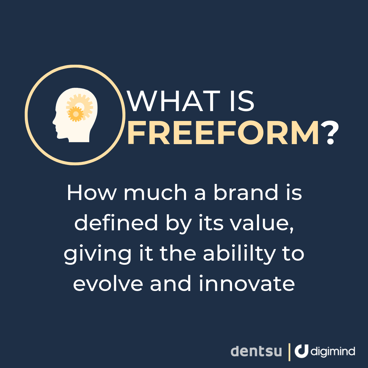 How Swiggy and Nike Create Energy
Swiggy is India's leading online food delivery service. As the antithesis of a static brand, Swiggy's Energy is fuelled by its kaizen. Within the span of one month, the company successfully:
Launched Swiggy stores to offer online retail deliveries
Acquired artificial intelligence (AI) start-up Kint.io
Launched #SwiggyVoiceofHunger, a campaign activated consumers to send a direct message to Swiggy, using the voice message function to create sound waves in the shape of a fish to win a year's worth of free food. As a result, Swiggy's Instagram grew by 30,000 people.
Nike's Colin Kaepernick-fronted campaign, which sparked off much discussion and controversy online, is a perfect example of putting values in practise. Instead of defining itself as a sports company, Nike empowers people to "Just Do It" and stand for what they believe in. As a result, this has empowered the brand to extend its touch to fields like technological solutions, events, and apparel.
How Brands Can Drive Energy and Creativity with Social Media Monitoring
A brand's Energy rests on its ability to constantly innovate and adapt to its customers' changing demands and preferences. Here are three ways you can achieve that by using a social listening tool like Digimind Social to spot opportunities and consumer trends to leverage:
1. Product development: Boost R&D and product development by creating and improving products and features that truly serve customers' needs and wants. By monitoring public discussions about your product, and alternatives, you can:
Understand the current perceptions of existing products in the market
Determine the most valued and sought after features for consumers
Help R&D teams prioritize which features and elements to develop
Bonus: Find out how ASUS develops cutting-edge smartphones based on consumer discussions on social media.
2. Competitive Intelligence: Companies can use social listening to keep abreast of key players and news in their industry and industry verticals. This can help identify new partners to grow their community, as well as outpace competitors. Use social listening to :
Alert you on up and coming brands and developments that are gaining interest among your target audience
Acquisitions, mergers, and campaigns by your competitors
Discover and evaluate key opinion leaders and influencers to collaborate with on campaigns
3. Marketing and communications strategies: The best performing campaigns deliver the right message, to the right people, at the right time. Deliver well-targeted, relevant campaigns by using social media listening to:
Identify which online channels your audience is most active on
Detect key topics of interest among your audience
Optimize campaign performance in real-time
Stay tuned for our next post on how to achieve the second element of a Dynamo Brand – Direction!