The Most Effective (and Ineffective) Channels for Demand Generation
The B2B Channel Effectiveness Quadrant created by online marketing technology comparison firm Software Advice, gives us a high-level snapshot of various B2B demand and lead generation channels- illustrating the relative efficacy of each method based on the cost, quality, and quantity of leads generated.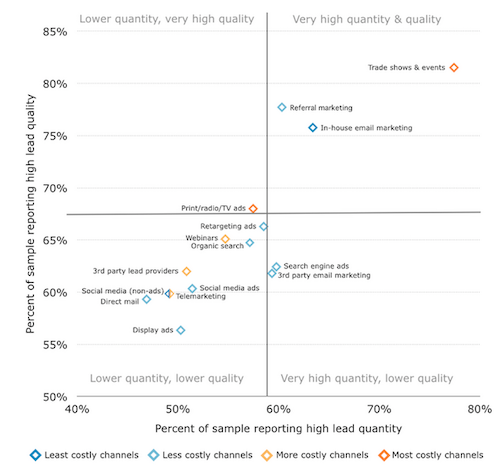 Here are a few main takeaways from the chart:
Trade shows and events generate the highest quantity and quality of leads. However, they are also the most costly of the channels.
While digital channels have largely surpassed traditional media in the last decade alone, print magazines are still very effective in demand generation—bringing in more, higher quantity leads than social media, display, and search.
Display advertising such as banner ads came in last on both lead quantity and quality. Retargeting ads performed better in terms of quality.
Social Media and email marketing generated the lowest cost per lead.
Marketers cite social media, search engine advertising, and trade shows as channels for future investment.
The quadrant offers a great starting point for marketers in understanding how to optimize their efforts in 2015. However, the overall effectiveness of these channels lies in their alignment with business goals. The chart most importantly illustrates a sophisticated and continually expanding range of technologies used for demand generation, making it essential for businesses to rapidly integrate and adopt technology into their marketing processes.
Marketing Manager @digimindci. Passionate about big data & social marketing. Photography, music and hiking lover