Save the date: Digimind participates as a partner at LeWeb 2014
This post is also available in: French

Digimind, the leading provider of social media monitoring and competitive intelligence software, is partnering and participating at LeWeb 2014 conference taking place in Paris from December 9 to 11, 2014.
LeWeb, a major annual event dedicated to digital innovations, is organized by Géraldine and Loïc Le Meur. It took off in 2004 and has been gaining authority among opinion leaders, tech companies, start-ups, world famous brands and journalists who reunite here to share their expertise and explore the latest trends of the digital world.
This year's presentations will be held by representatives from Yahoo!, Google, Facebook, PayPal, Forrester, Evernote, Yandex as well as other industry leaders.
Digimind is pleased to invite you to 2 events:
Digimind will present the latest product updates in Social Media Monitoring and Analytics at Stand K20, Eiffel Building throughout the day on December 9, 10 and 11.
Digimind's Cassandra Krause will speak on the topic "Social Media Listening: How to gain knowledge, not just data" on Wednesday, December 10, at 10h, Pullman building (upper floor).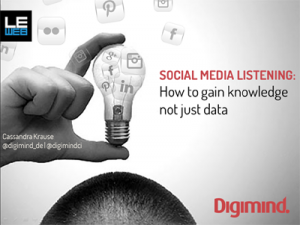 LeWeb 2014 December 9 to 11, 2014
50 avenue du Président Wilson, 93200 La Plaine Saint Denis - Metro Line 12 Aubervilliers Front Populaire
Marketing Manager @digimindci. Passionate about big data & social marketing. Photography, music and hiking lover