Report: Southeast Asia's Top 5 B2C Insurance Brands on Social Media
Insurance is a highly competitive space that operates across multiple products, such as home, life, automotive, health, and travel. On the consumer front, there is a constant need for information to be available, accurate, and simplified - and social media is a vital channel for filling this gap online.
Why Southeast Asia's B2C insurance industry needs to invest in social
According to a September 2016 report by We Are Social, social media usage averages 46% in Southeast Asia, against a global average of 36%. That's practically half the number of potential clients insurance companies can reach and engage!
Social media is an essential touch point in the customer's journey. One where brands can educate customers with up to date information about their policies.
With 19 out of 21 brands studied having a false of unverified account on Facebook and YouTube, it is important to establish an official social media presence to prevent potential avenues of fraud which can damage the brand's online reputation.
Defining social media performance
A good presence on social media is defined by:
Community size: number of fans, followers, subscribers etc.
Interactions: number of Likes, re-tweets, comments, etc.
Publications: number of posts, tweets, videos, etc. on a brand's owned social media pages
Which insurance brands are leading the pack on social?
Curious to find out which insurance brands' investments in social have paid off, we monitored 21 global and regional B2C insurance brands from 12 September to 12 October 2016 using our social media analytics tool, Digimind Social Analytics. Kudos to AIA, AXA, Allianz, Manulife and Prudential!

AIA topped the list in community size, while making the top 5 for interactions and publications.
AXA topped the list in publications, while making the top 5 for community size and interactions.
Allianz made the top 5 for community size and publications.
Manulife also performed consistently in community size, interactions and publications, having made the top 5 under all 3 criteria.
Prudential topped the list for interactions, while making the top 5 for community size.
We'll be back with more stats on Southeast Asia's insurance industry on social media. In the meantime, check out what these brands did to #winwithsocial in our full social report!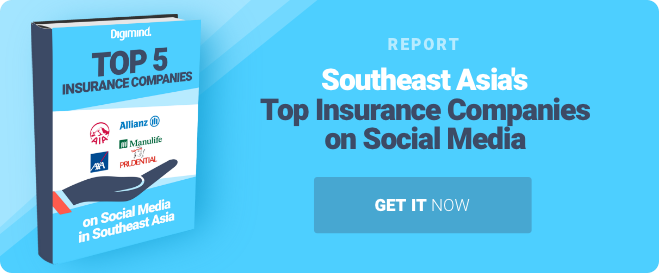 Melissa is a digital advocate who loves diving into the latest trends in digital and social media. Since joining Digimind's marketing team in 2015, she has written studies for over 15 industries in Asia Pacific. When she is not telling stories about data, Melissa can be found exploring her favourite cafes and hangouts on Instagram @chuepachups.