New Influencers Map: Identify and Compare Key Influencers
We're excited to announce the release of a new feature in Digimind Social, the Influencers Map.
This map provides a comprehensive view of key influencers and allows you to compare their level of influence based on their ranking and the number of mentions about your monitored keywords. In one glance, you can easily determine answers to questions such as:
Who is talking about my brand or competitors' brands the most? And on which platforms?
How often are they talking about it?
How big is their audience of listeners?
How do these influencers compare against each other?
This new feature will allow you to easily identify which influencers are most important, and can even help you determine your outreach strategy during key events, product launches, crises, and ongoing brand awareness campaigns. To learn more about how to find the right influencer in any scenario, click here >>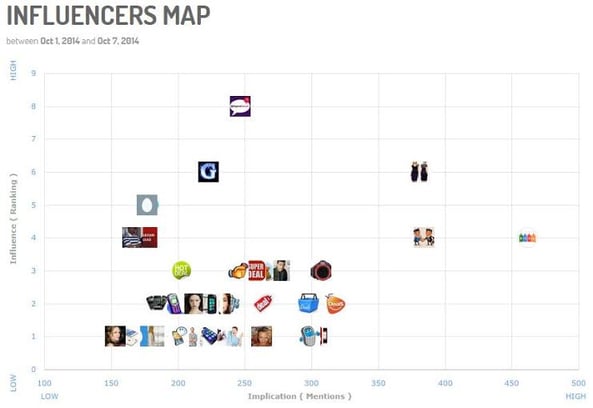 How it Works:
The vertical axis measures the influencer's ranking, which is comprised of a variety of different metrics. To learn more about how Digimind calculates rank, click here >>
The horizontal axis measures how many times they have mentioned the keywords you're monitoring over a selected period of time.
The Influencers Map can be found in the dropdown menu, located in the "Who" tab, within the Listening module.

Stay tuned for more exciting Digimind Social features updates!
Marketing Manager @digimindci. Passionate about big data & social marketing. Photography, music and hiking lover