How Social Listening is Transforming Market Research in 2020
Real-time consumer insights have grown more imperative for companies conducting market research. In fact, 51% of marketing leaders worldwide obtained incisive information through social listening tools during Covid-19. With close to 4 billion active social media users as of July 2020, social media listening can potentially unlock access to a large pool of primary data.
With the economy in a constant state of flux, this has prompted brands and enterprises to respond rapidly to changing consumer behaviors. Market research using traditional methods like survey questionnaires and focus groups may not be well purposed to anticipate opportunities under the new normal, or as swiftly as needed.
With more cause for modern approaches to supplement market research, social media listening's capacity to operate in real time has become a digital solution for businesses. Additionally, social listening can add value by supporting traditional research findings, by providing consumer insights gleaned from social media posts. Through this, you can gain insights at a speed which would not be possible through traditional market research.
Real-Time Consumer Insights Equals Smarter, More Impactful Strategies
For market researchers to provide accurate and compelling analysis to drive business decisions, they have to be able to receive accurate, up-to-date information about what is happening around the business. Interviews and questionnaires that would naturally take weeks or months to conduct, and even longer to process and interpret, could mean missed opportunities for businesses to follow up on. Unlike traditional research methods, social listening technologies like Digimind Social enables you to obtain consumer insights as soon as social mentions are tracked, essentially giving you a more effective time frame to formulate your best strategy.
Real-time visualization of data on Digimind Social
Evaluating Your Brand Health
With millions of consumers taking to social media to share opinions and experiences daily, market research teams have access to a wealth of insights on how customers are taking to their brand and products. You can conduct your research with more certainty based on targeted, pre-defined queries.
The best part of using a social listening platform lies in its ability to collect unfiltered information. Unpromoted social conversations provide a snapshot of a wider, unbiased sample of an audience pool, which suits the needs of a market researcher when trying to acquire a deeper understanding of their audiences' true sentiment towards their brand. With the volume of social data captured, you're able to more accurately prioritize brand strategies in response to ailing customer experiences and mitigate backlash.
Bonus: Check out crisis management tips and strategies in our guide.
Evaluate The Tone, Influence, And Reach Of Social Conversations
It takes a single post on social media to spark hundreds of conversations, and even millions in reach. In the digital arena, social media listening can function as a control tower which enables you to isolate social conversations, determine root issues, monitor overall sentiment, and evaluate the reach of social conversations.
Digimind Social taps on its sentiment algorithm to map out key sentiments and emotions behind social mentions.
When it comes to consumer research, sentiment analysis is second to none in helping you determine the best course of action. With social media a major driver in consumers' purchasing decisions, it's important to identify and mitigate potential obstacles to purchase, including those that have not surfaced previously.
Don't ignore forums, blogs, and review sites in your monitoring projects, as these can give your stakeholders and yourself a more holistic picture of the brand health.
Refining Your Data Collection Through Filters
Where millions of social conversations are being gathered and analyzed, it's inevitable to encounter a few irrelevant posts, or "noise" as we would call it, along the way. For this it's possible to add filters in your queries to sieve out these unwanted conversations.
Digimind Social provides data visualization on key metrics before conducting analysis
On top of that, it's important to avoid data overload by focusing on key insights pertaining to your immediate analysis. Here are a few tips you can apply to your social listening project!
Refine data sources to include only selected media


Leverage geo-targeting filters to focus on research specific to whichever country you're monitoring


Profile ranking is important if your research necessitates analyzing the amount of reach from profiles discussing your brand or monitored entity. For example, if you want to observe conversations by people with a higher amount of clout, and gauge the impact of these far-reaching mentions, you may want to set your collection to only consider mentions from profiles that are ranked between 7 - 10. You should also note that the ranking of each poster is calculated relative to other posters whose mentions have been collected by your social listening platform.
There are more use cases for market research in social listening that would help map out your consumers' social ethnography. By analyzing social conversations, you can pull out qualitative data that corresponds directly with your consumers' lifestyle, interests, and activities. Gathering information this way allows you to interpret trends pertaining to their needs and preferences easily, providing your stakeholders with insights to make data-informed decisions.
Tapping Into The Past Via Historical Social Insights
With myriads of research tools available, none can quite churn out the volume and frequency of real-time data that social listening softwares can. On top of collecting social mentions about monitored topics and entities, it is also imperative to contextualise this data against a bigger picture, i.e. a longer time period leading up to the start of your marketing campaign or monitoring project.
When conducting market research, it helps to not just consider data going forward, but also the background of your monitored entity. Looking into historical data can give you access to an incredible amount of consumer data that is equally critical to your research. Tools like Digimind Historical Search can put within your reach up to 24 months' worth of past data, providing that needed accessibility for a longitudinal analysis into consumer behavior.
Digimind's Historical Search function monitored keywords related to the advertising campaign
featuring Colin Kaepernick vs the #boycottNike movement.
Let's take a page out of the Colin Kaepernick x Nike book and retrospectively assess the impact of social conversations surrounding the brand. At the time in 2018, Nike sparked a huge PR crisis following their stance in backing the American footballer, resulting in a #boycottNike movement.. We used Digimind Historical Search to compile a chart that shows the number of social mentions directed at the parties involved.
Public discussions associating Nike with Kaepernick peaked at over two million mentions on September 4th, a day after the launch of the campaign, reaching a whooping 17 million by the end of the week. In comparison, the boycott generated only 237,000 mentions – which proved it was significantly less rallied for by internauts. To put these figures into perspective, historical data showed that prior to the debacle from 2016 to 2018, Nike generated an average two million mentions per month.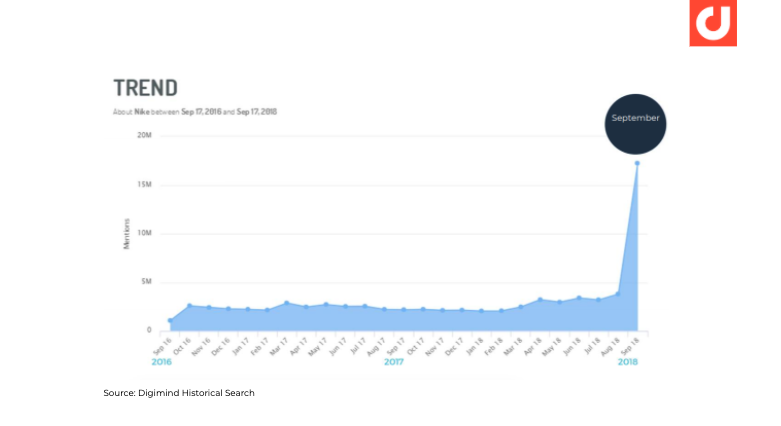 Nike's monthly average of over two million social mentions from 2016 to 2018.
When it comes to true brand impact, the boycott movement received far less traction on social media–almost ten times fewer–when compared against the brand in terms of volume. Furthermore, judging by the rousing support for the footballer, Nike's Kaepernick-fronted campaign was more monumental for their brand reputation than a blip news media claimed.
Let's start looking at how you can draw on historical insights to aid your market research projects! Our newest guide on "Social Listening for Market Research" offers you pro tips and proven case studies.
Providing Augmented Value As A Consumer Insights Analyst
One of the less talked about components of consumer insights is less to do with the data itself, but the analyst behind the insights. A competent consumer insight analyst is an asset to your research arsenal that serves to make meaningful interpretations about big data and identify observable patterns to formulate consumer-centric strategies.
If your research already includes a social listening platform, including an insights report in your package means that you have access to a professional dedicated to capture and interpret customer data, manage data collection, and most importantly, provide expert advice on transforming data into actionable business strategies. In-house consumer insights analysts should also communicate the needs of the project, and work closely with the social insights analyst to refine data collected, and combine it with other data sources to get a fuller picture.
With these aggregated reports in hand, you may be better tasked at communicating big picture solutions with relevant stakeholders and decision-makers. They can then funnel insights back to the relevant functions to inform business decisions in a timely way.
Enhance Your Market Research Arsenal
Although we cannot rule out the importance and value of traditional research methods, social listening competes on a level that places far more emphasis on cost-saving and resource optimization, in areas where traditional research may lack in flexibility and experimentation. If both approaches are available, make social listening part of normal data gathering practices so that insights gained continue to help you achieve business objectives over time.
In a period as critical as this, organizations and brands must remain agile in responding to changes in consumer behavior. Whether it is planning a new product line, or developing innovative advertising content, it would behove you to prioritize projects that are in tandem with your audiences' interests.
If you're in the business of making impact with consumer-led research, discover successful cases studies that Digimind had worked on by downloading our guide on 'Social Listening for Market Research'.
Jared is a member of the APAC marketing team at Digimind. Besides hashing insights into content, he loves a good ol' sit-down of board gaming and film rhetoric. Catch him diving in other shenanigans on Instagram @jarrds