3 Definitive Ways Banks Can Leverage Social Media to Enhance Their Business Power
The integration of social media in everyday life has simply become the norm, but just a few years ago we would never have associated it with the more traditional banking and financial services industry. It has now become a fast growing tool for banks to maximize the quality of customer service, create 24-hour banking services and is also playing a part on how banks judge whether you can get a loan. Let's explore the ways banks can tap into this tool to achieve a much greater impact.
Shape financial services through targeting specific communities
45% of banks customers visit their branch less than 5 times per year. Of course, banking is a necessity and customers are still making transactions and checking their balance despite this low rate of in-branch activity. So how are they doing this? Simple, they're doing it online. What may be a surprising statistic is that whilst the young demographic (18-29) has been coined the social media generation, with 89% already using the available platforms, it is the over 65s with 43% on social media who are the fastest growing online users.
For banking, this means they need to be bringing their services to their customers both online and via social media, improving their customer response behavior and learning how consumer interaction online can bring about service updates across the whole business' operating systems, from opening accounts, to online transactions. The average US citizen spends 103 minutes in front of a computer, 151 minutes on smartphones and 43 minutes on a tablet (BGR) every day. 24% of the time spent on phones is surfing the web, with app use closely following behind (MobileStatistics). So with all this time spent online, banks must understand how they use this weapon to transform their business future, retain customers and produce financial tools that people really want. Take Barclaycard US as an example: they introduced 'Ring', a targeted online community across several online networks (@BarclaycardRing) where consumer discussions can shape the bank's credit card services. The bottom-line benefits really worked, increasing retention, reducing customer complaints and made for compelling customer offers. Learning from consumers through social cannot be understated and engaging specific communities will offer a more in-depth and tailored response compared to only general feedback techniques.
Reduce costs and adapt business functions through CRM
Most banks have an established network on social media but are still managing how they can balance online services, legal issues, and subjectivity to reputational and operational risk. The industry has shifted from a customer service orientated approach (point-of-sale displays, face-to-face interactions) to a customer engagement approach, making this interaction more of a 2-way interaction. By adapting 'The social media framework' (Deloitte) to fit the overall global strategies and line-of-business, banks can use social media to this effect and to really sharpen up their understanding about what consumers feel about their products, how, precisely, they interact with them and their consumer's behavior.
If banks are good at identifying, extracting and analyzing this information: listening to they way their clients connect and engage with them, their services and products on social, the more insightful their data will be for decision-based strategies. These huge financial institutions can gleam where money might be being wasted, or could be better used to make more profit and can ultimately impact the entire organisational ecosystem by listening to customers in this way. This does not mean scrapping the historical reporting and traditional intelligence systems, but making them work seamlessly alongside social analytics tools to provide more invaluable data insights and shape strategic and effective budgeting. The consumer voice is becoming stronger to the point where it can affect the price of shares or even send banks into receivership, such as Chase Bank in April 2016 (Quartz)
Here are just some of the potential benefits for banks using Social Analytics: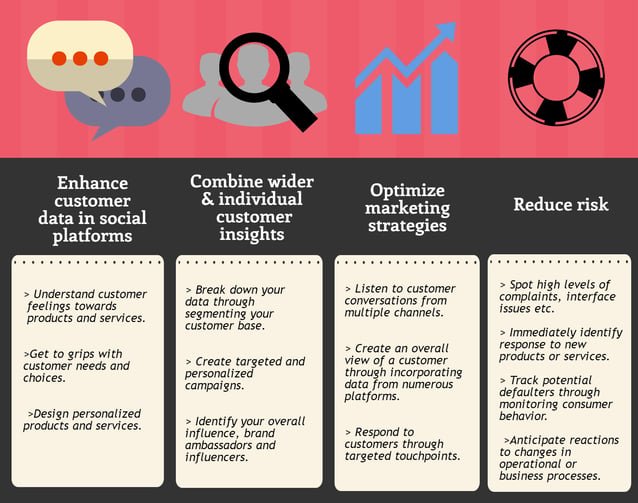 Improve Transparency
A lot of the nitty gritty details about regulation, cross-border communication are not always necessarily heavily publicised to customers. Using social media, in particular, video, but also by planning in marketing content to platforms to explain some of the key intricacies of banking operations and regulations is a great, simple and a visual way to engage your clientele.
Some of the best bank projects and ads have been shared over and over and have increased positive brand awareness.
Check out some sterling examples below by clicking on the videos:
A spokesperson from FNBO said: "Banks could potentially miss opportunities to mitigate risk ... by choosing not to participate in social media," "As a result, we recognize the value of a controlled and closely managed approach to social media as one of the many ways that we can be transparent with our customers and prospects."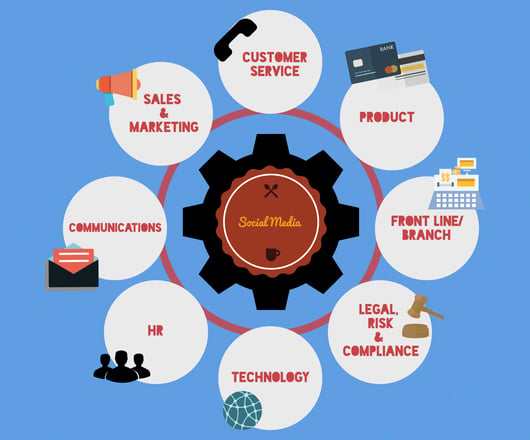 Deloitte's report focuses on the ways social media impacts every bank department, so here are the key takeaways for each:
Sales & Marketing




Provide new opportunities and ways to engage with customers, through forum outreach, identifying key themes from customer comments and leveraging promotions through consumer networks

Customer Service




New line of communication for use and monitoring, customer complaints and engagements

Product


Get real reviews and customer perspectives on your products, whilst being innovative to unmet needs

Front Line/Branch


A larger presence means a greater impact on the bank's brand image, here you can get branch-specific reviews and learn how to resolve issues on the branch floor.

Legal, Risk & Compliance




Align policies and regulatory law with your social media planning and exposure, for maximum reach and minimal reputational damage

Technology


Implement new infrastructures, but learn more to develop old infrastructures simultaneously. Focus on an open-source approach, whilst integrating across all social channels.

HR


Train employees for vast social communication reach, engagement and retention of younger talent for new skillsets

Communications


Clear communication on how to start conversations broadcast messages; transparency among employees on best practices.
Being human on social media doesn't just mean brands need to create engaging and interactive content, but also know how to respond appropriately through these mediums. TD Bank is on top of the game when it comes to social response. They have been able to diffuse negative comments on their platforms, whilst synchronously responding to positive messages and thanking their customers, building social relationships throughout their social media. Their average response time for Facebook is an hour and 15 minutes and around 46 minutes for Twitter, topping the 90 minute average for banks (American Banker).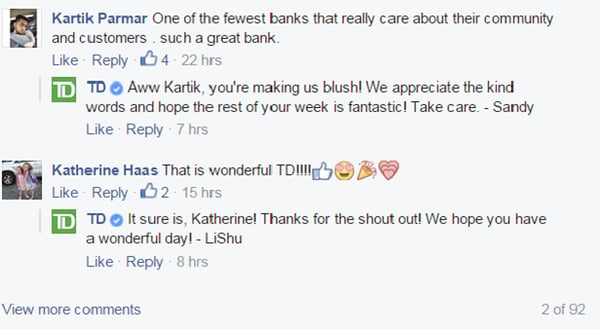 Overall, it is clear that banks have slowly started to shift towards a 'customer engagement' and 'human to human' approach, moving away from a purely sales based approach, but there is still so much to be learnt from Banks interacting with Social Media. The key takeaway is that the process is combined throughout the business cycle and needs constant review depending on consumer behaviour, engagement with the financial institutions and the bank objectives themselves. If banks can understand their consumers from a human level perspective and are able to adapt this into their strategies, they are well on their way to leveraging Social Media in a way that drives profit and business power.

Marketing Manager @digimindci. Passionate about big data & social marketing. Photography, music and hiking lover