Facebook Reactions : why collecting emotions is a marketing essential
On February 24, Facebook introduced us to some new emoticons - Facebook Reactions! These allow their users, you and me alike, to respond to timeline posts via a range of feelings; these have now been extended further to include 6 emotions: Like, Love, Haha, Wow, Sad and Angry.
But why Facebook Reactions?
Because a Like is no longer enough
Facebook has extended its spectrum of emotion buttons; for a long time the single Like button has been rather limiting and users have long been asking for a 'Dislike' button to match it. However, Facebook has thus far held back on this idea to avoid outbursts or an upsurge in hatred, already too common on social networks without introducing a button to do the job. Facebook's Product Design Manager, Geoff Teehan on Medium summarizes: "Not everything that is shared is meant to be liked. The death of your friend's dog or a post about an unreputable politician will not arouse only one emotion for online users, so why should we be limited to only 'Like'?.
Feelings on Facebook become outdated, just as they do on the web
A study conducted by Facebook in the Summer of 2015 found that of the users wanting to express their enjoyment over Facebook, 50% preferred "haha", with 34% preferring to use emojis, and "hehe" representing a more subtle 13%. The famous Lol (Laughing Out Loud), characteristic of online users in the 2000s, now seems rather outdated at just 1.9%.
Because you will be hooked and you are the data
With around 160 million users in the US alone and 1.59 billion worldwide, Facebook will thus strengthen its gigantic database of online user emotions.
The challenge for Facebook, beyond collecting your data, is above all to keep you captivated: the more opportunities there are for engagement, the more potential there is for you to interact with content and spend even more time on your wall.
Even more so with the new "Reactions" which will impact Facebook's algorithm in the same way as 'Like' to display news on your wall; you'll see even more of what you like or what you love to hate.
And for brand pages, it is also potentially more qualitative engagement.
Why should brands have an interest?
To better understand, test, detect and engage more with their consumers
More clicks, less comments? If we think that a wider range of available emotions is going to qualitatively enrich engagement and thus proposed content (Will Wow or Love push brands to race for quality over Likes?), it is also possible that this will have an adverse effect by reducing the amount of comments as users can now simply click to express emotions in a more nuanced way.
and quantitative
With that in mind and with this enriched palette of emotions, there is certainly a higher volume of engagement that brands will have at their finger tips; allowing previously unheard online users who felt the 'Like' was not always an appropriate tool, to easily convey their feelings.

The sentiment basics
Sentiment analysis on the social web (positive, negative, neutral) from earned media (online user and media conversations) is already commonly used by agencies and businesses providing many valuable insights: let alone when this data is crossed with socio-demographic and goods or services criteria (eg the after-sales perception within the 25-35 year age bracket in cities with over 100,000 inhabitants is predominantly positive on Facebook ...).
Thus far, engagement metrics analysis for your own company accounts (owned media) was to analyze interaction data solely limited to shares, views, comments and Likes in terms of social emotions.
The addition of these 5 new Facebook reactions extends the detail to which brands can analyze possible feelings and interests, through this type of engagement, firstly to see if it's genuine and secondly, if it's relative.
Welcoming Facebook Reactions
If the reactions of brands and agencies in the first "polls" are anything to go by, Internet users seem to like the new Facebook emotions. Logical insofar that the frustration caused by the limitations of the Like button on the largest public network are a thing of the past. A survey by YouGov showed that 66% of US users like the new Reactions buttons.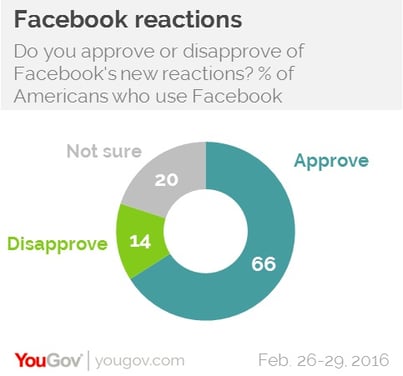 Brands and agencies have themselves started to undertake newsjacking, and have upped their creativity game to provide context for the new emotions.

What about combining Facebook Reactions with other data?
Digital data...
If the user is happy, marketers foresee, depending on the Facebook API capabilities, new roads ahead to analyze behavior on a big scale. The data of social network users is already heavily exploited by brands or marketing services on Facebook, Twitter and Instagram: not just through engagement data (Insights), but also through your browsing and publication habits which reveal your daily and weekly behavior: It is therefore easy to know at what time, tweeters of a particular age group, eat and go to sleep.
For Facebook, their user's data is even more voluminous over its various products, including Messenger. It is this which shows freedom in the ability for a single individual to reveal experiences and spy on his "friend's" instant messaging lifestyle.
…in addition to all your other data
Make no mistake. These new emotions act as an 'additional' data ressource for analysis. They themselves will not bring meaning and value to your social media marketing if considered in isolation.
Is it strategic data? To answer this question, ask yourself if your final Facebook Page figure objectives are a 25% increase in Likes or a 15% decrease in Angry responses?.
There is little chance of this. Eventually, this data accounted for within the core of your Social Media KPIs will not be objectified.
You will certainly have to track more objectives related to the overall engagement: response rate - good or bad and average tone of comments. If measuring Likes did not provide sense compared to the Shares of the same content on Facebook, measuring a Wouah may provide an additional insight if it reflects a reaction to a new ad campaign for example.
Additionally, collecting some new Facebook emotions may allow us to survey a certain category of online users about a product, video, or visual.
But this is not enough. Sentiment and Facebook Reactions analysis is only viable when combined with social, demographic, geographical and product criteria. Alone, you will get relevant data to analyze some of your communities and therefore remain connected, but it will be insufficient in itself in order to better know your customers.
The 5 new emotions add a string to the bow of online social survey tools (like Twitter polls); seemingly unrepresentative as solely related to active Facebook users of a particular audience, but indicative of trends, through face to face like expression on a new product / service.
An interesting initial measure for publicity and content.
If these Facebook Reactions can put a stop to the simplistic race for Likes and spur on the production of more qualitative content with a more measurable impact, then their use parituclarly concerns:
–measuring the customer satisfaction of a campaign
–providing a precise tool to help for content marketers to answer this question: is the proposed content in line with my audience for optimal resonance?
Examples :
–test what content generates the most Wouah 😉: so far, the only measure had been the quantity shares or Likes. Prioritizing your posts - especially in terms of expressed feelings might be interesting.
– detect your brand ambassadors. If used wisely and over several months, "love" can detect true ambassadors, authentic love and personal connoisseurs for your products.
Be careful of irony 😉
Understand the emotions that promote sharing and virality
The two most powerful engines that drive shares, and ultimately virality, are the psychological responses (how the material affects us) and the social motivation (why we want to share it). This is according to the study conducted by Unruly, based on roughly 430 billion video views and 100,000 pieces of consumer data. The greater the intensity of emotion aroused by the content, the more people share.
It would be interesting, in the mid-term, to cross Facebook emotions with sharing data: are we sharing only what we love, or do we also share what we hate? Some studies already have the answer, but it would be interesting to see if this is shown in the social web data:
A study by Jonah Berger, author of "Contagious: Why Things Catch On" found that the content that triggered an angry reaction among readers is 34% more likely to be on the New York Times "most shared items" page, while messages that make online users anxious users are at 21% (Source Hubspot).
Keep in mind that these Reactions constitute a measure among others, and are not an end in themselves: the use of these buttons is the result of a whole process that makes up the journey and face to face customer experience of your brand (brand awareness, issue resolving, vibrant communities). The path that leads to that final "Wow", "Love" or "Angry" on your Facebook page, comes from whether customer experience has been an upstream success or failure.
It is these metrics from the Social Media Marketing funnel (share of voice, customer acquisition, community growth) that must first of all be analyzed and then complimented, with the soul of social which are Facebook Reactions. This will hopefully give way to a more segmented, enhanced and efficient sentiment analysis.
Interested by sentiment analysis on the Social Web? Get your demo with Digimind Social!
Marketing Manager @digimindci. Passionate about big data & social marketing. Photography, music and hiking lover