The Forrester Wave: Social Listening Platforms, Q4 2020 Report
There is much to be proud of, considering current economic climate, with this year's Digimind placement of Strong Performer in The Forrester Wave: Social Listening Platforms, Q4 2020.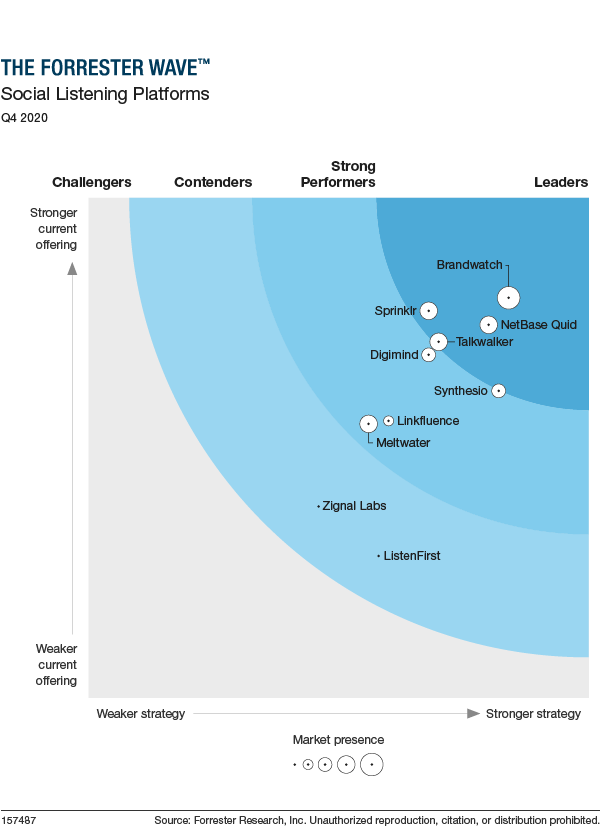 In an evaluation of Social Listening Platforms, Forrester identified the 10-most significant providers and evaluated them based on a 36-point criteria, including current offering, strategy, and market presence. In 2020, a Forrester's customer survey found that 59% of respondents incorporated social data into market research data sets, 57% into voice of the customer (VoC) data, and 48% into audience segmentation.
As the needs for Social Listening expand across a variety of functions beyond marketing and consumer research in the enterprises, decision makers are seeking technology solutions that incorporate a broad range of consumer intelligence sources beyond social media.
"The COVID-19 pandemic accelerated the need for digital transformation and robust data gathering. As a result, companies are more incentivized to act on data acquired from social media as a secondary source of real-time information that complements typical market research channels like customer surveys and focus groups. At the same time, data does not exist in isolation. It's important to be able to combine and visualize different sources to paint a holistic view of consumer and market data." says Paul Vivant, Co-Founder and CEO of Digimind.
Digimind's "5Ws" (What-When-Where-Who-How) Framework Organizes Data Differently
The report claimed "On the tech front, its 5Ws layout sets it apart, and new accessibility between disparate core listening platform, Historical Search, Audiences, and Influencers products is helpful." In addition, Social Listening Platforms strongly rely upon their robust capabilities of collecting and analyzing huge amounts of data. The report revealed that Digimind's platform provides "a choose-your-adventure onboarding process and easy-to-follow pricing model."
Offers Several Interesting Features Unique To Its Field
One of the more standout aspects of the report was their focus on Digimind's varied suite of tools that set it apart from its competitors. It specified that the platform provides "a news feed to surface related trends and action items, transferring social media mentions to outside CRM databases or customer service workflows, and graying out social usernames for GDPR compliance."
A Comprehensive Integration Effort Across Regions & Agencies
Lastly, the report stated that Digimind "focuses on international growth within Europe, Southeast Asia, and the Americas as well as diversifying integrations, most notably with social suite Socialbakers, workflow automation integrator Zapier, and agency Havas." It's always been vitally important to us to diversify our product's applicability across multiple integrators, and ensuring a platform for clients that's ultimately "a robust option."
"Digimind is proud to be named a Strong Performer in the The Forrester Wave™: Social Listening Platforms, Q4 2020 Report and we're honored by this recognition, in addition to being named a Leader in The Forrester New Wave™: Market and Competitive Intelligence Platforms, Q4 2019. This unique position in both markets speaks to our commitment and ability to empower enterprises to understand the world as it is through social, market, and competitive intelligence." says Paul Vivant, Co-Founder and CEO of Digimind.
Want to learn more about why Forrester named Digimind a Strong Performer among Social Listening Platforms? Download a complimentary copy of The Forrester Wave: Social Listening Platforms, Q4 2020.
Aurelien is the CMO of Digimind. A software engineer at heart, and marketer by adoption, he was previously a competitive intelligence professional and social media manager. When he's not in the office or travelling for work, you can find him spending family time with his two young boys, or simply enjoying a nice meal with friends and fine wine.