Digimind Named a Leader in the Forrester New Wave™: Market and Competitive Intelligence Platform, Q4 2019 Report
We are honoured to announce that Digimind has been named a Leader in The Forrester New Wave™: Market And Competitive Intelligence Platforms, Q4 2019.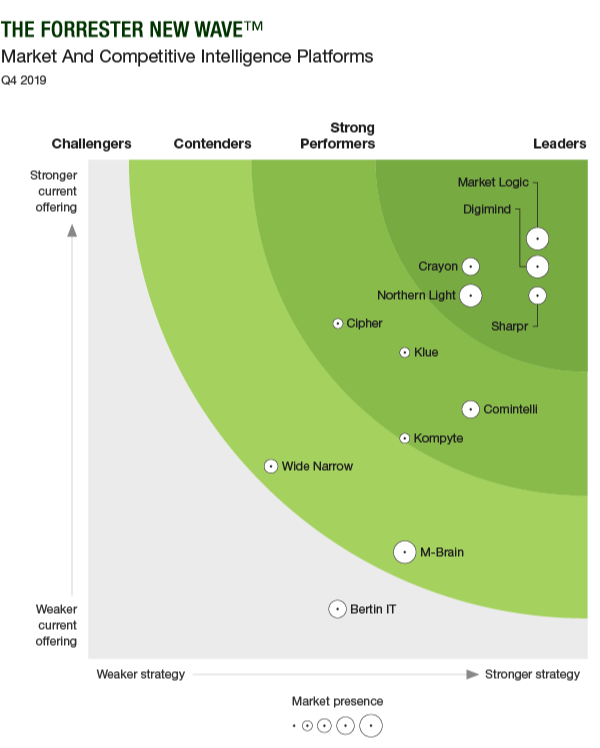 An evaluation of the emerging market for Market and Competitive Intelligence (M&CI) platforms, Forrester identified the 12 most significant providers and evaluated them based on 10 criteria including product vision, product roadmap, and market approach, 8 of which Digimind received a differentiated rating.
Having been in the field of M&CI for more than two decades, we've seen first-hand how technological advances such as Artificial Intelligence (AI) and Machine Learning (ML) enable organizations to better gather and process information. On top of that, improved collaboration tools have transformed the competitive intelligence process. Businesses employing these technologies are able to harness weak signals and market trends to identify risks and opportunities and drive competitive strategy, resulting in a multiverse of market opportunities.
In 2019, 57% of data and analytics technology decision makers reported their firms are implementing and expanding the use of M&CI technology[1]. M&CI needs are therefore permeating multiple functions in the enterprise from customer insights and market research to sales, product, and business strategies. Given this, decision makers favor market intelligence software solutions that have the ability to span a large scope of capabilities, and vendors that can support global deployments, two qualities we have worked tirelessly to perfect through the past decades.
Robust Data Collection Scope and AI-Enabled Search
The heart of a M&CI platform is in its ability to capture, organize, and share relevant data. The report stated that Digimind's platform provides "news, blog, forum, website, and robust social data OOTB plus options to purchase third-party and industry data". It also mentioned that Digimind's AI Sense "learns quickly from user activity to enrich search setup and results and to classify information based on user interest".
Powerful in Delivering Insights, Yet Easy to Use
The report also states that customers appreciate the ability to customize the work (such as newsletters) themselves, versus requiring Digimind's help." One customer reference states "The user interface is easy and clear. Users can read information in their preferred language". Furthermore the report noted that "Digimind's multilanguage capabilities are robust: processing in 80 languages, and sentiment analysis in 61".
Seamless third-party integrations for a collective intelligence hive
The report also notes Digimind's "OOTB integrations are available for Qlik, Salesforce, SharePoint, Tableau, and Yammer". We strongly believe that data must never exist in silos. With this basic tenet in mind, Digimind Marketplace was developed to allow users to capture and share information from with 25+ third-party databases and business applications, enabling a hive of collective intelligence.
Want to learn more about why Forrester named Digimind a leader in Market & Competitive Intelligence Platforms? Download a complimentary copy of the full report here.
[1] Base: 2,154 global data and analytics technology decision makers. Source: Forrester Analytics Global Business Technographics® Data And Analytics Survey, 2019.
Aurelien is the CMO of Digimind. A software engineer at heart, and marketer by adoption, he was previously a competitive intelligence professional and social media manager. When he's not in the office or travelling for work, you can find him spending family time with his two young boys, or simply enjoying a nice meal with friends and fine wine.