Get the Best Social Listening and Engagement with the Digimind App for Hootsuite
We are thrilled to announce our partnership and integration with Hootsuite, the world's most widely used social relationship platform. Digimind's powerful social media listening platform now integrates with Hootsuite's engagement interface, offering users an all-in-one suite to manage their social media workflows from start to finish.
https://www.youtube.com/watch?v=iwJrDobY_KY
The comprehensive social listening, analytics and engagement tool enables brands worldwide to instantly understand their online presence and competitive standing, and to use these insights to drive informed business decisions and strategies as well as to play an active role in online conversations. Hootsuite Pro and Enterprise users can now work with the data from their Digimind Social subscription via the free app:
http://appdirectory.hootsuite.com/171/digimind
"Organisations have everything to gain from listening to, and engaging with, their online audiences. By understanding key social data, businesses are poised to sell more and increase customer satisfaction," says Kevin O'Brien, Hootsuite's vice president of partners. "Our integration with Digimind ensures that users have access to a set of sophisticated social analytics and engagement tools that will keep them in tune with online data that is most relevant to their needs, whether for sales, marketing or customer support."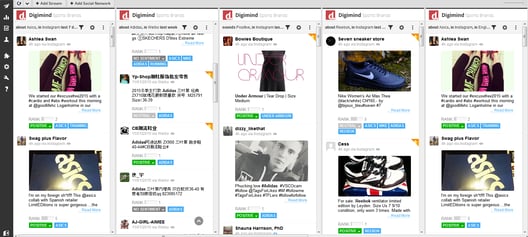 Key application areas:
Social media managers uncover what social media users are saying about their brand, then respond by publishing content to multiple channels.
Marketing managers track campaigns and compare performance against competitors.
Customer service representatives monitor trends and customer sentiment to quickly recognize emerging product and service issues.
Key integration benefits:
Brand and competitor monitoring across more than 850 million sources, including news, blogs, forums, video and the most impactful social networks
Utilize Digimind's 15 filters to break down the data by criteria such as language, country, ranking, and more within the Hootsuite interface
Time saved by reading mentions more effectively with Digimind's clustering algorithm that gathers similar mentions and automatically marks viewed mentions
Engage with customers worldwide with more than 60 languages supported
Bring relevant sentiment to the forefront to inform social content and planning
Proactively resolve customer service issues and quickly capitalize on engagement opportunities
It is very exciting to be able to offer our customers a high quality engagement tool to round out the state-of-the-art listening and analytics modules Digimind offers. To find out more, click here to book a demo with our social intelligence experts!
Marketing Manager @digimindci. Passionate about big data & social marketing. Photography, music and hiking lover