Definition🎁: "Social Data" - Digital Marketing Advent Calendar
It's the last weekend before Christmas! We're just excited as you are counting down. This Sunday, Digimind's Director of Web Analysis, Sarah Maachi, shares her definition of Social Data.
🎈 What is "Social Data"?
The term "social data" is one that every communicator and marketing professional should be aware of.
The "social" aspect refers to social media networks, where netizens exchange opinions and discuss experiences.
The "data" aspect refers to he raw data gathered from these networks. Such data is useful or even necessary for companies to decrypt and assimilate across departments, in order to make the right decisions.
Therefore, "social data" is the set of data collected on these social networks, resulting from the activity and voices of netizens.
🔎 Documenting the customer's journey with social data
Studying data gathered from social media networks can help businesses boost their knowledge of the customer's journey.
Twitter, Facebook, Instagram, YouTube, forums, and other channels are key media in understanding the needs of customers at different stages of the journey. Stages like "interest", "research", "validation", and "decision making" can be documented and enriched by data gathered from conversations and opinions expressed on public platforms.
🔎 How to leverage social data?
Imagine a father who wants to buy a bike for his daughter. He carries out his research on a search engine and consults the various ranges of bikes offered by retailers. He is particularly interested in the opinions left by the netizens. These reviews allow him to form an opinion but will raise a set of questions, which he posts on his personal social media networks or on forums.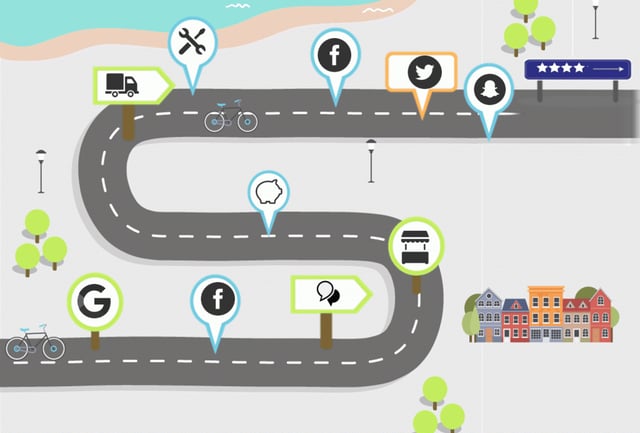 Thanks to the data collected on these conversation spaces, the company is able to analyse not only the specific questions of the buyer, but also the places of conversations between Internet users, the networked organization of bike enthusiasts, etc. What is interesting here is that the company can specify each stage of the customer journey and provide concrete answers to the buyer to accompany him in his decision.
The animation of the different digital contact points of the brand will be essential to guide the customer and maintain a link, to be present in his mind. Thus the brand can create content specific to each type of questioning in order to provide answers to customers. Analysing the performance of the company's social accounts will also be essential in determining whether messages are seen and useful and appreciated by clients. The analysis of the performance of social networks is also done thanks to social data. Because the actions of social media users, such as likes, shares, clicks, and comments are of the data resulting from an activity on the social networks. This data is valuable for any brand that wishes to evaluate itself and establish a true link with its customers.
We're a few more days away from Christmas! Enter your email address to have the full Digital Marketing Advent Calendar delivered to you for free.
FREE EBOOK
Marketing influencers are sharing their 2017 industry insights this holiday season
Melissa is a digital advocate who loves diving into the latest trends in digital and social media. Since joining Digimind's marketing team in 2015, she has written studies for over 15 industries in Asia Pacific. When she is not telling stories about data, Melissa can be found exploring her favourite cafes and hangouts on Instagram @chuepachups.