Your Dream Insights Assistant is ChatGPT Powered
ChatGPT was earmarked as a breakthrough piece of software since its inception, but at the turn of 2023, it has now become the world's most popular application, reaching 100 million users within two months after launching.
Digimind Social users will now find the ChatGPT technology integrated into their dedicated social listening platform, helping to strengthen and assist professionals in their insights gathering.
Previously, we introduced to you the innovations linked to artificial intelligence that enhance social media listening and simplify the work for marketing and digital professionals.
Artificial intelligence is, in the eyes of experts in monitoring, social listening, and market intelligence, the technology that will have the most impact, particularly in the context of productivity." In 2018, an article by McKinsey & Co. wrote that "automation and artificial intelligence… will transform the nature of work and the workplace itself." Looking at the potential that ChatGPT is creating, it is inevitable that machines will complement operational productivity, going as far as to supersede humans when it comes to writing and content generation.
Digimind's AI (artificial intelligence), with the aid of ChatGPT, can be used similarly to better automatic language processing, write Boolean queries and expressions, interpret sentiment analysis, and classify social media and visual listening data.
Digimind users today can continue to expect other innovations that will assist and simplify the analysis work of watchdogs, community managers, social media managers, and other digital marketing and competitive intelligence professionals. The benefits are obvious: professionals will save time through the automated analysis of trends, buzz, crises, and any changes in their market and monitored environment. Where traditionally you might take hours to make sense of a hotspot or viral news, ChatGPT will cut a fraction of that to instantly provide you with a summarized view.
Yes, and with the combination of Digimind's AI Sense and ChatGPT's AI, this assisted analysis will become the first thing analysts do on the platform, leveraging automated analysis and synthesis, among other things.
👁️ On another similar note, read our guide on:
A Machine-Learning Approach to Media Listening: Automatic Analysis of Unusual Peaks and Trends
The Northern Lights: An Example of Artificial Intelligence in Social Listening
Do you know the Northern Lights?
A polar aurora, also called aurora borealis (northern lights) is an atmospheric light phenomenon characterized by extremely colorful veils in the night sky, green being predominant, but the color purple is also present.

They are caused by the interaction between energetically charged particles with atoms in the solar wind and the upper atmosphere, with auroras occurring mainly in regions near the magnetic poles. They may occur more rarely in more southern regions as was the case on the night of February 27 to 28.
But what is the connection between this and social listening?
Well, by analyzing the peaks of mentions linked to airlines, analysts wanted to understand the nature of the peak of mentions on February 28 for the British airline brand, EasyJet. They discovered a volume of mentions 220% higher than normal.

The combination of AI ​​Sense and ChatGPT "explained" the reason:
"Passengers on EasyJet flights EZY1806 and EZY35BM were treated to an extraordinary Northern Lights experience on 27.02.23, as the pilot made a 360° turn to allow both sides of the aircraft to view the Northern Lights. Passengers expressed their gratitude for the magical experience. #auroraborealis #easyjetrocks #northernlights #nightsky #iceland"
And also:
"Last night, the EasyJet Reykjavik-Manchester flight made a loop so that passengers could admire the Northern Lights. The pilot made a U-turn to allow all passengers to enjoy this exceptional spectacle."
A. Digimind's ChatGPT Integration Simplifies Insights Synthesizing
Part and parcel of conducting social media monitoring and listening, the platform will generate large volumes of data from mentions collected from the web, news sites, and social networks. More often, users will want to understand their audience's behavior by observing the evolution of buzz around a specific topic.
When you face "spikes" in mentions, analyzing the causes of a spike and the messages behind it can be time-consuming, without mentioning the possibility of human misinterpretations that may lead to bad decisions. It is therefore crucial to understand the crux of the buzz, its hashtags, keywords, key influencers, and interactions to ultimately explain the reason(s) for any anomaly. It is also worth considering that some peaks in the data pool might have multiple causes with several events associated which results in an unusual volume.
In short, analyzing social data can be long and tedious. In this phase, the blend of Digimind's AI Synthesis with ChatGPT can inform you with an objective perspective of a situation, helping you get insights intuitively.
B. How Does ChatGPT Support Digimind's Artificial Intelligence?
To explain the spike in mentions for EasyJet on February 27 and 28, artificial intelligence works to carry out quantitative and qualitative analysis for you. But you might be interested to discover how it works:
1. Artificial intelligence is capable of detecting unusual spikes across the timeline of mentions within all messages, posts, and articles collected by your social listening or monitoring tool.

Synthesizing data around EasyJet revealed a peak on February 28 with more than 6000 mentions.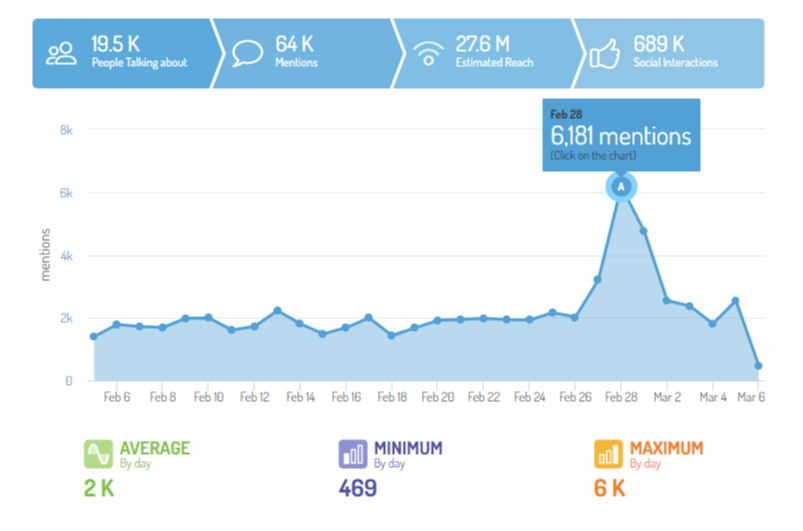 Peak Analysis with Digimind AI


2. The AI ​​will then work to provide you with peak explanation(s). There may appear to be multiple reasons for the peak since, beyond the message, certain mechanisms will cause it spread its virality. Machine learning, therefore, analyzes the initial causes of the peak and then all the propagation agents.

To do this, it first provides you with quantitative indicators:

The change in volume

of mentions (i.e., 220% in the case of EasyJet)

The number of mentions using a

hashtag

related to the topic generating the spike

The number of mentions on

top keywords

(i.e., "Reykjavik" and the nickname of the passenger of the EasyJet flight ("APTGroves") who tweeted photos of the northern lights)

The number of

interactions

based on a viral post (i.e., there were 615 interactions for a trending tweet)

Then other qualitative information on the issuers such as:
Influencers and key opinion leaders who spoke about a topic
The media and news sites that contribute to the dissemination of the subject


All of this information will provide you in hand all the qualitative and quantitative indicators of the peak mechanism. However, you still have to know the story…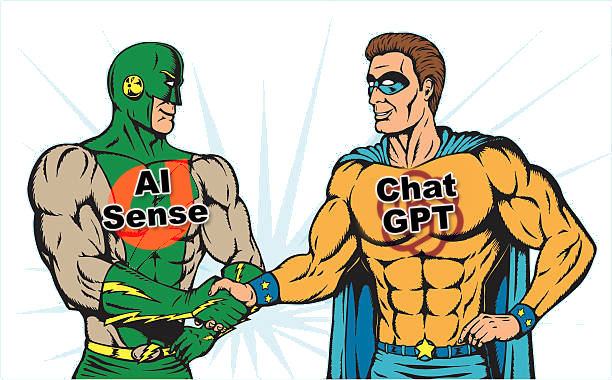 3. The combined power and capabilities of the Digimind and ChatGPT AIs will provide you with an explanatory summary of the peaks: no need to click on any messages or articles to understand the nature of the trend, the buzz, or the emerging crisis. What will be displayed is a summary of the causes of the peak automatically provided to you.
C. The Role of the 2 Artificial Intelligence Technologies
Digimind introduces a Social Listening solution integrating the Large Language Model (LLMs) of ChatGPT.
These two AIs work together to provide unique insights into any brand or topic. A quick analogy of what their roles entail:
Digimind AI Sense is a kind of data scientist that provides the overall data set and its system enables the detection of specific peaks within the time period.
OpenAI ChatGPT

is the business analyst that does the heavy work of synthesizing the available data provided by Digimind, leading to its primary output of providing a brief summary.

Each AI alone could not achieve such a performance: ChatGPT cannot access the most recent information or specific event details since it can only fetch data until September 2021. Furthermore, ChatGPT is not built to process spikes in data or receive relevant data behind the spikes. While Digimind AI Sense cannot yet write an abstract at a level approaching human quality.
By uniting the forces of these two AIs, Digimind can launch the most powerful Social Listening solution in analysis.
Digimind AI Sense has access to the most recent posts on social media, blogs, reviews, and podcasts, and it can detect key events on any brand or topic. For each event, it processes key social metrics, like reach, brand impact, top mentions, and then passes that data intelligence to ChatGPT, which analyzes and summarizes it in plain language, with the final output being much like it had been written by a human analyst, all in real time.
It's almost as if every Digimind user has full access to two dedicated personnel: a data scientist and a business analyst.
Applications of ChatGPT-powered Spike and Trend Analysis
The analysis of mentions and trends constitutes one of the bases of both Competitive Intelligence and Social Media Listening, whereby the potential applications are numerous. Here are examples of use cases for the automatic analysis of social media spikes and their causes:


Brand Reputation and Crisis Detection:
Understand the most powerful reputation drivers and stakeholders that contribute to forging your overall reputation through the analysis of peaks and their dominant concepts
Understand the factors causing a crisis and the propagation of this crisis (media, influencers, virality).
Understand the causes of a possible buzz recovery.
Understand the concepts which, for my brand, favor the virality of a crisis: the sensitive subjects which generate spikes.

Detect and analyze

reputational risks: do recurring peaks occur among competitors or other players in your sector in connection with potentially probable risks in your organization? It is time to weigh and anticipate these risks.


Campaign Analysis:
Analyze successful KPIs of a campaign: shares, hashtags, interactions…
During successive or simultaneous campaigns, automatically distinguish "regular" organic mentions on your brand or community, from mentions related to sponsored content (hashtags, influencers, etc.).
Consumer Insights:

Detect peaks related to consumer messages about a product, service, or brand message.
Understand the peaks of consumer messages in reaction to a brand campaign, a competitor campaign, or a change in the environment (political, regulatory, economic).
Understand viral concepts, consumer favorite themes around product launches, and communication campaigns.
Competitive Intelligence:

Analyze the topics or communications that cause peaks in your competitor(s) and weigh them by importance according to their spread and volume: sponsorship, merger acquisition, governance, new products, ethics, etc.
The combined AIs of Digimind and ChatGPT will automatically explain and synthesize peaks in your competitors.
For example, over 30 days, we observed 3 peaks of mentions generated under the topic "Deutsche Bank" with very different drivers:
Investment: Equity investments in cryptocurrency companies
Sports: UEFA Champions League Round of 16 at Deutsche Bank Park, Frankfurt.
Business: Deutsche Bank has severed ties with a co-owner of Selfridges


Trend Detection:
Understand the creation and propagation of spontaneous popular hashtags: social and cultural movements, protests, and disputes.
Seize the emergence of trends over several weeks and months through the progression of mentions and hashtags.
Compare peaks in consumption trends, lifestyle, consumption by period, by country.


Stakeholder Influence Analysis:
Understand which influential sources favor the onset of peaks: mainstream media, alternative media, news sites, and macro influencers.
Analyze the virality of influencers according to their speaking or campaign theme.


Do not wait to strengthen and assist your analysis with the power of Artificial Intelligence!
Jared is a member of the APAC marketing team at Digimind. Besides hashing insights into content, he loves a good ol' sit-down of board gaming and film rhetoric. Catch him diving in other shenanigans on Instagram @jarrds