E-reputation monitoring: Analyzing your brand reputation with KPIs
As we examine the diverse dimensions of your brand reputation and conduct necessary audits and mappings of your environment, we will look at other practices to identify what are the appropriate indicators to measure your reputation.
First, let's remember your goals,
Reputation monitoring traditionally encompasses 3 objectives that you will try to achieve simultaneously or separately:
1. Brand reputation management (your brands, products, and leaders) through
Analysis of the opinions of customers and prospects,
Measuring the impact of messages from all stakeholders,
Reactions to your messages.
2. Preparing for sensitive situations and managing potential crises via
The detection of weak signals,
The analysis of concepts and feelings,
The configuration of real-time alerts by activity thresholds or key expressions
Refining actions by identifying popular messages, supportive stakeholders, detractors, media involved in the spread, etc
The creation of personalized crisis management dashboards to detect triggers and measure the impact of your actions.
3. The production of relevant and adapted content via
Analysis of consumer and prospect interests, opinion trends,
Targeting the right audiences based on socio-demographic analysis,
Choosing the right channels based on engagement analytics.
It is first a question (after solid collection and monitoring) of the process of measuring, reporting, and understanding the data: a solid analytical approach, KPIs chosen with discernment, and reporting tailored to your audience, regardless of whether they are internal or external.
II. Define the most relevant KPIs
IV. Adapt your reputation reporting
V. In summary: 11 steps for your social listening reputation
I. Strengthen your analysis
As stakeholders and reputation drivers can vary and data collection is broad, e-reputation monitoring generates a lot of raw data. Additionally, to avoid being overwhelmed by the data, you should think carefully about your analytical approach.
Choose your analysis criteria
By nature, brand and personal reputation data collected on the web and social media is vast and heterogeneous. For a clear view and an accurate assessment of your reputation at any given time, you must gather messages, comments, and articles with analysis and categorization.
Your potential analysis criteria are numerous but can be cross-referenced using the features of your listening software.
Example: Type of issuers X Drivers with Corporate reputation.
Qualify all posts and articles
All of the data collected needs to be qualified by your social listening tool with tags and labels, that you will have previously defined: feelings (positive, negative, neutral), products, services, issuers, stage of the customer journey, type of drivers, etc.
This qualification may aim to:
Evaluate your reputation according to fine criteria (channel, type of customers, drivers) qualitatively and quantitatively,
Communicate the data to the departments concerned (customer relations, after-sales service, sales department, marketing, communications, etc).
The final objective is to feed decision-making and concrete actions: tangible elements that make it possible to draw up an observation, analysis, and then recommendations.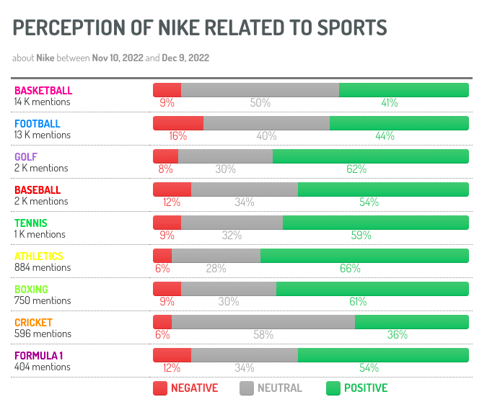 Perception of Nike related to sports via Digimind Social
Of course, the best social listening tools will rely on "artificial intelligence" technologies (machine learning) to increase the relevance of the automatic qualification of themes and feelings.
II. Define the most relevant KPIs
Adapt the KPIs to your objectives and your sector
There are certain essential indicators to measure, but certain sectors offer specific indicators. This is the case for hotels, restaurants and by extension the entire retail sector, which can collect opinions and ratings from customers. For example, a point on TripAdvisor can contribute to the image and perception of a hotel service and vary the price of a room.
To choose your KPIs and integrate the different data of your organization, draw from the 3 groups of indicators that can coexist: social media, digital, and business, to involve the maximum number of services, and therefore data in the measurement of your reputation.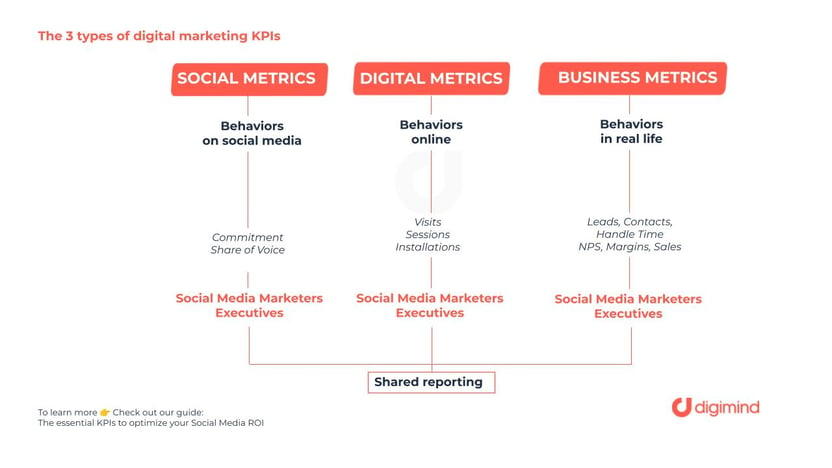 The 3 types of digital marketing KPIs. Via guide: The essential KPIs to optimize your Social Media ROI
The most used KPIs to measure digital reputation are:
Volume of mentions of the brand and its evolution,
Volume of negative mentions and positive mentions, the net sentiment, and their evolutions,
Reach (Total number of unique individuals touched by a mention of your brand. It can be lower than the number of impressions since a person can visualize several impressions, that is to say, having seen the same one several times publication).
Engagement rate on mentions of your brand in Earned Media
Engagement rate on mentions of your brand in Owned Media.
Among the many KPIs available through your marketing and social media listening tools, choose those that:
Match your goals
Give a consistent measure of a reputation as it exists for your organization,
Are made up of variables on which you can act via your marketing actions and means.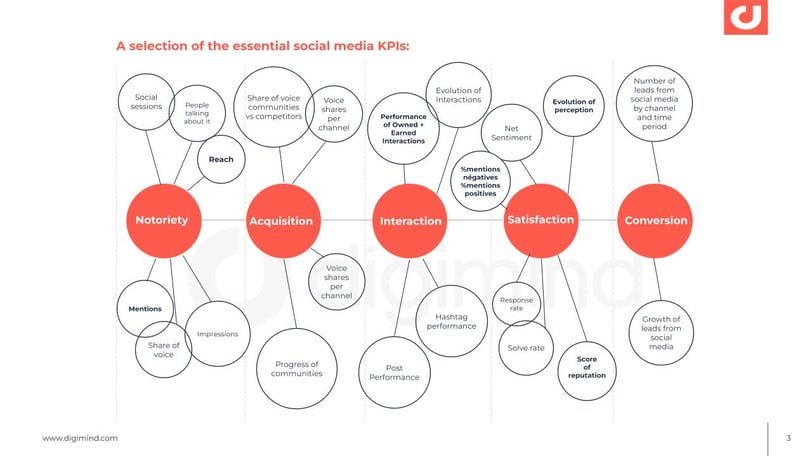 A selection of the essential social media KPIs
The analysis of these KPIs only makes sense if:
Campaigns, buzz, crises, speeches, and corrective measures are regularly evaluated to assess their impact,
The selected indicators are regularly updated according to technological developments, practices, and your objectives,
Indicators can be broken down by criteria: region, stores, reputation drivers, stakeholders, etc.
Your collection and reputation monitoring tools operate on a wide scope of sources. Like artificial intelligence, it's necessary to feed the algorithms and therefore the bases of the indicators with sufficiently large volumes of data.

Your social listening tool must provide you with machine-learning algorithms to help you visualize the essential KPIs to understand your reputation (analysis via Digimind Social)
III. Measure your reputation
By compiling all your data, you will feed your KPIs and be able to assess the reputation of your brands.
We recommend these 3 axes of measure:
Awareness: Track reach, engagement, and conversation volume over time.
Score: Reach + Mentions + Commitment
Perception: Analyze the main positive and negative factors of conversations that influence brand perception.
Score: & of positive mentions
Reactions: Analyze your audience's reactions to confirm that the brand message resonates with your audience.
Score: Positive engagement rate.
A benchmark with your main competitors at isoperimetry (on the same sources and criteria) should allow you to obtain comparison values, to assess your position and your margins of progress.
Ideally, your KPIs should be correlated with business indicators: Leads, NPS, and customer service contact volume, for example.
IV. Adapt your reputation reporting
Using the right social listening tools will allow you to develop your reporting materials with maximum flexibility. Take the opportunity to adapt them to your customers!
Define the following:
What are the needs of your internal customers in terms of support and periodicity: dashboard, alerts, reports? Test different formats and write specifications.
What are the expected headings and KPIs? Create a model.
Adapt the wealth of reputation reporting to your interlocutors: detailed and technical for a social media specialist, 1 front for a member of the management team, with qualitative information and recommendations
Anticipate situations: prepare your dashboards for future campaigns, and potential crises, with the appropriate sources, analyses, and KPIs.
In summary: The steps of your social listening strategy to manage your reputation.
The following is a visual representation of the simple, but essential steps to set up your social listening project dedicated to reputation management.