The Bashful Brand's Guide to Getting a Tweet Heart
10 tips for (customer) relationship results
Social media: the bashful brand's answer to cupid. That's right readers, social media has become so rooted in organizational strategy, that brands everywhere are engaging in relationships - of the online kind - with their customers!
After all, customers are for a brand, what diamonds are for a girl: their best friends...or rather, they can be (take note, hopeless romantics). Contrary to dazzling diamonds, customers lack that constant intrigue. Before you know it, the customer's intrigue in your brand starts to fade - unless, contact is consistently high-quality…
With Valentines day only 2 days away, Digimind takes a look at how brands can cause customers to fall in love at first follow. We explain why brands and customers are a match made in social media heaven. Make sure your customers are asking to "Be your tweet heart!" this Valentines day, with our top 10 tips for (customer) relationship results:
1. Singletons: get ready to mingle
Social network newbies: this one's for you. Initially, implementing a social media strategy will seem scary, as follower-free facebook is a lonely place. But, don't forget, your brand is unique, much like your social media strategy should be. Be prepared to brainstorm for hours and break out of your shell: come up with a unique strategy to stand your brand out from the crowd...
2. Know your 'type'
Everyone has a type, even brands, believe it or not! Scattershot tweeting ain't gonna get followers' heart's a-beatin' this Valentines day (nor will it secure you a loyal following). Segment your target audience (as you would your Valentine's chocolate orange) using a variety of criteria relating to your brand. Join forums, discussions, and LinkedIn groups which are used by your customers. Find out where the top social media influencers gather online and tune into what they are talking about (what's trending).
3. Be seductive
Seducing your audience is an essential step in making your followers fall head over heels for your brand. Listen to your customers' every need and want, then structure a strategy on how to engage successfully with them on social media. When I say engage, no rings just yet...take it slow, don't overwhelm future followers with plethoric posting, but tempt them with top quality content to capture their attention and, if you're lucky, their hearts...
4. Have faith in yourself
Want your brand to be deemed desirable? Well, you gotta have faith (faith, faith) in your brand. You need to know your brand's strengths and weaknesses inside-out and ask yourself what makes you stand out from the crowd: what are your KPIs? Remember to think about what your other half (the customer) might like to see...
Digimind's social listening function allows brands to tune into what their customers are talking about on social media. Here we've taken a look at top concepts associated with Valentine's Day and popular Valentine's day gifts: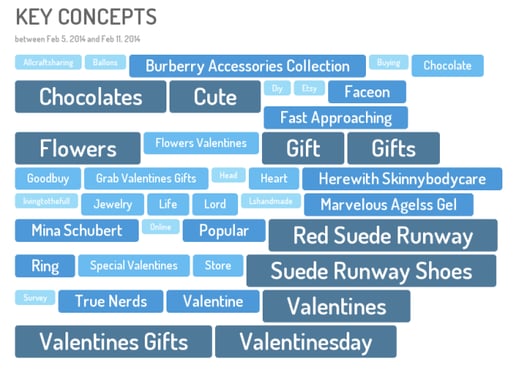 5. Always be yourself
Humanize your brand for that head over heels connection. Make sure that your customers are singing your brand's praises from the social media rooftops by getting personal. I don't mean insulting the customer (or your date!), rather relating and interacting with them on a more personal level. Followers like to know a little about the brains behind the brand (the people), so remember to make your whitepapers personable and your writing relatable.
6. There's no need sell yourself (or your product)
Social media isn't about commerce, it's about creating a connection with clients. Sales growth will be the knock-on effect of nurturing a loyal following on social media: it should not be the initial objective.
7. Social media (and love) knows no boundaries
Geography does not matter when love, or social media marketing is concerned. Social media enables brands to interact with customers in all corners of the globe, without leaving their desk...and they say romance isn't dead! Anyway, if distance makes the heart grow fonder, imagine what it could do for your brand…
8. Develop trust and see the return
Forget no strings attached. If you want the relationship with your customer to be 'a long-term thing', you've got to go the distance. After all, meaningful relationships with your customer form the foundations of your brand's reputation, success and bottom-line. With the rise of online forums, social sharing and comment boxes galore, customers can express opinions on brands anytime, anywhere. Meaning? You've got to be proactive, not reactive to customer opinions...
Digimind Social's Top Search tool, is the only monitoring tool that enables you to gauge how your online reputation is changing, intercept negative searches about your brand and manage crises more effectively. Here, for example, are the top concepts most associated with the curling: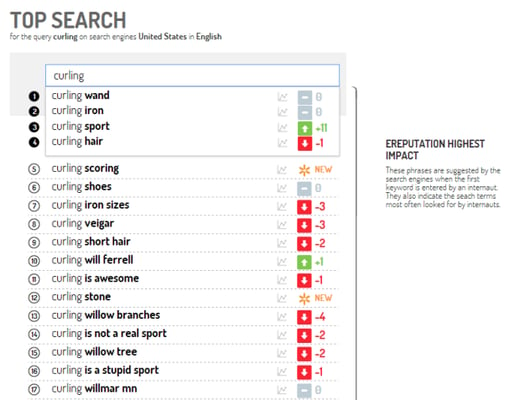 9. Be there for each other
The social media landscape, like life in general, is constantly changing. It is important that brands are constantly listening and monitoring the feelings of their other half (customers!) It is important for brands to constantly adapt to changing sentiments about their brand and be open to change.
Digimind's Sentiment Analysis feature allows brands to see how customer sentiments about their brand are changing and evolving over time:

10. Engagement
Engagement is the ultimate goal in any relationship, be it online or offline, right? If you liked this article then you shoulda' put a spring in your step (not a ring on it, in the words of Beyonce) and learn to engage with followers on a whole new level (literally): the social media platform.
From bashful to beloved: go get your tweet heart!
Make sure that your brand takes note of these top tips. After all, it's about time brands harnessed the power of social media to steer relationships in their direction. Leave bashful behind and make sure you're the tweet hearts beloved brand of choice this Valentines day.
Warmest social media sentiments,
Your Team at Digimind xo
P.S. Don't fret, if things don't work out...there's plenty of fish in the social media sea!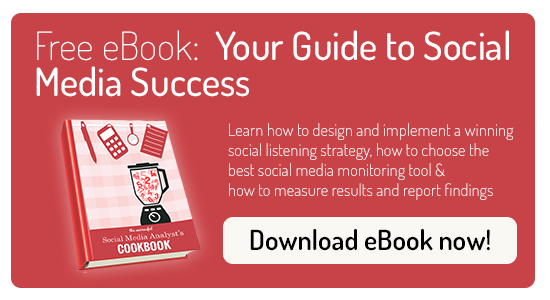 Marketing Manager @digimindci. Passionate about big data & social marketing. Photography, music and hiking lover