From Science 2.0 to Pharma 3.0 Q&A with Hervé Basset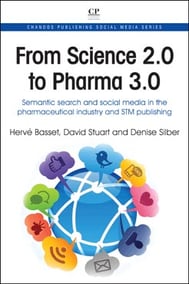 We recently caught up with Hervé Basset, specialist librarian in the pharmaceutical industry and owner of the blog "Science Intelligence", to talk about the inspiration behind his recent book entitled "From Science 2.0 to Pharma 3.0", published by Chandos Publishing and available on Amazon.
Hervé, thank you for agreeing to this interview. Could you please start by telling us what inspired you to write the book and what do you want people to take away from it?
I was contacted by Chandos after a lecture I gave at Online Information in London in 2010. I had mentioned my skepticism about the actual adoption of social media by scientists, commonly called Science 2.0. The editor asked me to objectively reflect the real impact and measurable social media in scientific communication today, away from predictions of all kinds of gurus and other experts. I also wanted to clarify the concepts around 3.0 and how these innovative technologies, semantic engines, Big Data, Cloud, mobility, etc. have already invaded our research environment. Once this frame was set, I had to call a couple of experts and get to work!
What the book will bring to readers is first, a global view of the profound changes affecting the world of libraries, information professionals, health professionals, researchers and scientists. There is indeed a continuity between the social practices of the private and the professional world, especially in areas where information is critical. And then the book allows the reader to clarify any technical jargon that pervades the media and understand the real economic and social challenges of the new communication channels in the health business and scientific research.
What key changes have you noted in the pharma industry over the past ten years, most notably since the emergence of web 2.0?
It is still quite difficult to perceive the deep impact of generation 2.0 tools on the traditional economy, particularly in the pharmaceutical industry. And yet it is this collective consciousness of citizens, notably individual patients, which causes them to become "actors" of their health "consumption" (communities of patients, class actions against the labs ...). It is likely that this profound wave will encourage big labs to rethink their traditional business models based primarily on the sales of products. Until now, pharma reps have only had to persuade Health Care Professionals about the quality of their products. Now, they also have to convince end-users, those who will use the drugs. Faced with social and economic pressures (global crisis, generic models, control of health insurance, etc.), new models should emerge where Big Pharma will focus more on client service and personalized medicines around their core business (drugs making).
What advice would you offer to companies operating in highly regulated markets, such as Pharma, on integrating Social media monitoring technologies into a wider intelligence strategy?
The regulatory surveillance related to legal guidelines and pharmacovigilance is no longer a big deal nowadays, thanks to powerful monitoring platforms that exist on the market. However, we saw in the last few months that drugs making is a risky business: it is especially true in France, with public scandals like the Servier Mediator or these days with the Bayer Diane 35. As I said in the book, the global reputation of pharma companies is so sensitive and so dependent on any media buzz that they must incorporate a strong surveillance of what is happening in their environment and what is being said about their products. It is about having the ability to react the minute something negative is said about the company. This fast-moving environment is becoming uncontrollable and companies need to react swiftly to counteract bad publicity before it escalates.
There's a lot of buzz around Pharma 3.0; what are the main impacts for the pharma industry and data-empowered consumers?
The pharmaceutical industry is currently experiencing the most phenomenal shift in its history. The Pharma 3.0 model, announced by Ernst & Young, is one of the predictions in which stakeholders hope they will surpass the major issues they are facing. Big Pharma does not have any choice but to consider seriously and with respect this amazing revolution which is the social power of patient communities. Pharma 1.0 used the blockbuster model; Pharma 2.0 was the diversity and acquisitions era; Pharma 3.0 will be customer-centric.
In the book you mention that competitive Intelligence has acquired a larger role in Pharmaceutical companies. How do you think this role is likely to evolve in the future?
In essence, the industry does not talk so much about their CI policies but we know that almost all companies are well equipped with powerful monitoring platforms. Some observers think that the Pharma industry still underestimates the power of social media. However, a few leaders have multiplied social attempts, using all the possible channels (videos, blogs, serious games, etc.). I personally believe that Big Pharma made a lot of progress in this regard in the last 2 years. They are watching the world around them carefully and trying to anticipate the next crisis. It is also likely that they use such platforms to identify influential bloggers and patient communities.
Any final thoughts that you'd like to share with our readers?
If I may, I will share a very nice review that a famous librarian from Switzerland, Jean-Philippe Accart, has written recently on his blog (in French): "…this book is very comprehensive, well illustrated and teeming with examples - and contains a comprehensive bibliography. While it is mainly aimed at a scientific audience, it may well be understood and used by others. Web 2.0 and the Semantic Web are not confined to one sector, but they have infiltrated all areas of our professional and private lives. I can highly recommend reading the book by Hervé Basset for a better understanding of the challenges of social media".
Marketing Manager @digimindci. Passionate about big data & social marketing. Photography, music and hiking lover