Competitive Intelligence vs Market Intelligence: What's the Difference?
You may be wondering, how is competitive intelligence any different from market intelligence?
Is market intelligence more important because it encompasses a much larger purview of your business environment? As a marketer or business analyst, it's important to set the record straight on these two terms, and what they mean for your business or job. But before delving deeper into competitive intelligence (CI) and market intelligence (MI), and their key differences, you may appreciate a refresher into the world of AI-powered research.
As Covid-19 has necessitated the need for digitalization in the global trade, enterprises are now turning to intelligent tools to cope with the influx of big data that is now easily accessible via social networks. User information is key to understanding consumer behavior, audience engagement, and enhancing audience group targeting. Simply put, social media intelligence can reveal a wealth of real-time information about your business in a measure of clicks – a key differentiator from traditional research channels.
Bonus: Read more about how market research is evolving with social media intelligence.
Market Intelligence – Understanding Consumer Behavior
Social media's modern impact is how it has allowed brands to have an alternative source to divert traffic inwards and generate online sales. As the Covid-19 pandemic has forced brick and mortar stores to evolve, and purchase journeys likely to change for good, brands should treat social media networks as a storefront, where they can approach, interact with, and nurture prospective customers virtually.
With social media becoming the go-to channel to reach new prospects and gain market share, your brand reputation can be dependent on delivering regular and engaging content. Moreover, while your social media page could be the first touchpoint for your consumers, it should not be their last. With 63% of consumers who search for businesses online likely to continue patronizing businesses that have impressionable content, achieving the right kind of social media presence can bode well as it informs consumers that your brand is active.
A Long-Term Strategy in Place
MI is key to building a more precise level of understanding of your strategies in the pipeline. It gleans data on external determinants on your company to guide more long-term planning. By discovering consumers' preferences, you can adopt a farsighted approach by aligning your marketing messaging and efforts to your desired target audience group.
That being said, effective use of MI also helps to generate sales inwards, as customer retention may become the key metric to sales growth. By increasing customer-centricity, your business is more likely to save costs in retaining existing customers as opposed to acquiring new ones. Understanding who your consumers are and working with them to improve your own offerings is a proven strategy in boosting retention rates.
Competitive Intelligence, an Analysis of Your Business Environment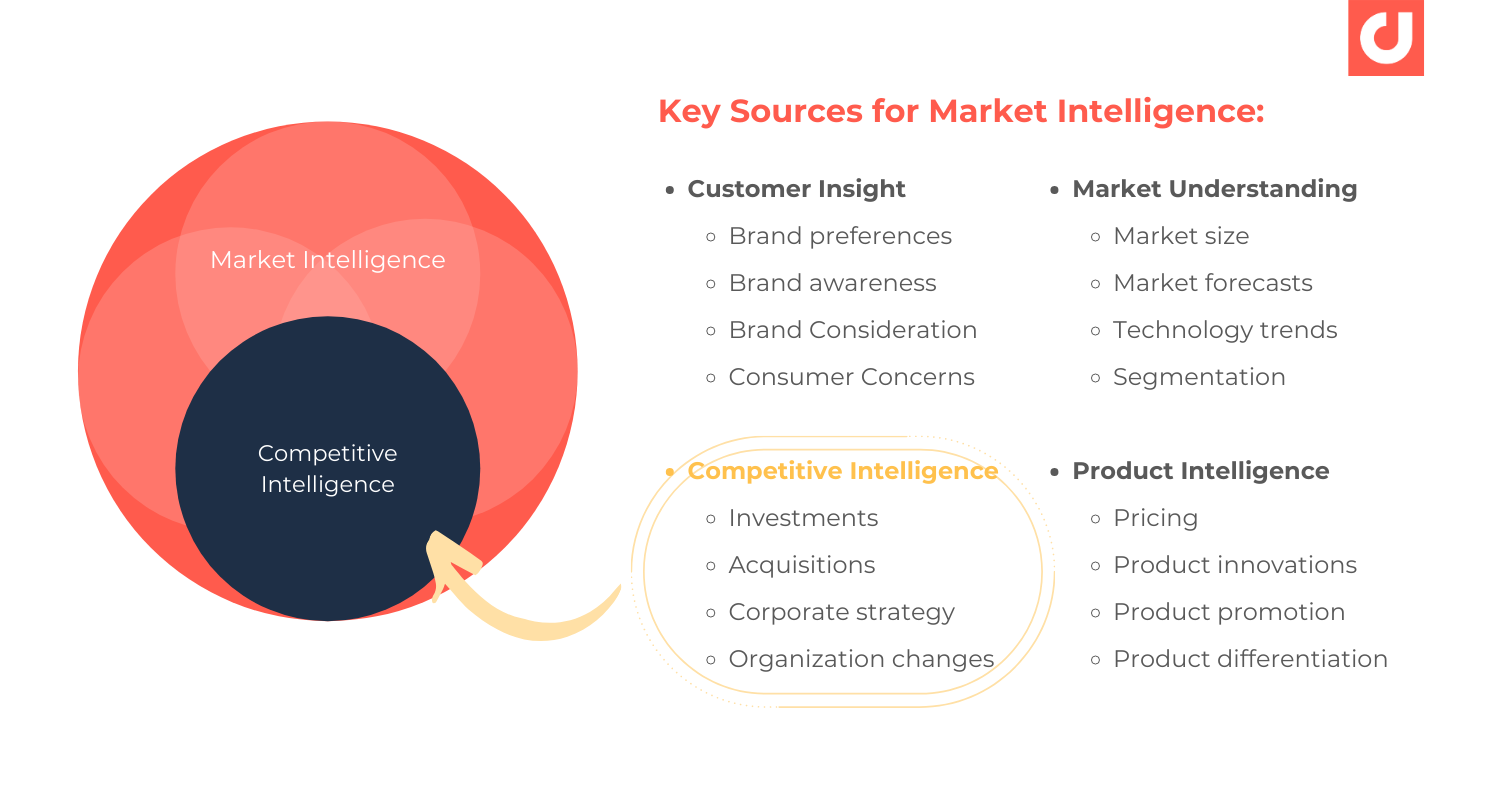 Key sources in a MI and CI framework
By looking at competitive intelligence as a framework independent of MI, we can understand that it is by and large an analysis of your business' external environment. It utilizes information about customers, competitors, technologies, and distributors through open-source data, industry reports, and conversations from web and social media sources to gain a better grasp of your competitive landscape. As a means to predict your competitor's movements, CI places an emphasis on using insights to put benchmarks into perspective as well as to tackle internal initiatives. Potential developments highlighted can be used to support executives and managers in key decision making within the company.
The traditional approach to CI may be the more familiar techniques such as SWOT (Strengths, Weaknesses, Opportunities, Threats) analysis, Growth Share Matrix, and Porter's Five Forces. However, these methods have a tendency for analysts to view matters through a keyhole perspective, where their focus of drawing insights could inadvertently be misaligned. An effective CI strategy aims to address a brand's positioning to its competitors by providing actionable insights to tackle issues where there is either a bereft of innovation or consumer satisfaction.
A More Tactical, Short-term Strategy
CI is often treated as outward looking, as CI projects are often initiated to identify existing threats and opportunities by looking at how consumers are talking about your brand in relation to your competitors. This is where conversations, opinions, and forums are cited as valuable sources of qualitative data. Because it collects data at the present time, companies tend to rely on CI for the short-to-medium-term future, with the likely goal of recapturing market share or increasing bottom line results.
Choosing the "Right" Solution
Whether long term or short term, you may want to consider how you are getting the most valuable information, and from where. If you are of the mindset that market intelligence can be used to answer concrete questions about the current economic climate, or acquire competitive intelligence to identify key differentiators, social listening may be the modern solution for your research needs.
A market intelligence and social listening platform like Digimind contains a full suite of business solutions, capable of accelerating your competitive intelligence and market intelligence strategies by pulling critical data through online sources in real-time and streamlining internal goals.

Bonus: Download our CI Tool Evaluation Grid Template to identify key differentiating factors and questions to ask your potential market and competitive intelligence partner.

Jared is a member of the APAC marketing team at Digimind. Besides hashing insights into content, he loves a good ol' sit-down of board gaming and film rhetoric. Catch him diving in other shenanigans on Instagram @jarrds