How to Grow Your Market Share Using Social Media Intelligence
Social media intelligence, through powerful tools, allows brands to collect insights from social media, analyze trends, and use this information to drive the different stages of their marketing strategy, from market analysis and implementation to evaluation.

With an insight-driven marketing approach, social media listening and analysis is a powerful lever to stay competitive in your sector. Whether you are a brand or an agency, insight-driven companies will grow at least eight times faster than global GDP.
Why? Because these companies know how to utilize insights to optimize their products, services, and functions. Our customers use our social media intelligence tools to develop their market share in unique ways suited to their workflows.

For example, one television channel wants to become the world leader in television production in its sector. They use social media monitoring and analysis to reach this objective by measuring their reputation in all of the fast-growing geographical areas for their TV group. The channel monitors its brand image and those of directly competing networks around the world. It can analyze the evolution of share of voice, the perception of competitors both negative and positive, its own digital reputation, as well as the most cited themes and keywords to drive their marketing strategy. Using big data to have a global view of e-reputation helps catch any and all potential insights to grow their business intelligently.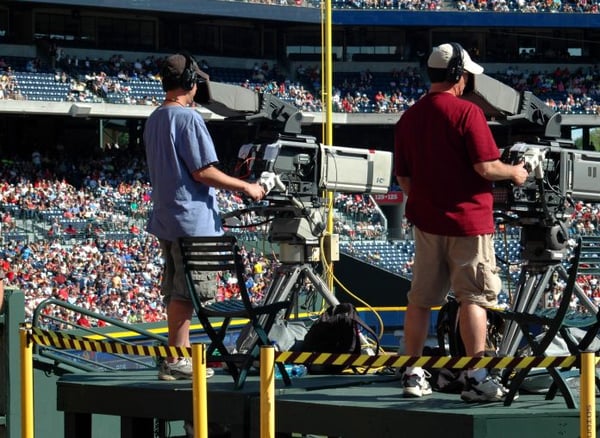 Another customer, one of the world leaders in electronic cigarettes, uses social media intelligence to preserve its market share: it observes competitors' positioning, emerging trends, consumer feedback, and competitors' social media strategies. For example, thanks to our unique insights, it has strengthened its presence on Instagram in the Asian market, the platform used most extensively by competitors and consumers to exchange opinions and photos on the flavors of e-cigarettes.
In our new handbook, we examined the different applications of social media intelligence to increase a company's market share. The following is a summary of the points raised:
Follow these steps to increase market share using social media intelligence
1. Understand your target audience through customer profiling
To create the right content, you will need to know more about the target audience you want to engage. In order to build your marketing strategy, you need insights that are relevant. Social media listening will allow you to identify segments with the best potential, expectations of your customers, their language, and which channels they use to express themselves.
One customer, which manages several alcohol brands, uses social listening to create and maintain its consumer profiles. To adopt new positioning, the brand must identify consumer profiles and understand their interests in France. By listening to consumer reviews and conversations on social media, the marketing team has defined five different key profiles.
2. Detect your competitors' strategies
The ability to monitor competitors and get insights from their social media activity is a defining advantage. Here are three ways to understand your competitors' strategies:
Track your competitors' events

Stay up-to-date on trends and innovations in the sector

Understand how competitors adapt their regional strategies
Using geographic targeting, a Digimind client, a group of 800 supermarkets, was able to identify its competitors' strategies in different regions, ranging from large cities like Paris to rural areas like Province which entailed very different tactics.
Discover more details about how brands are applying social media intelligence to grow their market share in this handbook:
3. Identify key trends and issues to tailor your strategy
Identifying key topics and trends in your market, as well as those exchanged by your customers, enables you to understand current and future trends, your customers' expectations, and the strategies of your competitors. You will be able to adapt your content to customer expectations, but also create content about emerging subjects in order to adopt a unique position before your competitors can or to enhance your knowledge of the market and your sector.
One client from the banking sector uses social listening to capture the main trends of FinTech, the economy, and the banking sector as a whole. It also monitors the evolution of the various sectors corresponding to its sponsorship initiatives in arts and sports. Finally, it captures insights about its competitors in order to differentiate itself in terms of content.
The client is then able to demonstrate industry expertise, build customer loyalty, and increase awareness.
4. Analyze user generated content to understand your customer
User generated content (UGC) is a powerful lever for brands in earned and owned media: users that talk about your product, your company, and your campaigns are the most effective brand ambassadors. When their messages convey a positive image, word-of-mouth is a real benefit. It is therefore essential, when running marketing strategies to capture all these messages, to analyze them accurately, highlight your reputation based on peer recommendations, and show you value your fans and communities.
A marketing agency client, during a campaign to reposition a biscuit brand, used social listening to collect and relay all UGC, including relevant tweets and posts produced by social media users, often with images, jokes, and memes.
With a reach of 4 million users on social networks, negative messages about the brand were completely replaced by the mass of UGC, which was then reported and analyzed by the agency.
5. Identify the right influencer to increase your authenticity and reach
Identifying influencers has a dual purpose in your content marketing strategy:
Detecting opinion leaders and experts in your sector can round out your expertise, reflections, and insights into the trends in your market

Identifying personalities that serve as potential relayers of your content and marketing campaigns can amplify your reach and increase authenticity
A group of alcohol brands, using social listening to detect new influencers, discovered that a singer mentioned one of the brands in his songs. The group decided to sponsor the singer's events and create dedicated content to reach the specific audience of this personality, which included previously unexplored demographics. This resulted in increased sales and awareness from the singer's core audience.
6. Use social insights to strengthen product development
Here are three ways to improve the product development process through social media monitoring:
Develop and improve products and their functionalities to meet specific customer needs

Identify new technologies that can be integrated into existing products

Benchmark and monitor the development of competitors and their products
For example, in Southeast Asia, a logistics and transport start-up wanted to know how to improve mobile applications' user experience. By listening to social media, the team in charge of the product was able to discover user behaviors and their motivation to use the application, as well as the most used features. From there, they were able to understand the strengths and weaknesses of their user interface and identify specific areas of the application that required improvements
These are six of the ways social media intelligence allows you to increase your market share thanks to constant insights from a wide range of online data. Be sure to download the full handbook "How to Grow Your Marketing Share Using Social Media Intelligence" for more insights and case studies about how brands are increasing their market share.
Christine is the US Marketing Director at Digimind. She interested in writing and talking about all things related to Marketing and business strategy, especially finding ways to help businesses grow faster and become more intelligent.