The Top KPIs for Proving Marketing ROI
Proving ROI is an essential task for any marketer, but the process for reporting ROI is not always entirely obvious. That's why the following article will outline some KPIs vastly useful for tracking social media marketing strategies and for calculating the ROI of social media.
We will be focusing on five categories of KPIs which can be easily translated into any of the following business's objectives:
Awareness
Acquisition
Interaction
Satisfaction
Conversion
Note: "Owned Media" will refer to web media managed by a brand (its blog, social media accounts), while "earned media" will refer to conversations of internet users and media mentioning the brand
1. Awareness
Objective: Increase general awareness of a brand and its products.
Solution: Invest in Facebook and LinkedIn ads, seek media placements, participate in partnered webinars, promote content through paid social, etc.
When Measuring brand awareness, try to answer the following questions:
What is my brand's reputation?

How does my target audience perceive my brand?

What's the scope of my messaging and the impact of my campaigns?

How does the size of my community compare to those of competitors?
Essential KPIs:
Mentions:

the number of times your brand is mentioned online, on social media, on TV, on radio, etc.

Impressions:

the number of times a message (article, blog post) is potentially viewed.

Reach:

the potential audience size of a message, or the number of unique views a piece of content gets.

Social Sessions:

the number of visits a site, blog, or social media post receives.

Share of Voice: a benchmark of the volume of mentions a brand receives relative to its competitors.

2. Acquisition
Objective: Develop a targeted audience on social media.
Solution: Engage with followers, release client newsletters, create promotions and contests, develop targeted content, launch ad campaigns.
Tracking acquisition-based KPIs can answer the following questions:
How relevant is each social media channel to my brand?

How is my brand's community growing across different social media channels?

How is my owned media performing in comparison to my competitors'?
Essential KPIs:
Community Performance:

number of followers by social media channel.

Community Growth: growth rate in number of followers by channel.

Internal Community Share of Voice:

size of community by brand social media channel (ex. Facebook vs. Twitter).

External Community Share of Voice:

community size by social media channel in comparison to competitors.

Page Views:

number of visits by landing page, blog, post, etc.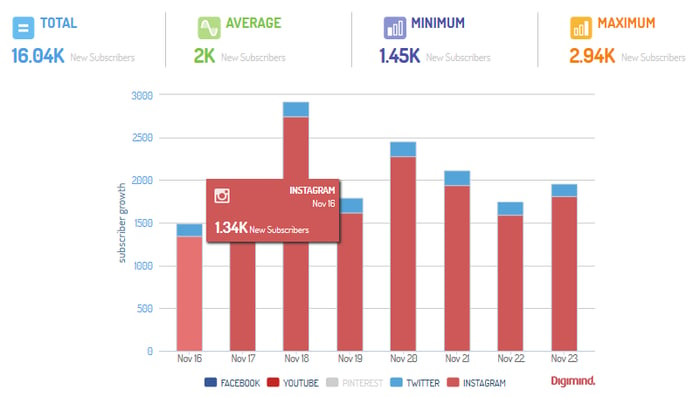 Growth in community size by social media channel, via Digimind Social.
3. Engagement
Objective: Create a relationship between a brand and its target audiences.
Solution: Promote high-value marketing content, newsjacking, leverage brand ambassadors, and influencer marketing.
Measuring engagement helps brands answer the following questions:
What kind of marketing content is most successful among my target audience?

Which social media platforms are target consumer most engaged on?

On which social media platforms is my target audience most active?
Essential KPIs:
Interactions:

number of likes, retweets, shares, comments, etc and the growth of these metrics over time.

Publication Performance:

engagement rates by publication (blog post, social media posts, white papers, etc.).

Hashtag Performance:

the use of brand-relevant or campaign-specific hashtags over time.

Influencer Population: the number of brand ambassadors or influencers among the target audience, often based on more qualitative data.
4. Customer Satisfaction
Objective: Improve a brand's public perception and customer satisfaction with its products and services.
Solution: Develop customer case studies, invest in customer support strategies, improve response rates, and respond to relevant news.
Essential KPIs:
Brand Perception:

feelings associated with a brand among target audiences.

Evolution of Perception:

trends in positive brand mentions over time.

Response Rate:

percentage of customer queries answered.

Resolution Rate: percentage of customer tickets resolved.
5. Conversion
Objective: Convert social media leads into qualified sales leads.
Solution: Offer product demos, attend conferences, and connect with influencers and ambassadors.
Essential KPIs:
Social Media Leads:

share of marketing leader generated from social media or blogs and designated as qualified leads in a CRM platform.

Lead Growth:

monthly growth rate in percentage of social leads to sales leads.