Facebook essential figures in 2022 in the UK and in the World
Facebook is the most used social network in the world with 2.935 billion monthly active users in 2022 and 1.967 billion daily active users in July 2022.
In the UK, about 44.84 million of the estimated 67.9 million individuals who call the UK home use Facebook regularly, or about 66% of the country's population.
We take stock of Facebook's key figures for 2021 and 2022: number of users, average ages, gender, influencers, brands and companies, and other important trends, all collected via Social Listening tools.
Facebook figures in the UK in 2022
Facebook Statistics Worldwide in 2022
👉 Check out: TikTok in figures
I. Facebook figures in the UK
1. Demographics
Number of Facebook users in the UK:
53.46 million people used Facebook in the United Kingdom as of September 2022. In September 2020, there were 45.85 Facebook users in the UK, a 16% increase in audience size since that year. This puts the UK in 13th place worldwide in terms of number of users.
Facebook remains the 2nd most used social network in the UK right after Whatsapp Messenger.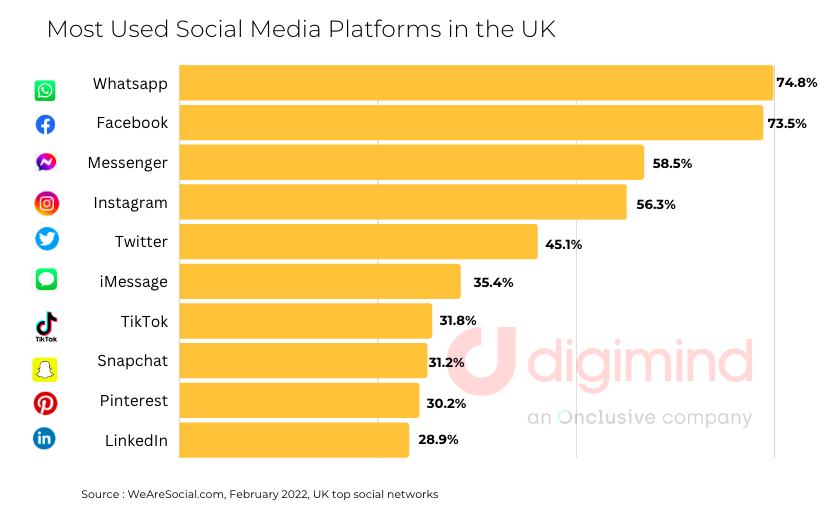 44% of the UK population use Facebook daily, and they spend on average 23 minutes on the app. With 11.2 million users, the age group 25 to 34 is the most active on Facebook in the UK.
It was predicted that Facebook's UK user base would increase by 7.93% between 2015 and 2021, reaching 42.27 million members by 2022. The site has outperformed expectations, and 2022 is likely to see significantly higher traffic than expected.

As a result, Facebook's biggest market in Europe is still the UK. France comes in second with 40 million users, followed by Italy and Germany with around 30 and 28 million users, respectively. However, compared to India, which has more than 300 million users, the US, which has around 200 million, and even Indonesia, which has 130 million viewers, these markets are tiny. In actuality, only around 15.9% of Facebook's global user base is located in Europe.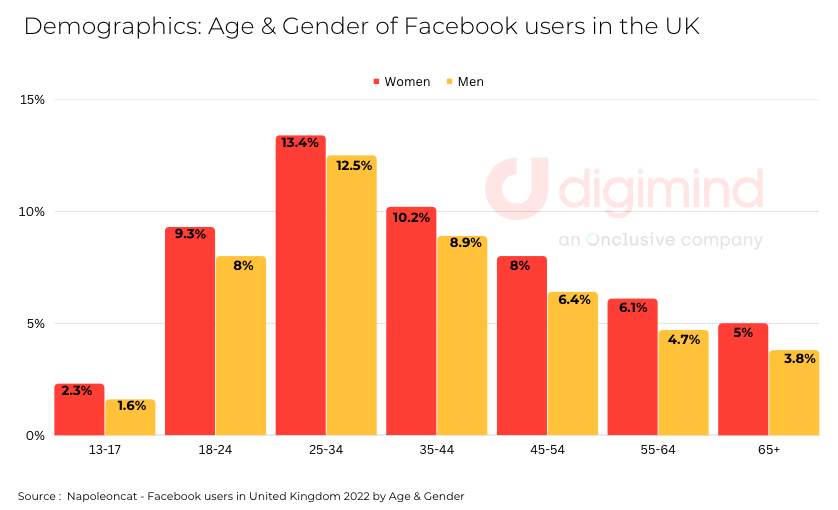 In January 2022, there were 55 986 400 Facebook users in the United Kingdom, or 82% of the country's total population. 54.3% of them were women, which is the majority. The largest user group was between the ages of 25 and 34. (14 500 000). Within the 55 to 64 age group, where women outnumber men by 2.5 million, there is the greatest gender gap.



53.9 percent of Facebook users in the UK in September 2022 were female, compared to 46.1 percent who were male.

Over 46 million people

used Facebook in the UK as of 2022, and that number is predicted to rise to close to 50 million by 2027.




Women aged 25 to 34 made up the majority of Facebook users in the United Kingdom in 2022, with about 13% of all users. The second-largest audience segment, consisting of men in the same age range, accounted for 11.8% of users. In the UK, only 3.9 percent of Facebook users were 13 to 17 years old.
Social listening powered by Artificial Intelligence
2. Ads
In the UK, Google and Facebook won't only keep winning; their combined proportion of the digital ad market will also keep growing. According to the most recent UK digital advertising projection from eMarketer, it will increase to 63.3% this year from 62.7% last year.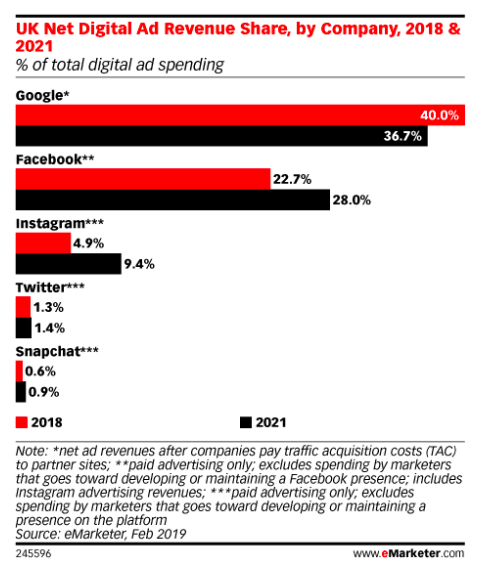 Source: eMarketer, UK Net Digital Ad Revenue Share, by Company
3. Influencers and celebrities
In the UK, the 5 Facebook pages with the most fans are those of Manchester United (75+ million likes), Jason Statham (75+ million), Adele (69+ million), David Beckham (56+ million) and UNILAD (42+ million).
II. Facebook statistics worldwide
Organisation
Facebook, now Meta, operates in 70 cities worldwide in North America, Latin America, Europe, the Middle East, Africa and Asia Pacific. The social platform is hosted in 15 data centers around the world.

Facebook employs 83553 full-time employees as of June 30, 2022, which is +32% compared to June 2011 (25).
1. Demographics
Number of Facebook users in 2022
Facebook declares in July 2022 2.934 billion monthly active users (MAU) or +1% compared to Q2 2021.
In Europe: 407 million (down)

In North America: 264 million (up)

In Asia-Pacific: 1.305 billion (up)

Rest of the World: 959 million (up)
Facebook announced in February 2022 2.912 billion monthly active users (MAU) or +4% compared to Q4 2020.
In Europe: 427 million

In North America: 262 million

In Asia-Pacific: 1.278 billion

Rest of the world: 945 million (down 4 million from the previous quarter)
Facebook had announced in October 2021 2.91 billion monthly active users (MAU), +6% compared to Q3 2020.
Of which:
In Europe: 423 million

In North America: 261 million

Asia Pacific: $1.278 billion

Rest of the world: 949 million (down 2 million from last quarter)

and in France: 40 million users
Facebook had 2.895 billion monthly active users (MAU) in July 2021, up 7% from Q2 2020.
Facebook had 2.853 billion monthly active users (MAU) in April 2021, up 10% year-over-year (they were 2.7 billion in June 2020).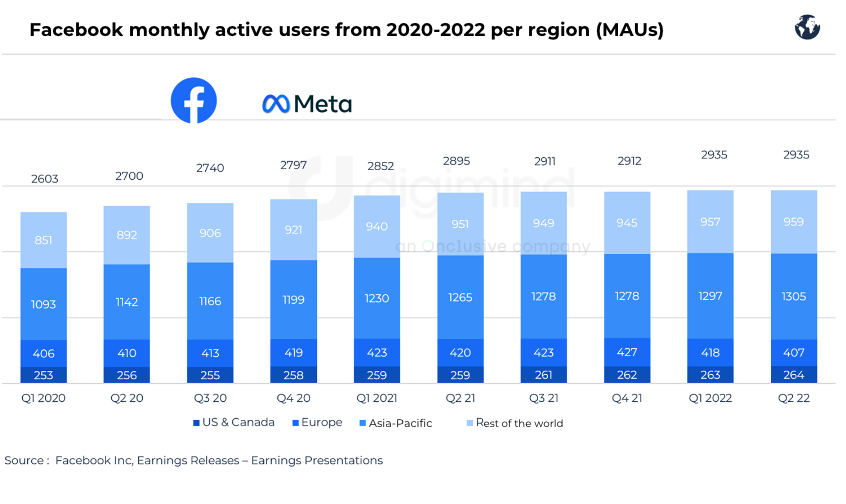 Evolution of monthly active Facebook users in the world (2020-2022).
Countries
The countries with the most Facebook users are India (290 million), the USA (190 million), Indonesia (140), Brazil (130), Mexico (89), the Philippines (76) and Vietnam (64).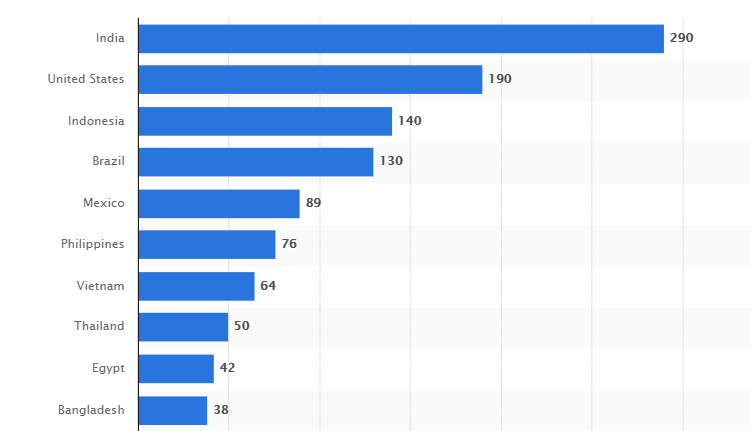 The top 10 countries with the most users on Facebook. Statista
Usage time
Facebook users spend an average of 34 minutes per day.
Age & Gender
57% of users are male (and therefore, 43% are female).
32% of the Facebook audience is between 25 and 34 years old, 25% is between 18 and 24 years old and 26% is between 35 and 54 years old. 36% of users are over 35 years old.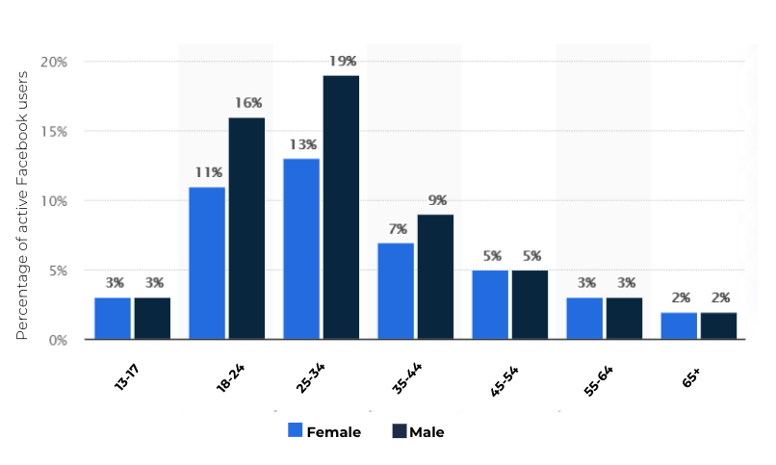 Distribution of active Facebook users worldwide, by age and gender.
Source Statista. DataReportal, Facebook. We Are Social

People aged 25-34 are the most present users on the network (19% for men, 13% for women).
2. Most followed Facebook Pages by number of fans
The top Facebook Pages in number of fans are: de Facebook App (216 million), followed by Samsung (159 millions), Cristiano Ronaldo (126 million), Real Madrid (109 million), CGTN (106 million), Coca Cola (106 million), Tasty (103 million), FC Barcelone (101 million) et Shakira (99 million).
3. Facebook for brands & companies et entreprises
160 million companies are present on Facebook, including 80 million SMEs (20).
Facebook is massively used by marketers (agencies, advertisers).
Facebook is used by 96% of B2C marketers and 91% of B2B marketers.
58% of marketers planned to increase their Facebook Ads budget in 2020 (21).
In the third quarter of 2020, Facebook announced that 10 million active advertisers were using the platform to promote their products and services, compared to 7 million advertisers in the first quarter of the previous year (21b).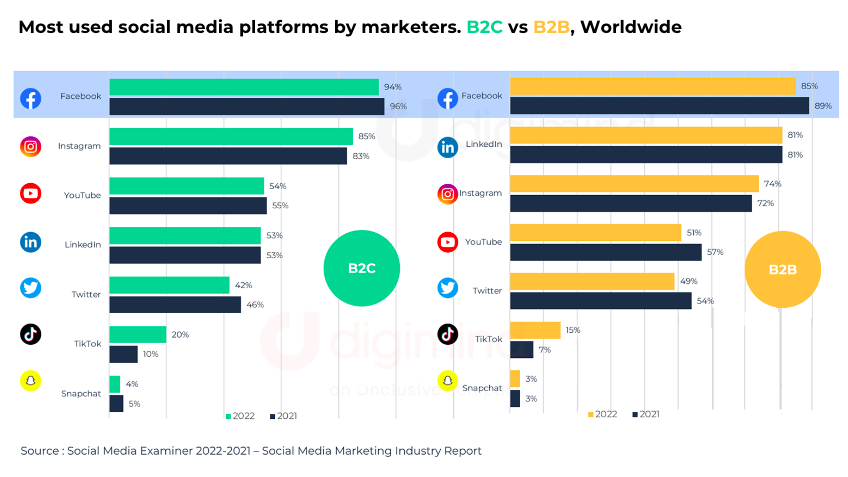 The most used social media platforms by marketers: B2C vs B2B. Social Media Examiner
"Shops" counts one million online stores in Q1 2021.
4. Engagement & Reach on Facebook
Interactions: The average Facebook user will like an average of 1 Facebook Page in their lifetime. Over 30 days, they will "like" an average of 13 posts, make 5 comments, share 1 post and click on 12 ads.
Reach: The average organic reach (vs Page Likes) is 5.17%.
The Paid Reach (vs Total Reach) is 28.1%.
Engagement: The average engagement rate for a Facebook post (any type) is 3.39%; for a video 6.09%, an image 4.42%, links 2.72%, a simple status 1.44%.


For pages with less than 10,000 fans, the average organic reach (vs. page Likes) is 4.62%, the average engagement rate for a post is 8.21%.
For pages with more than 10,000 fans, the average organic reach (vs. Page Likes) is 2.34%, the average engagement rate for a post is 2.19%.
5. Facebook Messenger
Facebook Messenger has more than 1.3 billion users worldwide, which makes it the 2nd most used instant messenger behind WhatsApp (Facebook group) and ahead of WeChat.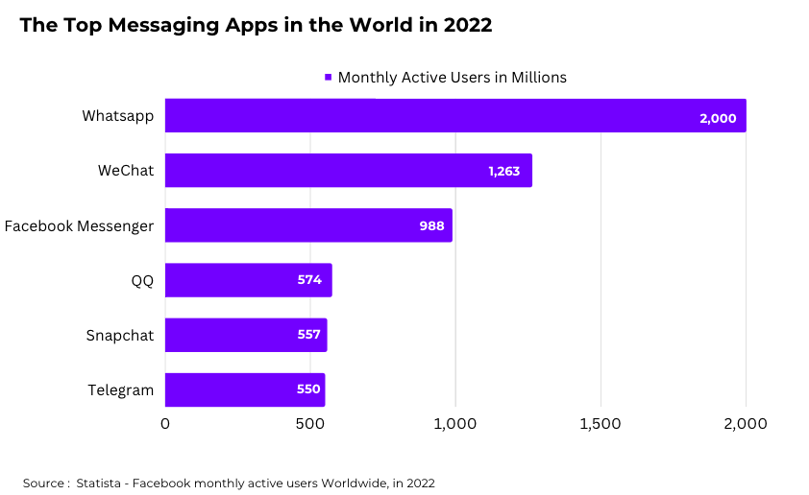 Every month, businesses and individuals exchange over 20 billion messages with people on Messenger.
40 million businesses and companies use Facebook Messenger.

300,000 chabots are running on Facebook Messenger.

410 million users use video chat on Messenger every month.

On Messenger, 17 billion photos are shared every month.

64% of people of all ages say they would rather message a business than make a phone call or send an email.
The social environment is prone to quick changes in market and trend. Understanding trends can help your business better respond to the fast changing social scene, understand your clients, and identify new themes that could spark conversations about your brand.
Hello, my name is Nour Nasr, I am from Lebanon. I'm a marketing intern at Digimind in the Paris office, and my work mostly focuses on the French market. Before starting this internship, I attended a Master in International Sustainability Management & Corporate Social Responsibility at Politecnico di Milano in Italy. I hope to combine both sustainability and marketing in my future experience and learn more skills throughout the way!!