Digimind in the Top 100 Digital Content Companies!
Digimind, the award-winning global social intelligence company, is proud to be selected for EContent Magazine's Top 100 Digital Content Companies 2015-2016. EContent 100, which is in its 15th consecutive year, lists the top 100 companies that matter most in the content and digital marketing industry. It includes global names like HubSpot, Elsevier, Akamai, and LinkedIn.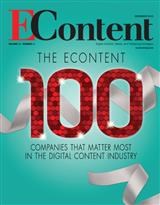 "The EContent 100 List of Companies that Matter Most in the Digital Content Industry changes with the industry it celebrates," said EContent's editor, Theresa Cramer. "As usual, the trends of the past year can be seen in the list, but so can themes for the year to come," "For instance, if you have recently searched for a new digital marketing platform to work with, you'll know that the field is growing rapidly. Meanwhile," she added, "the importance of tailoring your content to global audiences is growing. The 2015 EContent 100 List reflects these changes and more."
The 2015 EContent 100 List includes two new categories:
Content Globalization & Localization

Digital Marketing Technologies
The team of judges includes editors from Information Today, Inc., contributing editors and columnists at EContent, and other industry experts.
Click here for the full list of EContent 100.
Curious to find out how you can leverage Digimind Social's monitoring and analytics modules for your content strategies?
Melissa is a digital advocate who loves diving into the latest trends in digital and social media. Since joining Digimind's marketing team in 2015, she has written studies for over 15 industries in Asia Pacific. When she is not telling stories about data, Melissa can be found exploring her favourite cafes and hangouts on Instagram @chuepachups.