Digimind Winter '21 Release: Richer Consumer Intelligence Data, Seamless Workflows, and more!
If 2020 taught us anything, it's that you have to fight to stay in the game. Brands and businesses understand this better than most, as they were most affected by the tumultuous ups and downs of the last 10 months. Put more aptly by Philadelphia's prodigal boxing son, Rocky Balboa, "You, me, or nobody is gonna hit as hard as life. But it ain't about how hard you hit. It's about how hard you can get hit and keep moving forward; how much you can take and keep moving forward. That's how winning is done!"
That most infamously terrible last year did indeed hit everyone hard, and the fallout from both the personal and financial side will still be felt well into 2021. But rolling with the punches is something Digimind has always excelled at, releasing relevant reports on things like the new stay-at-home industry and the prophetic power social media had in determining the outcome of the latest US presidential election; it's also focused on its platform and suite of tools in order to better help its clients weather the storm of the pandemic and succeed in the new year.
Below we'll take a deep dive into some of the incredible new features that Digimind has released this Winter'21 to better help you expand your data collection efforts, improve your campaign performance, leverage a stronger competitive advantage, and more!
Enhance Your Consumer Insights With More Data Collection
Your Consumer Insights are only as effective as the sources you're able to acquire the necessary data from. Being limited to a select group of free-to-use and openly available sites and platforms is frustrating for marketers trying to fully flesh out their understanding of a key demographic or ever-changing industry. Social media is a great place to go for consumer insights, but it's not the only place, and Digimind is ready to help you broaden your research horizons with non-social sources, streamline your workflows via the Digimind Marketplace, and improve customer service efficiency!
New Media Types Import: Feed Data From Different Sources Into Digimind For An Enhanced Analysis
When it comes to non-social sources of data, Digimind has your back! Now, along with social data, you can better comprehend the ever-changing industry your brand occupies with new importable media types covered. Level up your third-party data importing game with tools like Messaging, Notes, Surveys, and Emails, working seamlessly with Digimind. Categorize info into the right media type and organize your findings by language, sentiment, and tags! Now that's personal customization!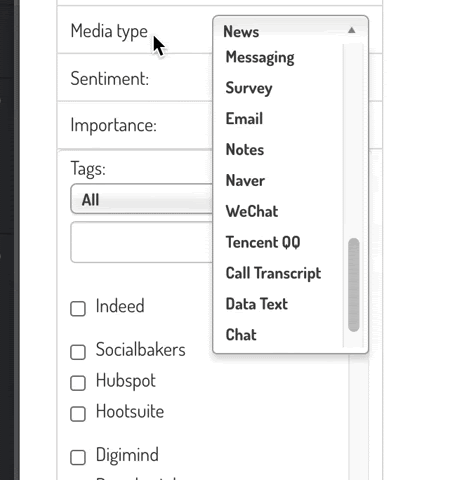 It's not magic! It's new importable types of media!
Consumer Data Import: Incorporate Digimind With Non-Social Data For An Enhanced Analysis
Paint a clearer picture of where your brand stands in the market with our Consumer Data Import! Now you can import non-social data like emails, surveys, call transcripts, and more, right into Digimind through Excel files (XLS or CSV format). Get a complete picture of your business by acquiring all kinds of data sources (social and non-social) and analyzing them on a single platform.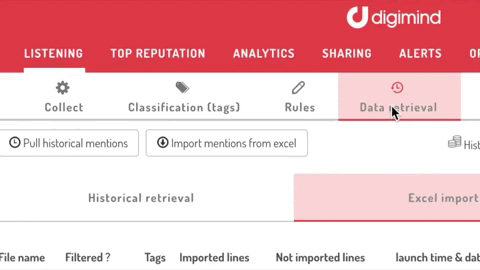 Now you can incorporate non-social data into your Digimind workflows!
Zapier Integration

: Streamline Your Digimind Workflow With Over 2,000 Apps
Check out our new Zapier Integration feature, which allows you to connect Digimind data and tools with over 2,000 apps! Imagine a new way of working that allows you to automate your workflow so you can save time and focus on more important tasks. Now you can import data directly to Digimind for a comprehensive analysis, or even export it to 3rd party business intelligence tools for helpful data visualization and insight-sharing opportunities.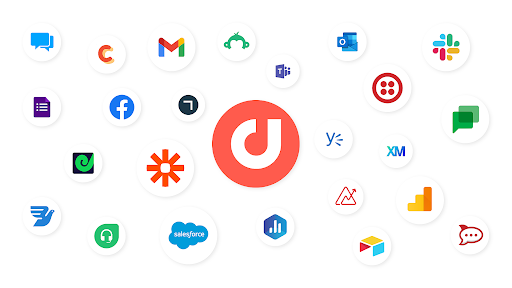 The Digimind Marketplace is full of great ways to optimize your work and increase productivity!
GeoSearch Source: Monitor Twitter Mentions From A Specific Geolocation
Discover a world of more powerful monitoring with Digimind's latest work on nation-wide data collection - GeoSearch Source! We know you'll be impressed with this powerful new tool, which enables you to monitor mentions from specific geolocations - keep a close eye on any physical retailer's reputation or campaign performance through collected Twitter mentions. Never be without collected data that's gleaned on a granular level! You can't get more accurate insights anywhere else!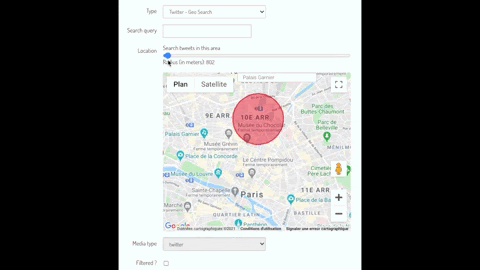 Enjoy pinpoint accuracy when trying to identify online conversations spikes' geolocations, with advanced search options.
Salesforce Cases Connector: Improve Customer Service Efficiency
No longer are you limited in your ability to collect and manage negative online mentions with our Salesforce Cases integration! Enjoy a new native integration that allows you to optimize your workflow by pushing the details directly to Salesforce Cases; a new "case" will be automatically created to ensure a smoother process. This feature enables you to deliver stronger service by quickly responding to customer questions, feedback, or issues!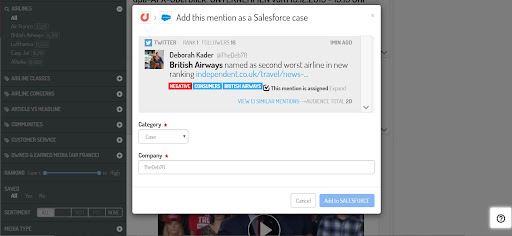 With the power of this Salesforce integration at your fingertips, collecting and managing online sentiments will be a breeze!
Optimizing Campaign Analysis For Stronger Results
We've all been here before: we're totally set with our data sets and ready to perform an intensive analysis for useful insights on our next big marketing campaign. But the results end up being poorly finished, with bad insights that we're almost certain will sink this new project. Chances are this was no accident, but an unfortunate side effect of certain limitations built into the current method of campaign analysis. Thankfully we've got your back, and have worked tirelessly to deliver fuller, more accurate insights through a powerful suite of features that can search deeper, overcome language barriers, and detect different country's algorithms.
Google Data Studio Connector

: Gather Data Points From Various Sources - Including Digimind - For Deeper, More Relevant Insights
Explore more with Google Data Studio, an integration that works with Digimind to help facilitate the exportation of data to the application, Google Data Studio, for more in-depth analysis and data visualization. Great for companies looking to make better-informed business analysis and decision making. This amazing native connector can also allow you to gather data points from various sources - including Digimind - for optimal combining, filtering, and visualizing of different data sources. Hard to beat that!

Take advantage of the Google Data Studio integration, and export data like never before!
Enhanced Country Detection: Get Precise Insights Through Our Improved Country Detection Algorithm
Not only can you collect mentions through Digimind, but now you have the power to pinpoint where mentions come from, yielding highly accurate data! Our new AI technology was designed with this difficult task in mind, providing you with better data analysis via automatic detection of a user profile's exact country of origin (even if their location services are switched off through Twitter). It's not magic, it's metrics!
Multilingual Enhancements To NLP: Overcome Language Barriers With Our Natural Language Processing (NLP) Enhancements
The problem of language barriers being an impediment when tracking brand reputation and campaign performances in international markets is now a thing of the past! Introducing our multilingual enhancements! With our continuous NLP enhancements, we can now gather more accurate insights about brand reputation, perceptions, and mentions in languages like Mandarin, Russian, Arabic, and Thai to name a few! This is truly what innovation is all about, with the power to uncover the full picture of market trends, competitors, and campaign analyses.
Expanding Data Derived From Market Intelligence
Let the challenges of competitive intelligence plague you and your team no longer, with Digimind's latest features that aim to improve your data collection and analysis work coming from your competition, customers, and partners. Too often it's hard to define relevant keywords when trying to monitor and detect subtle changes in the market, as well as mapping trends that shift in real time. Forget that nonsense with our latest improvements that can increase your overall data collection results, speed things up, and acquire more accurate results!
Newsletters Monitoring: Increase Market Data Collection
Always stay on top of the latest trends and news in your industry, with our advanced newsletter monitoring feature! Digimind helps you gather market and competitive information by following competing brands more closely, and tracks their business performance, product launches, events, press releases, and many many more topics! Now, with our Newsletter Monitoring feature, you can monitor an unlimited number of newsletters to make the best decisions right from our UI.
Automatic Predefined Queries: Save Time & Acquire More Accurate Results
Enjoy the unrivaled benefits of automatic, predefined queries for more than 170 lists from various industries. When you increase data coverage, improve accuracy, facilitate the process of query definition and set up, and get more relevant keywords for data collection you'll always have a leg up on the competition!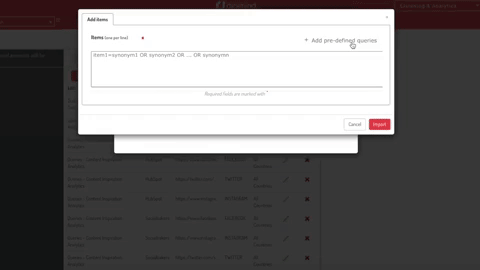 Once you start using automatic queries, increasing both the reach of your coverage, and the accuracy will be as easy as 1...2...3!
Optimizing Influencer Identification
We can't forget about the influencers! They play a vital role in the way content is consumed online, and so we've continued to curate the Digimind platform in order to help businesses identify, analyze, and connect with the most appropriate online personalities for the best, and most lucrative, influencer-brand partnerships! Go above and beyond with Digimind by looking at influencer activities and metrics based on their posted content, frequency and relevance of posts, and much more! To help facilitate this process, we've:
Advanced filters with more selection options
Provided filters for relevancy, score, number of followers, as well as opportunities to filter out companies and inactive profiles
Illuminated the influencer's profiles more easily so they can be contacted via email right through Digimind
Improved gender assignments for influencers
Added a new feature for tracking, and the ability to delete influencers from the platform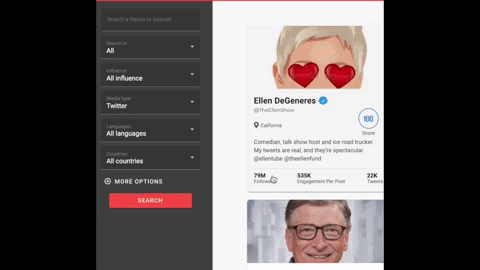 A whole world of influencers is waiting for you to explore! And now you can like never before!
Digimind Ever-Improves Its Support For Mobile Features & Live Chat Functions
Our commitment to always be updating and improving our features for those that depend on Digimind for effective, easy-to-use social listening and market intelligence is stronger than ever in 2021! All of our clients deserve the most up-to-date support for their customers, for whatever challenges tomorrow brings. That's why we've added two great new features that help everyone optimize their mobile app work, and also provide quicker support and engagement quality with Live Chat Support!
Mobile App And Notifications: Digimind On-The-Go & New Ways To Stay Up-To-Date
Always be abreast of risks, threats, and opportunities that you need to be on top of when it comes to improving your business performance. Digimind Intelligence now offers you a new, convenient way to organize and manage your important notifications on-the-go, via our mobile app. Now stakeholders and decision makers can have the most important information at their fingertips! With our new and improved user interface, all of our apps for Android and iOS will see a fresh rollout of notifications.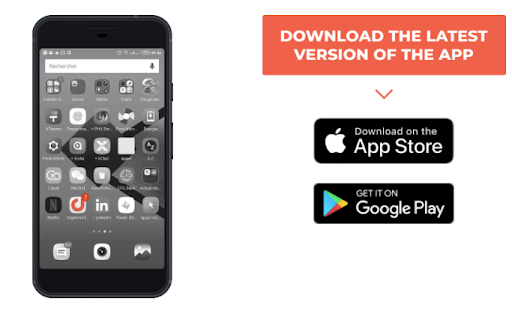 Take Digimind to GO!
Live Chat Support: Get Answers To Your Questions Faster
Never be left in the dark again about a burning question, issue, or complaint you might have with our services! Connect with one of our support experts for tips, tricks, and customer support for a better, more professional experience on the Digimind platform! Also, take advantage of quick access to our Help Center and our Suggestion Box for any additional ideas or helpful suggestions you might have in order to further improve our service! How's that for customer care?!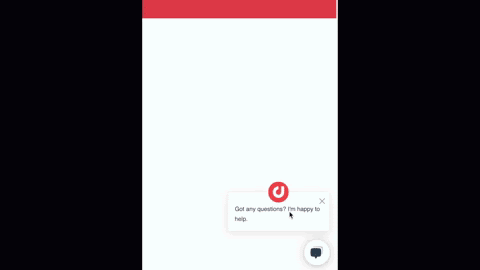 Your customers have questions? Now they've got answers!
Never Stop Improving. Never Stop Digiminding.
We're always looking for new ways to improve our platform and help brands and marketing and insights professionals fight the good fight from 2020, and survive to the hard hits for Round 2 in 2021. Our new features will support you in your fight to tackle the big challenges and problems of a new, digital future! Keep in touch and stay up-to-date with more features and Digimind news coming your way very soon!
Hailing from beautiful Vietnam, Louise brings her trusted experience and eye for detail to her role as the Product Marketing Manager with Digimind! With a strong background in Market Analysis and years of success, Louise offers her Digimind family a new way to promote Digimind features and products. When she's not busy exploring her new home of Paris, France, you can find Louise getting lost in a new book, enjoying some hot tea, or trying a new recipe.