How to Set Up An Actionable and Effective Social Listening Project
"What the #$@% is social listening?!"
It's a question all marketers have asked before. Either you've heard of social media listening, or you're still trying to understand how to do it effectively.
Simply put, social media listening is defined as the collection and analysis of public content by consumers, influencers, and the media, social analytics and social management encompass different disciplines. While it is often confused with social analytics and social media management, these three concepts could not be more different!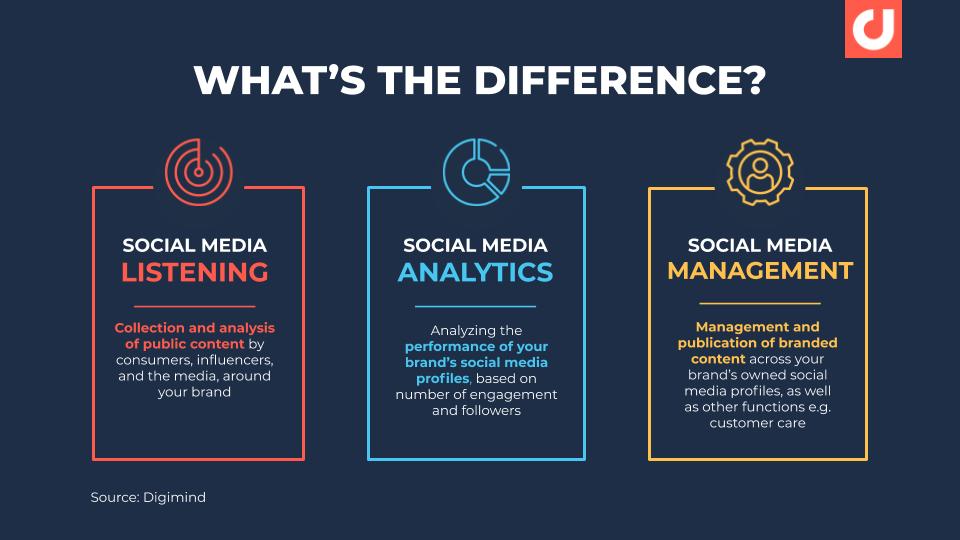 A well-rounded social listening strategy can go a long way in helping you solve several business challenges, such as crisis management, communications strategies, brand awareness, content and influencer marketing, and more.
It all boils down to identifying the right KPIs and metrics to measure, based on your campaign goal or business objective.
3 Steps for Setting Up Your Social Media Intelligence for Success
Social media monitoring and analytics tools like Digimind Social enable you to gather and make sense of all sorts of online public data in real time. However, it's important to take a long-term view when using social media intelligence.
Rome wasn't built in a day, and the same principle applies to your social media monitoring project. Like all other projects you work on, you should identify different stages of roll-out based on your company's immediate needs: from understanding social data, to making tactical recommendations, and collaborating across departments.
Here are three key phases for you to map your social listening projects, as shared by Olivier Girard, Customer Success Director APAC at Digimind:
1. Kickstarting Your Social Listening Project
This initial stage is all about defining your uses for social insights, understanding how your social media monitoring tool works, and setting it up to allow you to collect high quality data so you can make accurate decisions.
Remember that more data is not always better! Pinpoint 1 - 2 key objectives you want to track and set your dashboard up to collect and display these metrics. Data & insights gathered and delivered at this stage often encompass measuring campaign analysis, crisis monitoring, and brand reputation.
To ensure a successful kickoff, key users and internal champions should complete an in-depth training of the selected platform to ensure they understand the capabilities of the tool and have the confidence and knowledge to use it effectively.
The use of AI in social listening for data collection, organization, and management has helped reduce the amount of time spent cleaning and processing data, however allow a grace period for data in your platform to be fully optimized.
2. Advance with Competitive Intelligence & Consumer Insights

Once you've successfully set up the foundations, you're ready to move towards more sophisticated data processing and analysis techniques that allow you to achieve market environment insights to gain competitive advantage.
This can include benchmarking competitors and campaigns or detecting consumer insights and market trends. From there, you can start to make strategic and tactical recommendations for your company strategy, and possibly even share insights with other departments!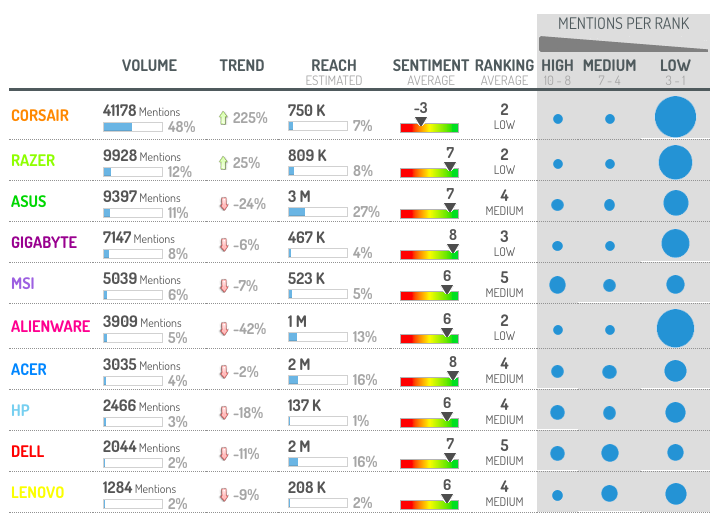 Comparison of online conversations, reach, and sentiment toward major gaming tech brands.


3. Drive Company-Wide Collaboration of Your Project
Companies with advanced social listening projects often focus on sharing strategic insights and recommendations across departments, where relevant. This is greatly beneficial, as insight-driven companies progress 7 times faster than competitors who don't.
Creating a Strategic Framework to Turbo-Charge Campaign Strategies with Social Insights
At Digimind's inaugural #SocializeKL event in Kuala Lumpur, Ruhana DaSilva, Managing Director of Lemonade, shared that social listening tools are invaluable for gaining real-time, actionable insights for optimizing marketing campaigns.

Here's an example of how you can use social insights to serve different strategic thinking at various junctures of your campaign.
Pre-campaign: Data gathered from public conversations about your brand and competitors, can be used to better shape your buyer personas and brand audits.
During campaign: Leverage your social listening tool to derive actionable insights in real time. This includes unmet consumer needs, situational analysis, customer care opportunities, and overall sentiment.
Post-campaign: From there, it's time to start optimizing your marketing strategies, whether it's fine-tuning campaign messages, or recalibrating audience targeting to increase sales.
Ultimately, the insights generated from social data will be essential to understanding consumers, and complementing traditional methods of market research. Look beyond marketing and PR strategies across online and offline channels, and also focus on broader market and consumer insights that could impact other teams such as legal, R&D, or even sales.
Melissa is a digital advocate who loves diving into the latest trends in digital and social media. Since joining Digimind's marketing team in 2015, she has written studies for over 15 industries in Asia Pacific. When she is not telling stories about data, Melissa can be found exploring her favourite cafes and hangouts on Instagram @chuepachups.