Digimind monitors & analyzes Instagram reels
Since the beginning of the summer, Digimind Social has made it possible to collect Instagram Reels whether on your own accounts (Owned Media) or other accounts that interest you (Earned Media).
So you can capture the big picture when it comes to brand reputation, new products and services, or tracking trends with Instagram Posts, Stories, and Reels.
Instagram Reels in numbers and statistics
Instagram Reels Social Listening by Digimind
Instagram Reels
Designed to compete with TikTok short video formats , Instagram Reels allow users to create and share short video content. Reels allows you to record and edit 15-second videos (maximum 90 seconds), add sounds and effects, then share the videos with your followers or, if you have a public account, with the wider Instagram community via the Explore page.
In July, Instagram announced to turn all classic videos into Reels: Now when you post a new video on Instagram, it will automatically be turned into a Reel (this does not apply to old videos already posted). All the videos are grouped together in the same tab on the profiles.
The goal: To reach a wider audience
Instagram wants to make videos more easily accessible in the feed, and also more easily shareable.
If you have a public account, your video posts transformed into Reels (less than 90 seconds only) will be recommended to a greater number of users, beyond your circle of subscribers.
Instagram Reels in numbers & statistics
Worldwide, Instagram would have passed the milestone of 2 billion monthly users in the fall of 2021 according to confidential sources internal to the company. During the fourth quarter of 2021, the Instagram application was the most downloaded in the world, ahead of TikTok, Facebook and WhatsApp.
In France, with over 22 million monthly users, it is the 3rd most used social media, ahead of Snapchat, but behind YouTube and Facebook. In May 2022, Instagram totaled 34.7 million unique monthly visitors in France.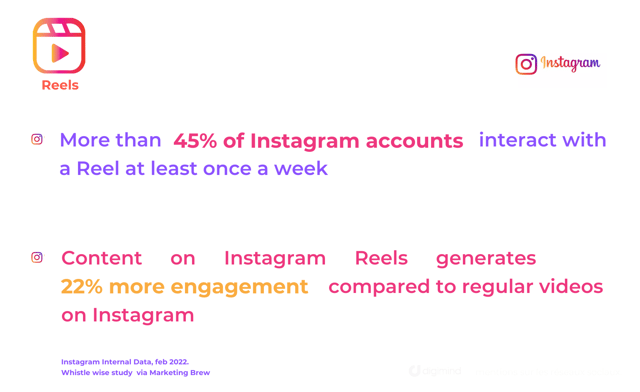 Some numbers on Instagram Reels

Frontal competition with TikTok:
In the US, 87% of Gen Z view Reels and TikTok as "essentially the same products".(2)
But, despite constantly using TikTok, most daily or weekly users find nothing fundamentally different about the app. And around 61% of Gen Z TikTok users planned to use Instagram instead last year.(2)
Engagement and audience
More than 45% of accounts on Instagram interact with a Reel at least once a week, according to a global study (1).
Content on Instagram Reels generates 22% more engagement compared to regular videos on Instagram (3).
Meta figures announce that 55.7% of the potential audience for Instagram Reels ads is male, and 44.3% is female. (4)
The global potential audience of advertisements on a Reel is 755 million, compared to 1 billion for an advertisement placed in Stories and 729 million in the Explorer Tabs.
But Instagram Reels beats other short video apps when it comes to engagement, with a global average of 53 minutes of watch time per session. (5)
Brands
Nike generates an average of 4.6 million views for its Reels videos, with a record high of 6.6 millions (6) .
On Instagram Reels, NBA franchises got 22% higher engagement than the average engagements they got from standard Instagram Posts or Stories. (7)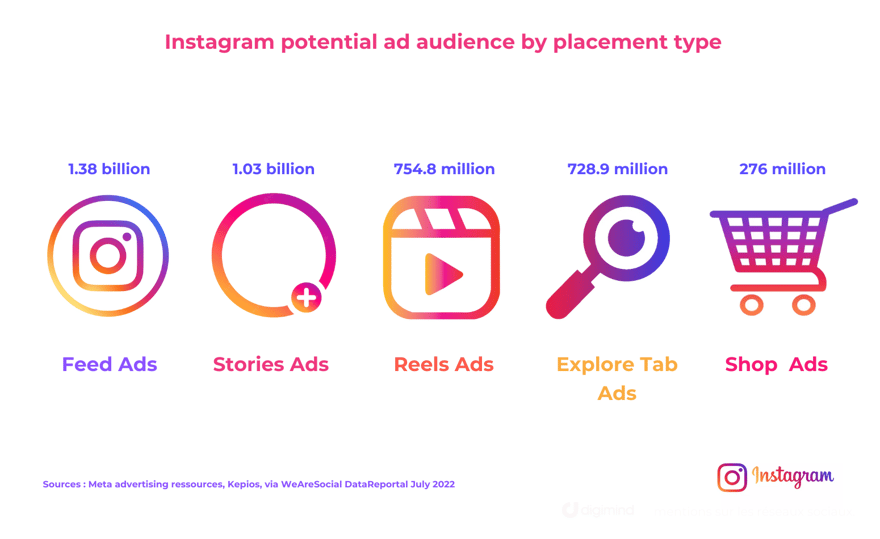 The global potential audience of ads on an Instagram Reel
Instagram Reels for brands
Through many features such as Remix for photos, formats and templates, video clipping, drafts, AR effect, timer... brands and organizations can use Instagram Reels in their marketing strategy to:
Create authentic content relevant to their audience. Instagram Reels is a quick way to create special effects-filled content. It's a way for businesses to show a more human side of their brand.
Share educational content. The Reels are a channel to train, teach, advise:
How to save energy, how to be more efficient at work etc…
Present your products and services. Reels allow you to increase your brand awareness and increase your conversions by concretely showing what you have to offer.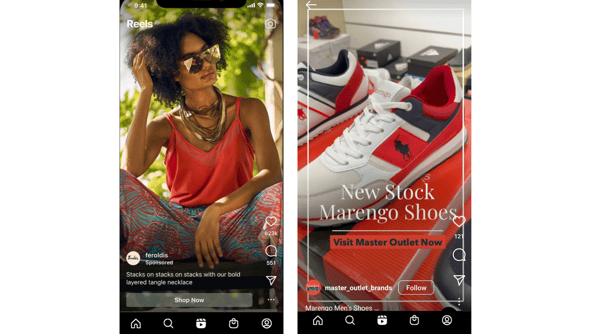 Examples of brands on Instagram Reels, in owned and earned media
Additionally, brands and organizations can boost their Reels, converting them into social media ads to reach new audiences and drive more engagement. An advertised Reel will thus appear in the feed, in the tab reserved for Reels, and also in the exploration page. A Reel that can be converted into Ads must be less than 60 seconds long and display a 9:16 aspect ratio (vertical and full screen).
Meta, owner of Instagram and Facebook, posted some tips here for brands, to create effective and attractive Reels :
Keep brand goals in mind: conversion, awareness?
Get creative with transitions
Make fast-paced videos: sync your music.
Stay on top of the latest stuff and use the latest effects on Reels.
Explore collaborations with creators
Be authentic: Create Reels that are true to you and reflect your brand values.
Instagram Reels Social Listening by Digimind
Now, since the beginning of the summer, Digimind Social has been monitoring and analyzing Instagram Reels in its Listening and Analytics sources. The Digimind platform therefore allows you to integrate Instagram Posts, Stories and Reels into your Owned Media and Earned Media flows.
When you are a brand and want to measure the performance of your own Instagram accounts, you now have comprehensive coverage of the various Instagram channels.
If you want to monitor competitor accounts, trending accounts and influencers that interest you, you also benefit from the coverage of Posts and Reels!
Of course, Digimind's analytics, tagging, and categorization capabilities allow you to categorize all Instagram content according to your goals: by brand, by stage of the customer journey, by product, by consumer insights….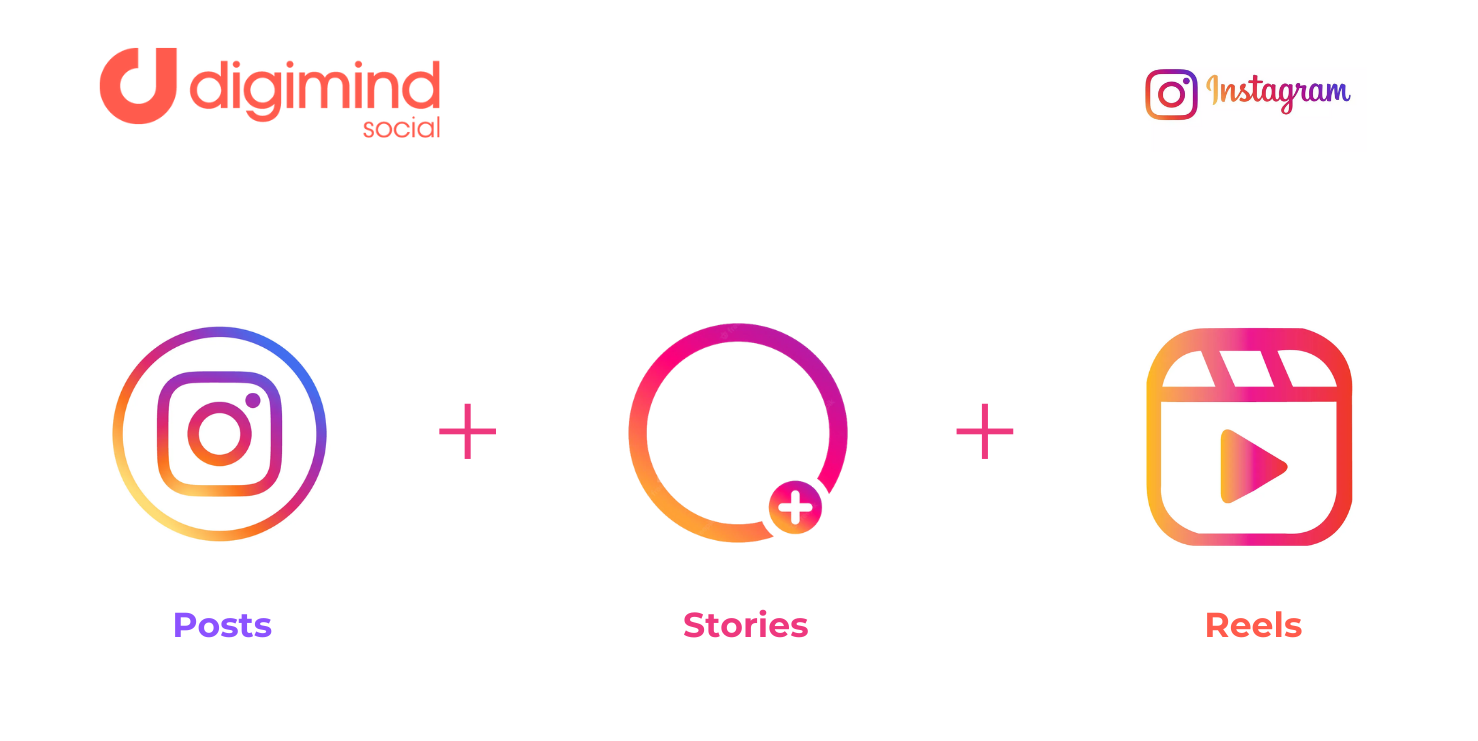 Digimind monitors and analyzes all Instagram content: Posts, Stories and Reels
Don't wait to request your demo of Digimind Social and Instagram monitoring!
Sources
1. Instagram Internal Data, feb 2022. Interactions defined as likes, comments and shares



2. Whistle wise study https://teamwhistle.com/insights    
via Marketing Brew https://newsletterest.com/message/34506/Lets-talk-Reels

3. Earthweb data  https://earthweb.com/instagram-reels-statistics/  



4. DataReportal july 2022 view 174





5. Source : MediaKix





6. Social Tracker Data



7. Conviva Analytics https://www.conviva.com/real-facts-about-instagram-reels/   
Hello, my name is Nour Nasr, I am from Lebanon. I'm a marketing intern at Digimind in the Paris office, and my work mostly focuses on the French market. Before starting this internship, I attended a Master in International Sustainability Management & Corporate Social Responsibility at Politecnico di Milano in Italy. I hope to combine both sustainability and marketing in my future experience and learn more skills throughout the way!!