Definition🎁: "Geo-targeting" - Digital Marketing Advent Calendar
TGIF, marketers! You've made it through another week. Here's our weekend read for you: Waze Country Manager France Jerome Marty's definition of Geo-targeting, and how marketers can use it for their campaigns.
🎈 Defining "Geo-targeting"
The mobile revolution has given rise to new data being available to advertisers and agencies: geo-localization of users in real time. This new signal, coupled with the context in which the user is located, truly enriches our understanding of consumers and increases the relevance of advanced advertising messages and their impact in the real world, at the point of sale.

So, we do not see geolocation as a simple targeting option but as the foundation of a new type of advertising: location marketing, with context.
🔎 How to use geo-targeting in a marketing campaign
When you want to launch a geo-targeted mobile marketing campaign, there are three main criteria to consider: signal accuracy, the format of the ad, and the context in which the user is located.

First, the precision of the location depends on the signal to which the application, site, mobile control or other communication platform has access. The most accurate, the GPS signal, makes it possible, for example, to know the position of a user within a few meters; the wifi signal, less precise, informs a position within a few hundred meters. It is therefore important to know what precision a partner offers before building one's strategy.
Then, the format of the ad plays a paramount role. On mobile, two main categories of formats are available to you. On one hand, the so-called conventional format of banners, or interstitial video used by the ad networks monetizing the inventory of sites and apps ; one the other, the native formats integrating organically into the user experience. The advantage of networks is often their reach, that of native ads to offer more engaging formats as they are aligned with the context in which the user is.

Finally, the ability to understand this context is essential to define the right message. Ideally, a geo-targeting strategy should be able to take into account the mood of the user (at home, on the move, in a shop or at the time of day, for example).
At Waze, we have built our advertising offer on these three pillars: our native formats rely on GPS data to offer contextual messages while in mobility.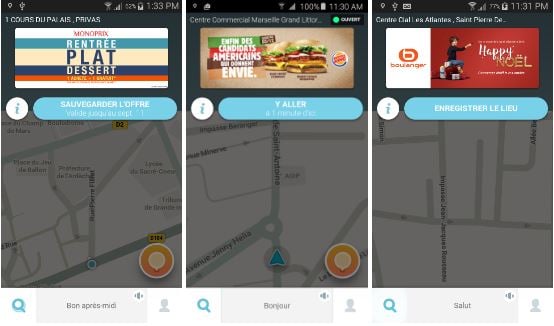 Many advertisers use our platform to improve the local awareness of their brand, products or offers. Here are some examples related to the news of recent months.
We're counting down to Christmas with more insights from digital marketers and influencers! Enter your email address to get it delivered to your inbox - it's our gift to you.
FREE EBOOK
Marketing influencers are sharing their 2017 industry insights this holiday season
Melissa is a digital advocate who loves diving into the latest trends in digital and social media. Since joining Digimind's marketing team in 2015, she has written studies for over 15 industries in Asia Pacific. When she is not telling stories about data, Melissa can be found exploring her favourite cafes and hangouts on Instagram @chuepachups.