Why APAC Brands Will Need Podcast Monitoring in 2023
Asian companies are facing an increasing demand for podcast monitoring as the popularity of podcasts continues to grow in the region. Podcasts are a powerful medium for delivering information and entertainment, and they are quickly becoming a key part of many Asian consumers' media diet. This trend is driven by the growth of mobile and internet technologies, which make it easy for people to access and listen to podcasts on the go.
Podcasts in the Asia-Pacific Region: Key Figures and Statistics
Key Figures
The popularity of podcasts in the Asia Pacific has risen due to the impact observed by the COVID-19 lockdowns, as people were spending more time at home. According to consumer insights company GWI, 66% of people in the region reported listening to a podcast on an average day, with an average of 60 minutes spent per day. The growth in local content in specific markets, such as Taiwan's SoundOn, which has produced 80 million downloads in under two years, has played a role in accelerating audience growth.
Statistics: Podcast Versus Other News Media Channels
Even if podcasts are increasing their popularity, will they become the first channel of information in the incoming years? In a survey conducted in February 2022 by Milieu Insight, 80% of Southeast Asian respondents aged between 16 and 25 chose social media as their preferred place for news consumption. In comparison, only 12% of Southeast Asian respondents in this age group stated to read physical newspapers for their usual news consumption.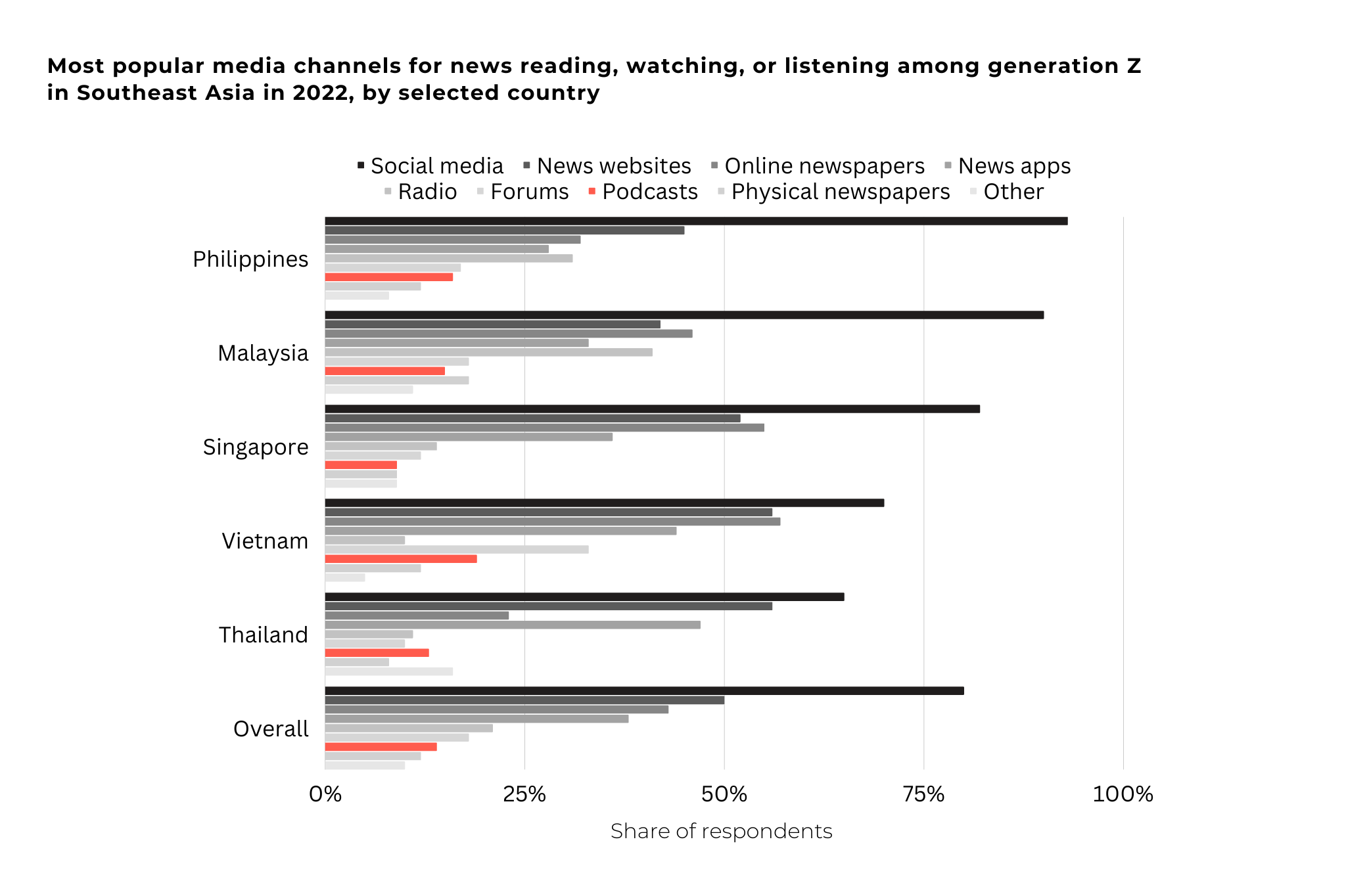 Types of Podcasts
In APAC, podcasts can be found on several apps, such as Spotify or Apple Music. Among the different types of podcasts, we can name the interview, the panel, or the storytelling formats. Then, there are different styles, and their reputation is evolving pretty fast in APAC.
For instance, in Singapore, Spotify studies share that between the first quarter of 2020 and the first quarter of 2021, listenership of mental health-themed podcasts among Gen Z members and millennials increased by 323 percent and 411 percent, respectively. These figures speak to the trend of both generations incorporating media such as podcasts into their self-care routines.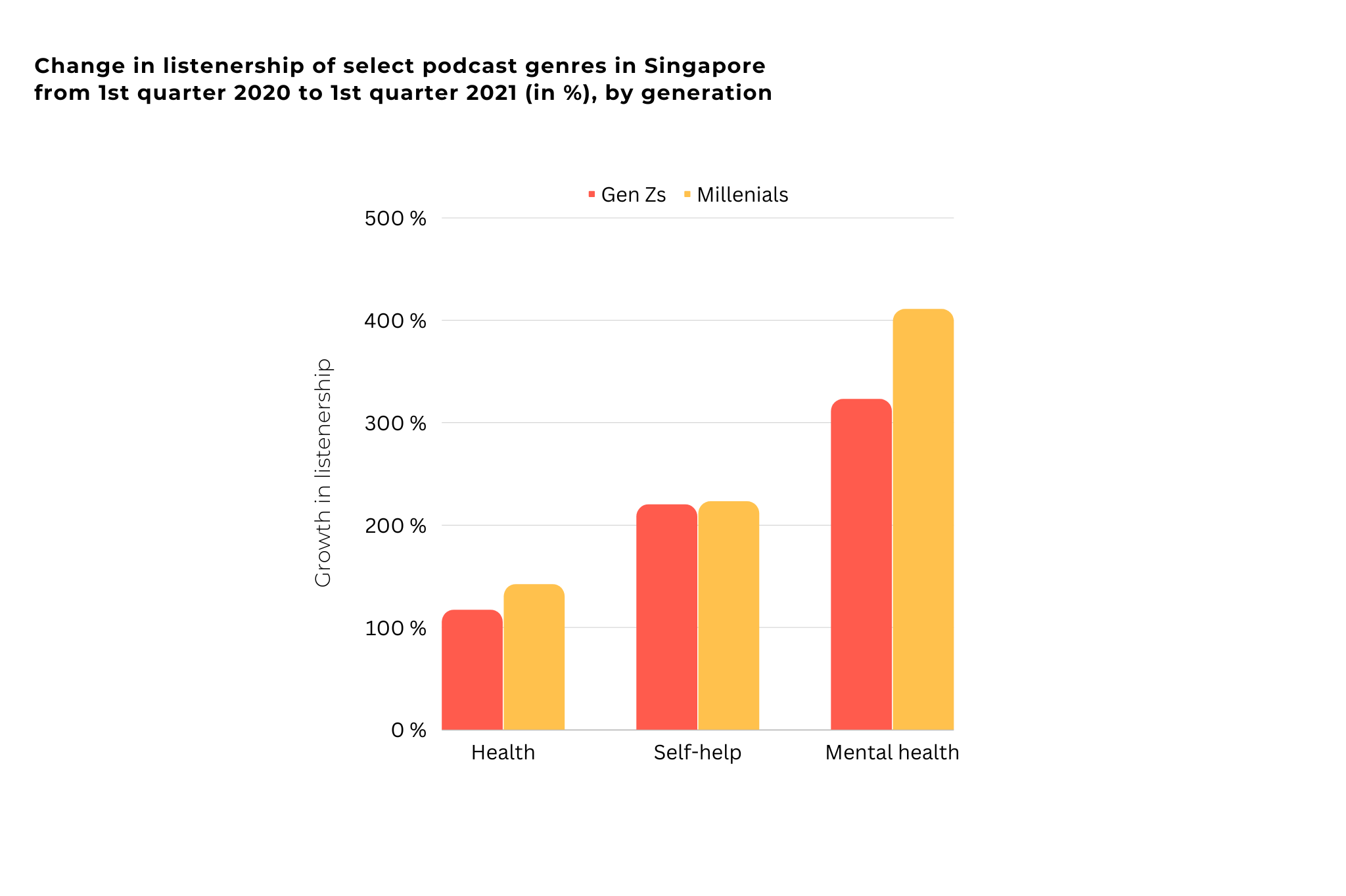 Brands and Podcasts
Brands Invest in Podcasts With Advertising
A global survey of marketers conducted in 2021 found that the net share of marketers planning to increase their online video advertising budgets in 2022 was 76%. The second fastest growing type of advertising content was influencer-produced or published content, with 71% net of marketers increasing their budgets on this medium. Podcasts were already the 7th largest channel for advertising, with 45% of marketers planning to increase their budget.
In APAC, are people trusting podcast brands? Campaign Asia did a survey and obtained answers from 5,620 APAC respondents.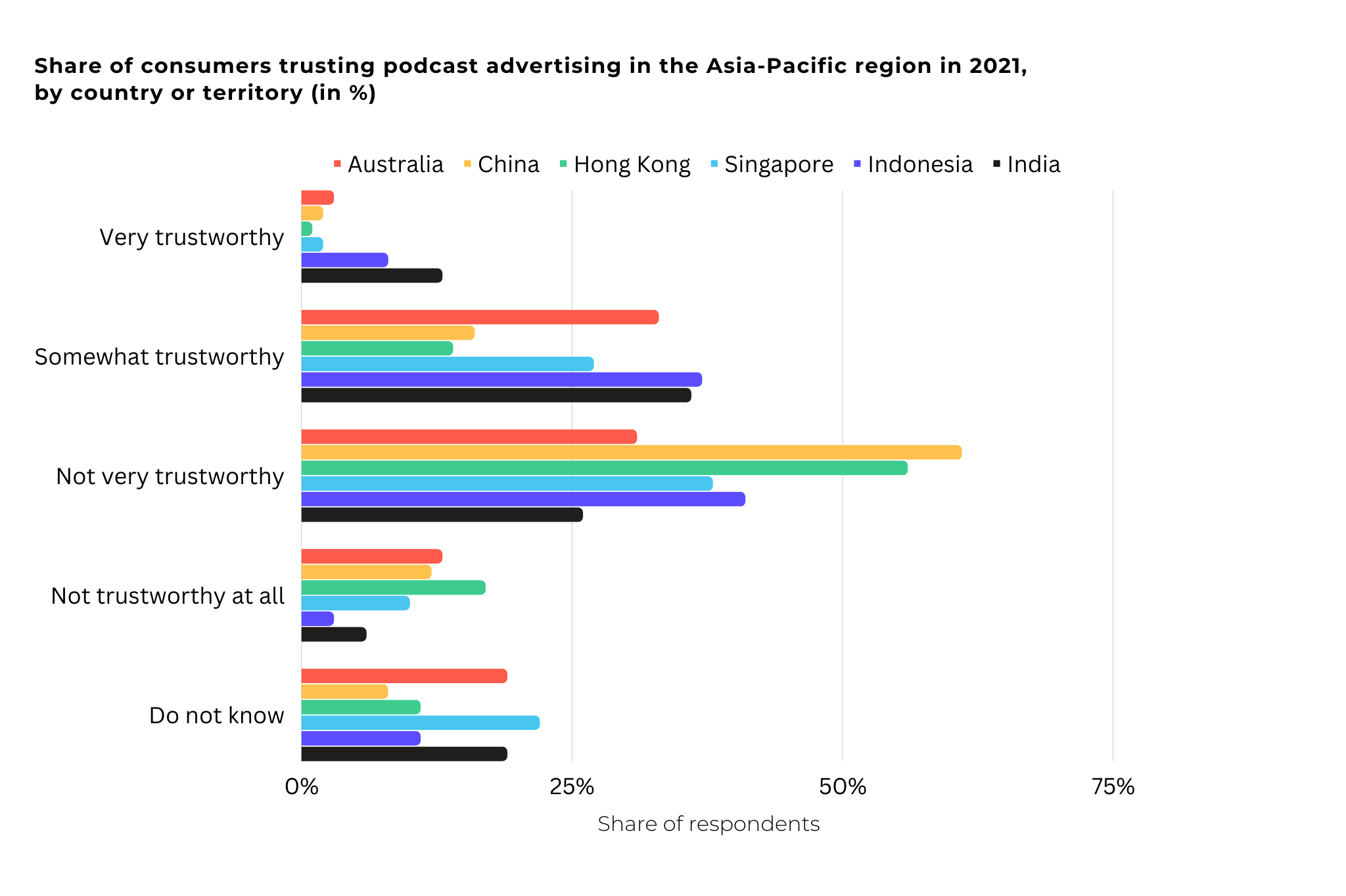 As we can see, people are mostly skeptical about podcast advertising, since most people would rate them as not very trustworthy. There are still improvements to be seen in this area so listeners can trust podcast ads and brands to benefit from them directly.
How Can Brands Monitor Podcasts With Digimind?
Digimind is a leading provider of digital intelligence and social media monitoring tools that can help companies monitor podcasts. The platform allows companies to track and analyze podcast content, including episodes, hosts, and guests, to gain insights into what is being said about their brand, industry, and competitors.
Their solution lets you easily integrate podcasts into your social media listening strategy. You can add monitoring of a podcast by choosing the language and then the desired podcast with one click and selecting the queries for which you wish to monitor the podcast. You will have access to the essential KPIs for a podcast in order to know its reach.
You can add any podcast available on Apple Podcasts, for example, to your monitoring coverage. You can even set up alerts to notify them of mentions of specific keywords, such as their brand name or industry-specific terms, in podcast episodes. This allows companies to quickly respond to any negative or positive mentions and take appropriate action.
In addition, Digimind's analytics tools allow companies to track metrics such as the number of podcast mentions over time, the sentiment of the mentions, and the most influential podcast hosts and guests. This data can be used to identify trends and insights that can inform strategic decisions and marketing efforts.
Digimind also allows you to export the data in different formats, like excel or pdf, which makes it easy to share the insights with other teams within the company and make data-driven decisions.
Overall, Digimind can help companies stay informed about what is being said about their brand and industry in the podcasting space and make data-driven decisions based on this information.
Companies in Asia are recognizing the need to monitor podcasts to stay informed about what is being said about their brand, industry, and competitors. In addition, podcasts can be an effective marketing tool for Asian companies, providing a way to reach a targeted audience and build brand awareness. As such, podcast monitoring is becoming an essential part of a comprehensive marketing strategy for companies in Asia.
Léa is a French native with a double technological and managerial background who, in addition to being passionate about new technologies, loves working in an international environment. That's why, after professional experiences in the Netherlands or Spain, she joined Digimind Singapore to work on the APAC market.