7 Tips to Engage Your Audience and Optimize Your Social Media Marketing Efforts
If you want your social media marketing efforts to succeed, go beyond gaining thousands of followers.
You need a solid strategy to effectively increase social media engagement and ultimately turn them from passive audiences into buyers, loyal customers, and even brand ambassadors.
While audience engagement strategies can vary depending on your social media marketing goals, resources, and existing tools, we rounded up the top five tips below to help kickstart your efforts.
1. Set a regular content posting schedule 📅
Keeping your brand top of mind among social media audiences is crucial to engaging them effectively.
After all, social media is flooded with brands competing for your audiences' attention.
If you don't maintain a solid social media presence to make a good and lasting impression, your brand can get drowned out. You'll miss tons of engagement opportunities.
An excellent solution is to post content regularly across your social media channels. It allows you to churn out content regularly for continuous audience engagement.
Use modern Social Media Marketing (SMM) platforms with advanced features, including sophisticated TikTok tools for marketing, content calendar and scheduling, and reporting and analytics.
One such platform is Vista Social.
The platform streamlines and automates your content production and publishing by letting you create and schedule your content to auto-post during peak dates and times for optimum exposure.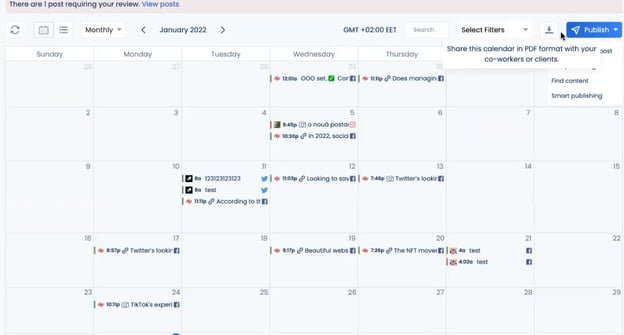 Image source: vistasocial.com.
You can even edit your social media images within the platform before scheduling them to publish on your set dates and times.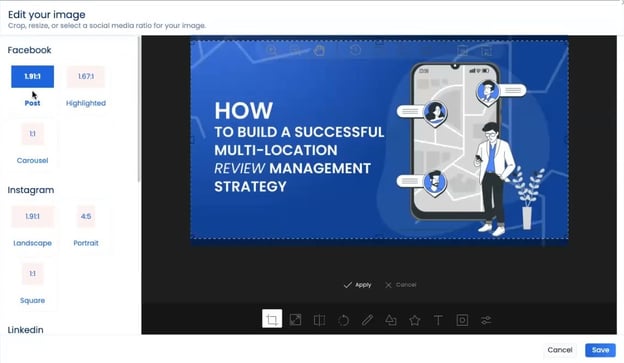 Image source: vistasocial.com.
Vista Social's other notable features include a Smart Publisher that can curate and publish content for you and a reviews management tool that lets you see reviews across marketing channels for social media.
Produce and publish content seamlessly with a reliable SMM tool for maximum exposure for your brand and constant engagement with our audiences.
2. Gather feedback to hear from your audience ✍️
One of the most straightforward ways to understand how to best engage your social media audience is to ask them directly.
Ask for feedback from your current and potential customers on whether they are satisfied with the content types they see on your social media pages, such as contests, promotions, sales, and others.
Use reliable customer feedback emoji systems to gather this information. For instance, Emoji Response lets you create and customize feedback emoji forms and embed them in your eCommerce website.
Image source: emojiresponse.com.
The tool consolidates and analyzes the feedback responses and ratings.
You'll get valuable customer insights and information that can inform and improve your social media content strategy, customer service, and other marketing efforts.
3. Jump into conversations 💬
Communicating and connecting with your followers is critical to engaging them.
One of the most practical and effective ways to communicate and connect with your social media audience is to join discussions.
Some of the strategic ways to jump into or start conversations with your audiences include the following.
Create or join Facebook groups and other social media communities in your industry or niche and share relevant content.
Answer brand, niche, or industry-related questions on Q&A websites and forums.
Respond directly to mentions and comments on social media platforms. Innocent Drinks does this well by responding with a silly quip to a Facebook user's comment.
Host product or company Question and Answer (Q&A) sessions via social media live streams and Stories. For instance, you can use Instagram Question stickers to run Q&As on your IG.
Share sneak peeks into your product development process to spark curiosity and interest from your viewers, enticing them to ask questions about your products.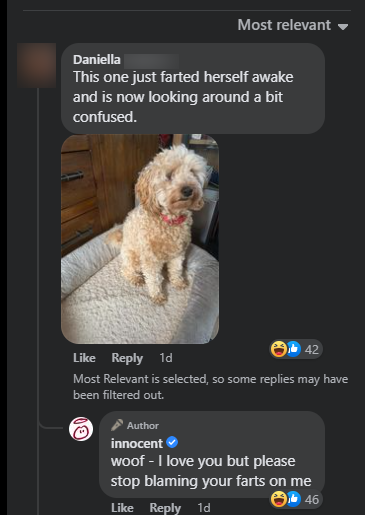 Leverage data and insights from reliable user story software and translate that into compelling content. It can encourage conversations and interactions with your audience.
4. Cross-promote your content across channels 🔗
A solid content development strategy often involves thinking outside the box and going beyond common social media marketing approaches to drive engagement.
One way of doing this is to cross-promote your content across social media platforms. It can help widen your reach, get more eyeballs on your content, and increase engagement opportunities.
A good cross-promotion tactic is to include links to your other social media profiles within your captions, descriptions, etc.
Doing so helps your audiences find you across social media platforms, which is also great for your brand visibility and awareness.
For instance, add your Pinterest profile URL in your IG bio or Instagram page link on your Facebook page.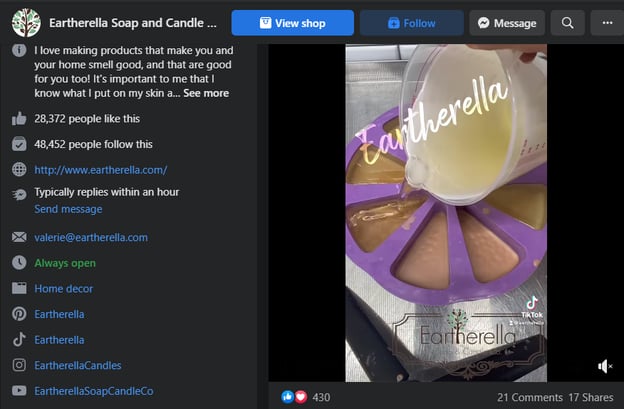 Image source: facebook.com.
You can also cross-promote your new posts. For example, share your latest YouTube video link on Instagram with a blurb about why people should watch it.
If you're doing an Instagram Live video, tweet about it to tell your followers about the event, time, and date.
Cross-promoting can help increase your engagement across social media platforms while adding some synergy to your marketing efforts.
5. Develop a brand voice 📣
An authentic brand voice can help humanize your brand and make it more genuine to social media audiences.
With a solid and consistent brand voice, you can increase recognition and foster trust with your potential customers. It can help compel them into engaging with your brand and, in turn, act on your conversion goals.
Below are several quick tips to help you develop your brand voice for higher social media engagement rates.
Stick to a simple vocabulary
Consider using a conversational and friendly tone
Add personality by injecting memes, GIFs, and emojis into your content and other social media marketing elements
Use language that your audience speaks
For instance, Nike is known for using an inspirational tone and including elements of grit.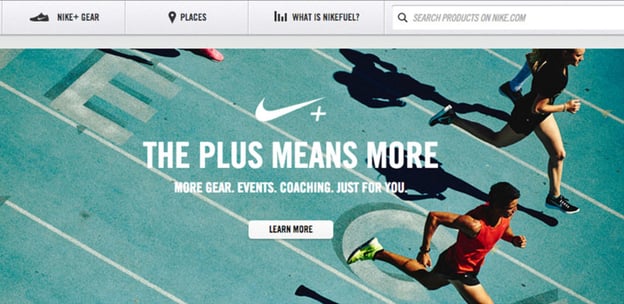 Image source: potionsocial.com
The brand's famous slogan "Just do it" has built a powerful brand voice and persona that encourage customers to pursue their goals with persistence and resilience.
While developing a brand voice can take time, focus on developing one based on what you want to be remembered for and how you want your audience to think of your brand.
Once you nail your brand voice, leverage it across your social media and overall marketing efforts.
A memorable brand voice can help you connect with audiences better and boost your social media engagement rate.
Use top-tier workflow automation software to plan, organize, and manage your tasks and initiatives as you develop your brand voice.
6. Leverage trending topics 📈
An excellent way to engage your social media audiences is to create or share content around the most popular topics.
Buzzworthy topics can spread quickly like wildfire on social media platforms.
With the right approach, even one mention of a popular topic can encourage your audiences to comment, like, and share your content, driving your engagement through the roof.
You can also focus on popular topics related to your brand, niche, or industry.
If the trending topic is retailers and how they can deliver more efficient services, share your blog post on the best-computerized registers to buy at affordable prices.
Capitalize on trending topics and develop a strategy to help you use them to drive social media engagement.
7. Make use of social listening 👂
Leverage what people say about your brand and industry, and create your content and strategies around those to engage your social media audience.
Use social listening to track mentions of your brand and analyze where, why, and how these conversations happen.
Social listening can help you: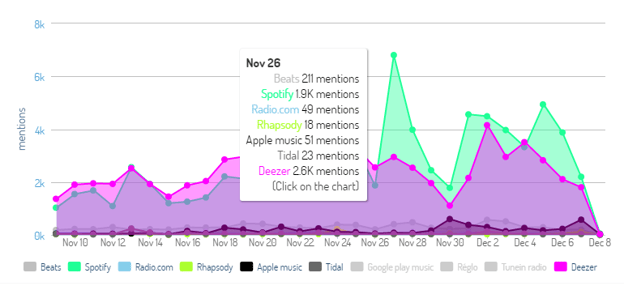 Digimind chart showcasing the trend of the conversation for various music applications
When done properly, social listening allows you to gain valuable information and insights to improve your messaging and content strategy. It can also help you develop your future campaigns, outperform your competitors, and drive more engagement.
Boost your social media audience engagement
Drive your audience engagement through the roof with the help of the tips in this guide.
Build on tried and tested strategies to encourage your social media audiences to like, share, and comment on your content and act on your conversion goals.
Owner at Outrankdigital.com