What Are the KPIs You Should Choose to Help You Identify Your Best Communication Campaigns?
One of the advantages of digital marketing is that it's relatively easy to measure what you're doing in real time, and to optimise it to achieve sales targets. There are several factors that determine whether or not a communication campaign has been successful. But often the first thing to look at is the reaction of your target audience. Social media data can be used to gain insight into user behaviour, measure engagement and, of course, the reach of a campaign.
Which KPIs to use to measure a campaign?
To measure and evaluate the performance of their actions, marketers and social media managers need to define the exact criteria to be taken into account. They will be able to identify the campaigns that work best, understand the success factors and apply them to their future campaigns. The analysis of a campaign's performance must be based on a precise methodology linked to the appropriate KPIs, which must explain the results well and be easy to interpret.
This is why it is important to keep in mind the following points:
Campaign analysis must go beyond owned media (the social accounts you manage within your organisation) to actively listen to spontaneous web and social media conversations (earned media) about these campaigns.
The analysis must be preceded by clear objectives in order to select the relevant indicators (is the objective a gain in communities, an increase in engagement?...).
Data often speaks for itself if well presented: creating dynamic dashboards facilitates visualisation and decision making.
The results of an analysis are useless if they are not shared: create targeted and personalised reports that can be presented to your managers and your colleagues.


To analyse the success of your campaigns, we will discuss some strategies for choosing the most appropriate KPIs depending on the type of data you want to analyse.
1. Set meaningful goals for your campaigns: use different types of KPIs
As we said in our post on best practices for KPIs, the first thing you need to do is define your goals: What is your overall strategy? What does it mean in terms of social media strategies and operational actions? Which departments are involved? Once these objectives are well defined, you need to choose the corresponding KPIs that will help you know if the investments made are producing the expected results. This article will show you different KPIs depending on the objectives you are trying to achieve. For example, for a brand awareness objective, interesting KPIs are reach, number of mentions, impressions, social sessions or share of voice. Keep in mind that to be relevant, they need to be in line with the overall marketing strategy, which in turn is derived from the business strategy.

Choose your marketing KPIs according to the nature of your objectives
A popular method for defining goals and performance indicators is the SMART method: SMART stands for Specific, Measurable, Attainable, Realistic and Time-bound. The performance indicators must therefore feed into the business objectives through measurable results, set with full knowledge of the facts, over well-defined periods of time. Here is an example of a Digimind Social client measuring the performance of their campaigns against awareness and engagement targets.
Campaign KPI case study
A regional council is using social listening to track and measure the impact of its campaigns to promote the region on social media. These campaigns aim to promote the new region's rail lines. They are mainly distributed through posters in the subway, which are then widely commented on in social networks.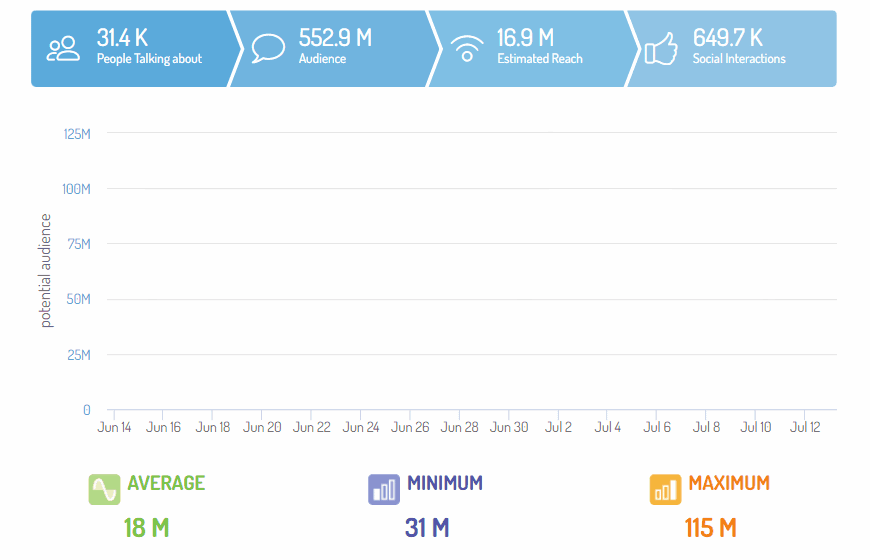 Example of campaign measurement KPIs: reach and evolution per day
KPIs used to measure the campaign include:
Reach: the number of people reached by the campaign messages and the official hashtag.
Mentions: number of messages mentioning the campaign and its themes, broken down according to social media channel.
Interaction rate: level of engagement per most viewed message (shares, likes, retweets...).
Degree of virality: number of shares of the most popular social media posts and articles.
Key terms: number of keywords associated with the campaign.
Conversation trends: volume of conversation peaks associated with a topic.
Sociodemographic indicators: number of internet users by age, gender and profession mentioning the campaign.
Sentiment: percentage change in positive and negative sentiment.
Share of voice of different sentiments.
Influencers: number of influencers classified according to their potential target audience.
Flagship cities: number of cities in the region (or not) that are relaying the campaign.
The results:
In less than 2 weeks, 200 visuals were created and distributed on Facebook and Twitter, using the official hashtag of the campaign. Social media listening allowed us to identify the cities where the messages had the greatest impact. Social media listening also allowed us to identify the main influencers in terms of audience. The analysis revealed a very high level of engagement with the campaign. This was measured by the increase in interactions around the key messages. Audience analysis allowed us to categorise the 3 main stakeholders promoting the campaign on social media: companies, associations and residents.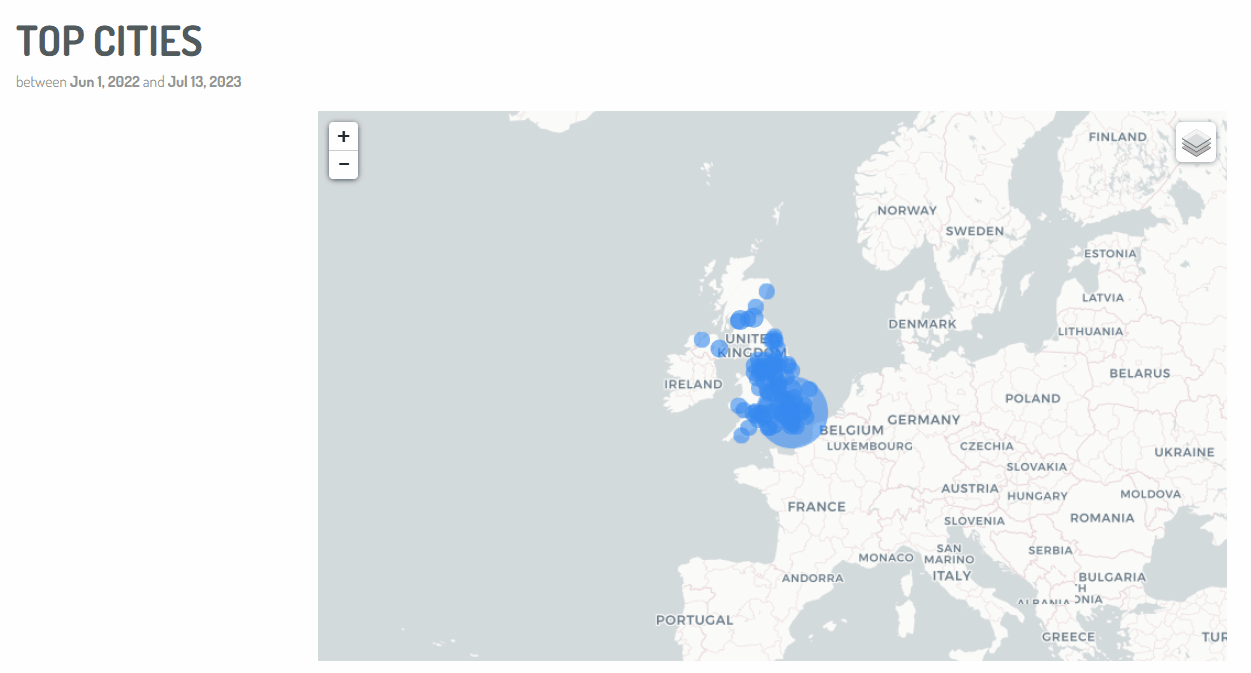 Analysis of the cities where the campaign had the most impact on earned media
2. Identify the most important data and define analysis periods
When it comes to measuring the impact of campaigns, there are different types of analysis approaches depending on your choice of KPIs. But they all have one thing in common: the social insights that come from analysing your audience always help you understand how your campaigns perform. You can also continuously compare your results by defining analysis periods.
That is why it is important to:
Analyse the socio-demographics of your audience:

analysing your audience before and after a campaign based on socio-demographic criteria (age, gender, interests, profession...) helps you improve customer profiling, as social media listening tools allow you to analyse your audience in real-time.

Measure growth:

an increase in your communities, reach and engagement can be indicators of success. These indicators show any significant increase in the visibility of your brand.

Gain insights:

it is easy to know which levers in your campaign are most effective and which ones should be optimised by measuring the same indicators over short periods of time (e.g. weekly). It is also important to identify insights that are valuable to your business: for example, a change in your target audience for certain campaigns.
Case Study
To analyse the performance of its campaigns and evaluate the return on investment in terms of visibility, buzz, share of voice, and to collect characteristic consumer reactions to its main campaigns, a retail company has integrated social listening into its marketing strategy.

What are the KPIs that allow it to achieve these goals?
Message tones and number of mentions to improve engagement activities, the most engaging messages to improve the content marketing strategy, the number of influencers and their types to identify potential brand ambassadors and integrate their content into the marketing strategy, and finally the social channels to optimise in paid and organic.

The results:
Social listening allowed us to measure the impact of campaigns in real time, optimise new campaigns, and interact with users at the right time.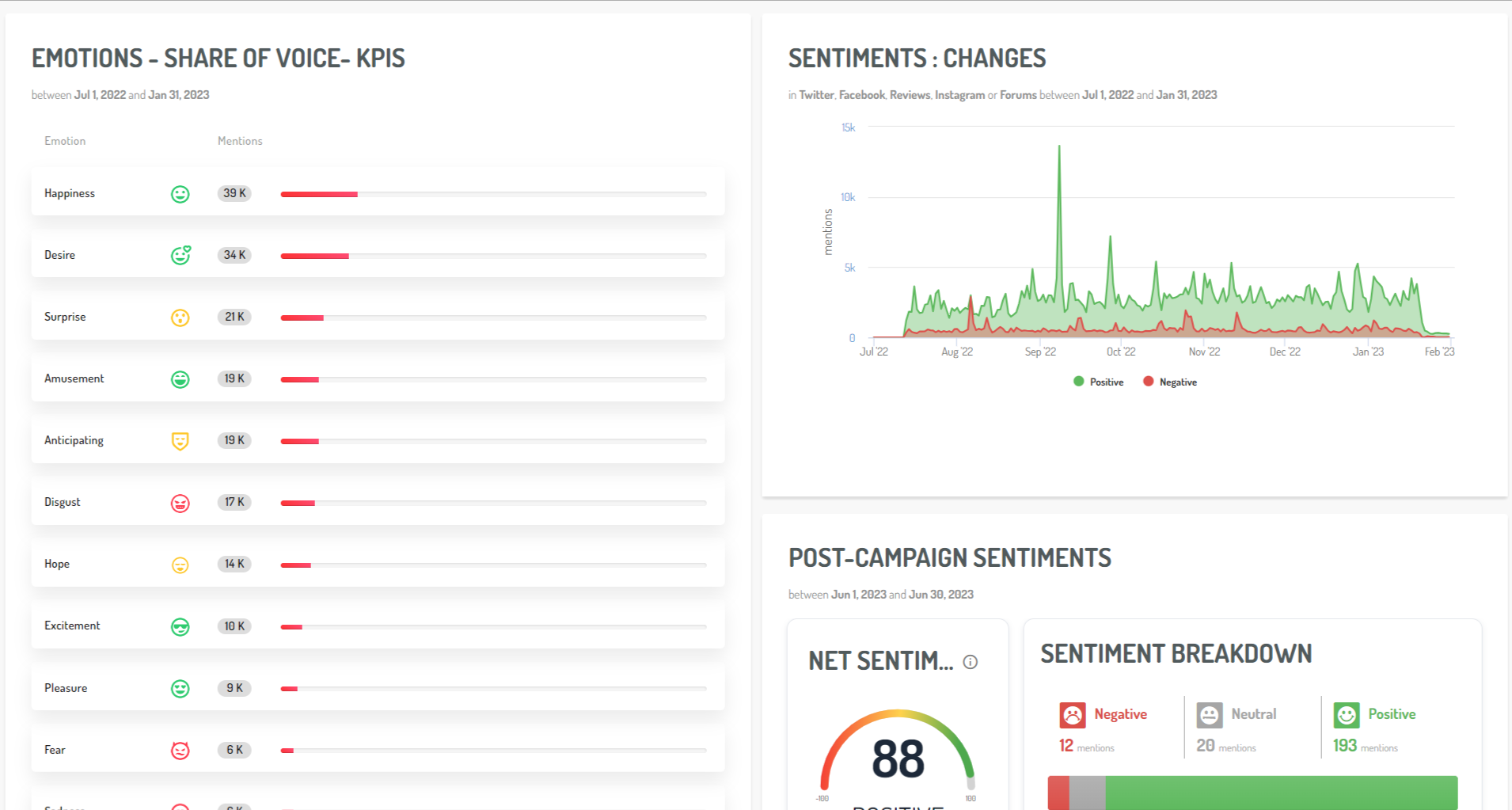 A dashboard presenting the KPIs of changes and share of voice of sentiment
3. Synthesise information in one place to better understand the data
Get better analysis and perspective by having all your campaign metrics in one place. Using dashboards consolidates the social data you need into one dynamic space, presenting interactive analytics updated in real-time and customisable as you need.
In addition, you can generate reports from these dashboards to keep your teams informed of campaign results week after week.
What indicators can be included in a campaign analytics dashboard?

Media and channels: to evaluate the performance of the campaign.

Mentions and trends: evolution of mentions by key campaign themes.

Key concepts: measure audience response.

Feelings and Emotions: Reaction tones.

Demographics: to learn more about the profile of consumers who share your campaign on social media.




Case Study
An apparel brand uses social listening to measure the impact of its marketing campaigns. One campaign supported the launch of the new spring-summer shoe collection. The main protagonist of the video campaign is a film actor. The objective was to measure the impact of the first 3 days of the campaign, to identify the main channels of conversation, to identify the influencers and ambassadors of the sector who spread the campaign and finally to measure if the countries where the brand is present were well reached on social media.
For this project, it was essential to use dashboards not only to monitor the campaign and its results, but also to quickly generate customised reports for top management. In addition, these dashboards allow for standardised reporting, making it easier to compare metrics across campaigns in the future.
Keep in mind that KPIs are not static. Campaign success also depends on being able to adjust the variables analysed and plan interim steps to review the KPIs.

Silvia is a Business Development Representative at Digimind, residing in the vibrant city of Amsterdam. With a master's degree in Marketing Management, she's totally hooked on everything marketing-related. What really gets her excited is diving into the possibilities of AI and how it can take consumer behaviour insights to a whole new level.