The B2B/B2C Social Media Survival Quiz: Are you tough enough?
Right now, your brand is submerged in a sea of online comments, criticisms and feedback, and you have no choice but to jump in and join the conversation. Social media has become an essential part of business, both for B2B and B2C companies, yet so many struggle to keep their brand reputation afloat online because they are misinformed about what makes a successful strategy. The simple fact is what works for one industry might not work for another, and what works for a B2C company will not work for a B2B company. Unfortunately the internet is awash with social media experts claiming to know what's right for you, but without knowing your brand and business, there is no way they can give you truly actionable advice.
This is why Digimind has set up a Social Media Survival Hub; we have combined all of the most pertinent information on the web and our own social media know-how to produce easy-to-read eBooks which give companies in all industries the real facts about how and why to use specific social media sites. These free, downloadable eBooks are tailored to each industry and business type and contain information about how to get started on the best social media sites for your business, facts and insights about those sites, detailed case studies to use as inspiration and best practices for each site.
And this is not all; we then used information from our eBooks to compile a quiz which tackles the many brand-threatening misconceptions about social media. Simply answer each statement with 'Yes' if you agree, or 'No' if you disagree, and find out if you have a strong enough understanding of the key principles to survive the murky waters of social media.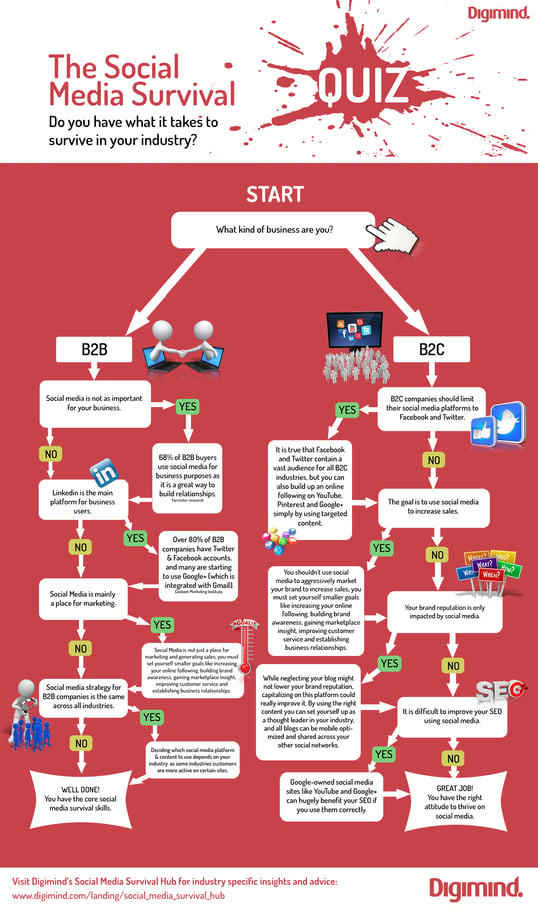 Marketing Manager @digimindci. Passionate about big data & social marketing. Photography, music and hiking lover