Key Marketing Concepts in 2017 I: Social Media
Social media has grown to become a core aspect of a marketer's arsenal, from engaging audiences to acquiring new channels of market research in a cost-effective manner. So how can brands leverage it in the coming year in digital?
In our first ever Digital Marketing Glossary, we asked digital experts on what "social media" entails: how to master it, and what the key KPIs are for marketers:
A world of conversations and idea exchanging
According to LinkedIn Elevate Account Director, Clement Boehm, the term "social media" refers to "the world of conversational web, where Internet users exchange opinions, rate experiences, and even share emotions". It has transformed the economy, as well as the way we communicate. For marketers, this means unique opportunities for brands to interact with customers, suppliers, candidates, investors and industry in real time.
Defining social ROI
Social ROI is about tracking and measuring the performance of your social media campaigns and activities – does it meet client objectives? Does it help build brand opinion? Does it justify the time and money invested on the platform?
"In the end, it's about seeing how it contributed to the overall success of the brand," says Jim Guzman, Head of Social at MRM//McCann. "Understanding the role of social in the marketing mix is key. Only then can marketers pinpoint which platform to activate for each campaign. Social media listening can also glean a wealth of information about a brand's customers and online reputation, both on their owned social media channels as well as on the web. With these added insights, marketers can optimise their social strategies."
For marketers, three metrics that will define social media ROI are: reach, engagement, and influence.
What about measuring social ROI?
According to Kelsey Simmons, Business Intelligence Analyst at WhoWhatWear, social media analytics is "the study of the performance of social content in order to understand how users are interacting with and responding to specific digital media."
In practice, social media analytics includes collecting a wide enough set of data to be able to identify patterns in content performance. Analysis can be as simple as identifying which of a brands owned posts have received the most likes or which owned content was posted during the time period where an account saw the greatest growth in following. Viewing these top owned posts engagement metrics amongst those of a brands competitors brings context to analysis, allowing an analyst to gauge where on the scale any given collection of content falls within the broader landscape.
Insights from this reporting enables stakeholders to make more informed decisions when tweaking social strategies to optimise performance and choosing KPIs that will accurately track the goals of their social media efforts.
How can brands be engaging on social?
For Hootsuite's Director of Growth and Marketing APAC, Roger Graham, social media marketing is about creating an exceptional customer experience, as well as building brand awareness online.
A successful marketer knows where and how to engage a brand's customers. Find out which platforms your target audience is most active in, and decide what content performs the best on those platforms. Pay attention to which channels perform best for your brand, as well as what type of content resonates with your audience. Video is one of the best performing types of content on social.
Uncover more insights in our first ever Digital Marketing Glossary: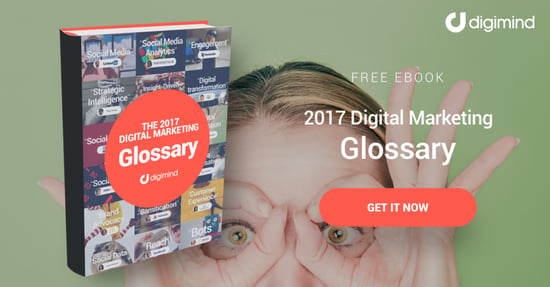 Melissa is a digital advocate who loves diving into the latest trends in digital and social media. Since joining Digimind's marketing team in 2015, she has written studies for over 15 industries in Asia Pacific. When she is not telling stories about data, Melissa can be found exploring her favourite cafes and hangouts on Instagram @chuepachups.