How to Uberize Your Industry with Social Media Listening (or Avoid Being Uberized!)
Uber, the world leader in ride-hailing, has given birth to the term "Uberization", meaning the transformation of an industry by introducing a different way of using it, especially with mobile technology. Thanks to new technologies (web, mobile, geolocation, broadband, computing time, etc.), new players are transforming traditional industries by creating a new intermediary that allows end-users and service providers to connect directly. By making digital platforms available, these new players reduce costs, connection time, and administrative formalities.
In this context of disintermediation, social media listening, ie. listening to conversations on social media and the internet, makes it possible to not only better understand your market, but to also identify the evolution of needs and new expectations of platform users.
For start-ups that are already "uberizing" their sector, social media listening makes it possible to detect and better understand the following:
Customer experiences
Wishes for customer improvement
Your vision of digital competitors, and their opinions on traditional players in the sector
For established players, listening to social media, industry intelligence, and trends will enable them to detect upcoming disruptions, new entrants, and key drivers to anticipate changes. In turn, this will help them initiate a digital transformation and develop an updated platform that serves new needs and behaviors. Monitoring how consumers perceive their brand also provides them with valuable insights.
Which Industries Have Been Uberized?
Many sectors of the economy, offering consumer products or services, have been uberized, some by multinationals with great economic and financial power. Traditional players are increasingly challenged by innovative and disruptive new entrants.
Taxis: Uber disinter-mediated the chauffeur-driven car sector very early on, starting in 2010. Many competitors, both local and international then followed, including startups like : Lyft, Sidecar, Easy Taxi, Kapten, Heetch, Bolt, Marcel, SnapCar, Go-Jek, Grab, and more. Related passenger transport services, such as carpooling and car-sharing, then developed.
Hotels: The sector was disinter-mediated in 2008 by AirBnB, followed byBooking.com and Homeaway. In addition, related services from smaller platforms such as Flipkey have also developed.
Personal services: Laundry cleaning, small renovation work, grocery delivery and various other aids have developed from different platforms such as Helping, Taskrabbit, and Mowdo.

Booksellers and publishers: In addition to buying books online and in-stores, Amazon Books also offers a publishing service with logistics. Lulu.com is another service that has been offering an online publishing service for many years.
Catering: Eatwith allows customers to book a table at a private home and already has several thousand members.
Lawyers: BestLawyers offers links between lawyers and litigants, while WeClaim offers online legal services.
Banks: SoFi, Avant, N26 are shaking up the sector, with other Fintechs innovating in security and authentication while crowdfunding platforms (KickStarter, GoFundMe, RocketHub) allow borrowing at lower rates, some being specialised by sectors such as real estate.
The labor market: GraphicRiver, Clic and Walk, Upwork, Gigawalk or BeMyEye disintermediate the interim, micro-jobs and freelance market.
Media: Netflix offers series and films directly to consumers without going through major distribution networks and by limiting the use of external producers. The streaming service is followed by Hulu and Amazon Prime. One major selling point of these streaming services is allowing users to watch on demand, thereby increasing the chances of shows being streamed on individual schedules.
Marketing, travel, education, logistics, and fashion are also sectors in the process of becoming uberized.
→ Bonus: Discover how to enhance your market research with social media insights with our "Social Listening for Market Research" guide.
Uberizing for Start-Ups and New Entrants
Companies looking to 'uberize' can begin with the following steps:

Listening to Users and Anticipating Changes
How Can Brands Utilize Competitive Intelligence?
Innovation Monitoring
Gathering Intelligence on Sensitive and Critical Subjects
1. Listening to Users and Anticipating Changes
For a start-up that has already partially disinter-mediated its sector, it is advisable to strengthen your positions by monitoring these four consumer axes:
Quality of customer experiences
Desired areas for improvement
Sentiment towards traditional players
Sentiment towards digital competitors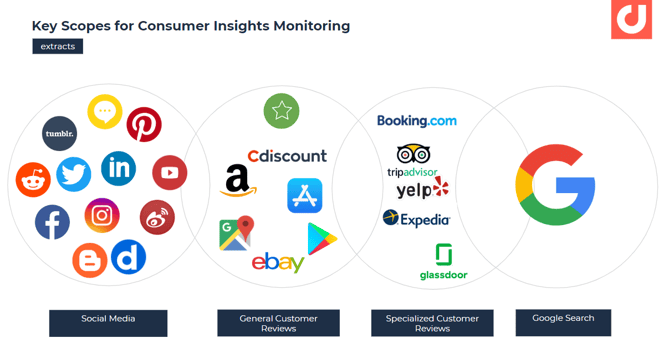 Expand your scope of monitoring to include sources outside social media, i.e. specialized forums and customer review platforms.
With social media listening tools like Digimind Social, companies can complete their own "customer ticket" service and target key discussion areas, namely: consumer review sites, social networks, forums, and blog comments.
You will then have to monitor the keywords most associated with your brand, product, or service. Given the huge volume of searches on the likes of Google, where 15% of daily queries are unpublished, some keywords and phrases can alert you to positive or negative customer experiences, recurring concerns, or upcoming competitors.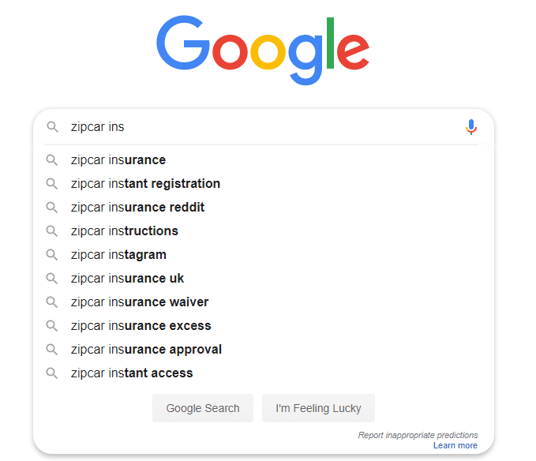 Analyze the expressions most associated with your platform
Social media listening chart displaying top keywords associated with a brand on Google search.

What types of insights would you be able to gather from the content posted by your customers or those of your competitors?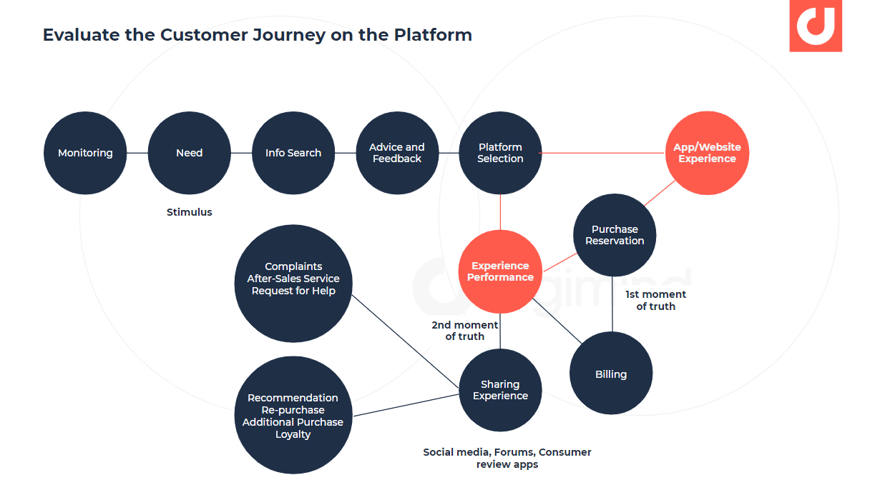 Evaluate key stages of your customer's journey.
First, you need to build your social listening queries to cover the entire customer experience. This includes the use of an app, contact with the service provider, the progress of its service, after-sales service, billing, key words, and expressions. These queries must cover a wide range of concepts, preferably associated with specific phases of your customer's journey.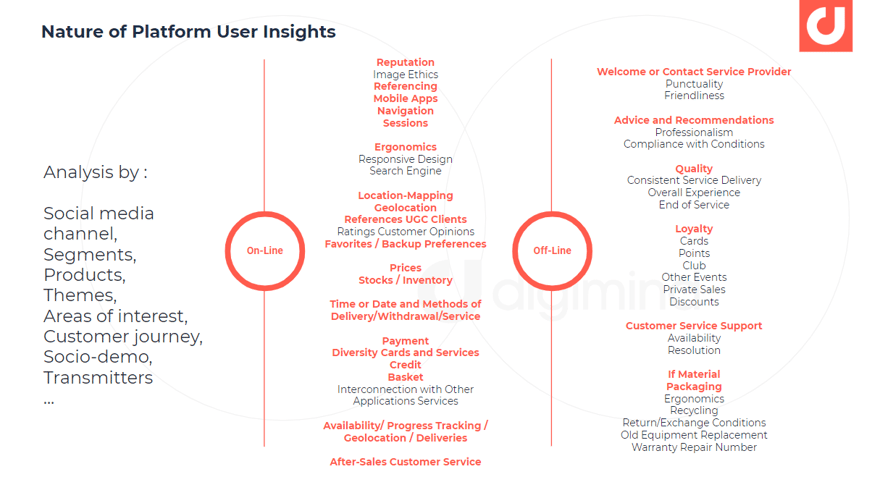 Nature of platform user insights
From then on, the types of messages collected will be extremely diverse and potentially instructive, as they will concern online experiences (research, ergonomics, navigation, payment, etc.) as well as offline (quality of service, compliance, relationship with the service provider, advice, etc.). The effectiveness of social media listening for collecting consumer insights depends on the extent and variety of sources, and the finesse of the criteria for analysing all the messages collected, whether by:
Social networks, products, or themes inherent to the service or other company related topics
Centres of interest
Stages of the customer journey
Socio-demographic criteria
Type of issuers
2. How Can Brands Utilize Competitive Intelligence?
Competitive intelligence, one of the great classics of strategic intelligence, is essential in the world of platform disinter-mediation, where new entrants can quickly emerge. It is therefore necessary to not only monitor your current competitors on all the above-mentioned axes, but also your entire sector.
For example, if your company is in the ride-hailing industry, it is important to analyze all the current mobility actors, as well as key discussion themes related to new mobility in order to detect completely new entrants. An effective social media listening platform can automatically distinguish within a large volume of mentions, the different types of entities, such as a company, product, or executive for example.
3. Innovation Monitoring
In order to maintain the upper hand in your industry, you need to be on the lookout for all kinds of technological innovations that can impact the performance of your platform, and those of your competitors. In addition, innovation monitoring concerns not only your industry, but also other key areas, including:
Industries that are traditional pioneers in terms of innovations or trend-breaking, such as integration of facial or object recognition
Global trend monitoring, so that you can understand key consumption patterns and lifestyle of key customer segments, as well as their evolution.
Even industries that are traditionally "ubiquitous" in consumers' lives can also find themselves faced with technological changes initiated by an entire ecosystem. This includes platforms, GAFA (Google, Apple, Facebook, Amazon), and startups.
Thus, even an industry that is already heavily "ubiquitous" is undergoing constant technological changes initiated by the entire ecosystem (platforms, GAFA, start-ups, etc.). For example, the "Alexa for Hospitality" program for the hotel industry is changing the customer experience for room service and concierge services, an innovation that can in fact be extended to the entire hospitality sector.
4. Gathering Intelligence on Sensitive and Critical Subjects
Some uberized platforms have come under the spotlight of criticism concerning, in particular:
Market players (unfair competition)
Social issues (working conditions, remuneration, employee registration)
Legal issues (nature of the contract between the service provider and the platform)Taxation (tax optimisation)
It is advisable to monitor these topics on news sites and social networks, as well as gather user sentiments through your social listening dashboard. Through extrapolation, it will also be necessary to monitor the evolution of regulations inherent to your sector, as well as other social, fiscal, and legal developments that may signal potential changes.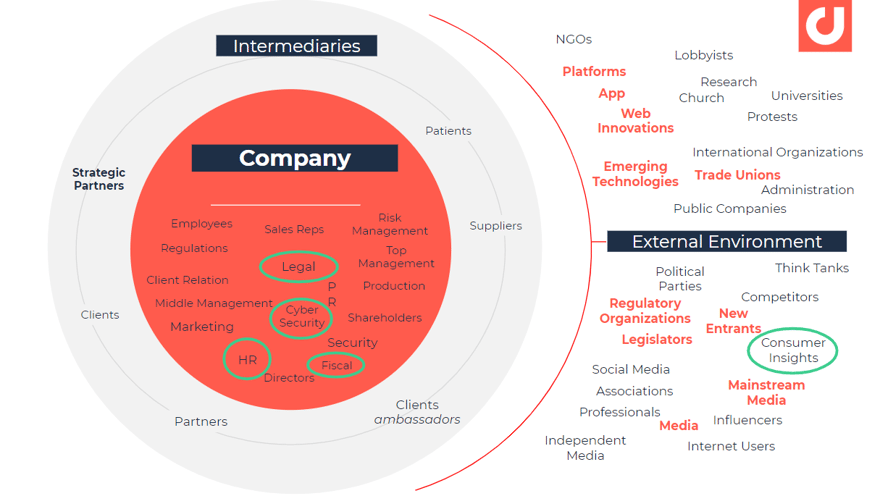 Monitoring of internal and external environments.
Your social media listening strategies should therefore focus on gathering and analyzing insights on the following areas:
External environment: consumer insights, changes in standards and regulations by legislators and regulatory bodies, unions, mainstream media, competitors and new entrants, platform and application news, web and telecom innovations, emerging technologies, and market and consumer trends.
Internal environment: Focus on legal, tax, and HR monitoring, as well as cases concerning other disintermediation platforms that can set a precedent for your sector.
Traditional Players: Listen to Your Environment and Detect Breaks
Let's now examine the angle of a traditional player, whose sector has not yet been uberized or experienced minimal uberization.
In order to avoid this intense disintermediation, it is necessary for firms to anticipate it and arm themselves by adapting their product or service to offer more digitalized functions, even developing a platform.
This is a dilemma that the G7 Taxis in Paris faced with the arrival of Uber. They knew they had to completely rethink their strategy: offer, design, fleet, application, service quality, brand identification, etc. Transformations took place far beyond the digital perspective! G7 was able to retaliate against Uber, but with a "traditional player" who resists uberization, how many suffer or disappear?
In order to overcome digital disruption and transform their businesses, traditional players have to monitor and analyze their markets, and understand their users, especially through social media and forum discussions.
Here are some steps to take:
A social media listening strategy which aims to help your company collect and analyze consumer insights on user experiences
Monitoring Innovation
Competitive Intelligence
Regulatory Monitoring
1. A social media listening strategy which aims to help your company collect and analyze consumer insights on user experiences
Whether for your brand or your competitors, social media listening can be deployed to detect the following aspects of your customer's experience:
Points of discontent and friction, negative experiences, and their causes
Feelings towards traditional competitors or potential competitors in their early stages (poorly developed applications or foreign installations for example)
Unmet and recurring needs and expectations for current services
References to non-existent services or products
Looking at the example of traditional car rental companies, there are numerous criticisms, including little to no digital transformation, poor customer service quality, little customization, and heavy process, among others. By responding these criticisms and prioritizing developments to address these gaps in customer experiences, this sector could innovate instead of being overcome by an influx of disruptors.
How can brands apply these consumer insights?
Improve product functionality, product quality, and customer profiling, and customer service
Monitor and analyze quality of services
Detect product features that are important to consumers, new devices, and emerging platforms
Identify key consumption styles and habits, as well as unmet needs which your brand can differentiate or position as a unique selling point
Optimize and simplify your customer's journey
This focus of the customer experience must also constitute the "common thread" of other types of monitoring and listening.
2. Monitoring Innovations
Which applications and platforms pose a significant opportunity or threat to your company? Which technologies or processes are missing or can be improved (e.g. centralization of customer data for a seamless experience between your website, mobile application, and the internal system of your branch network), and which are present in other sectors?
3. Competitive Intelligence
Which types of direct and indirect competitors or services are you being compared to? For example, ride-hailing companies may want to consider rental services for trains, cars, planes, or carpools by individuals.
4. Regulatory Monitoring
The aim here is to detect changes and future standards, laws, and regulations that may challenge your business model and, conversely, generate platform development opportunities.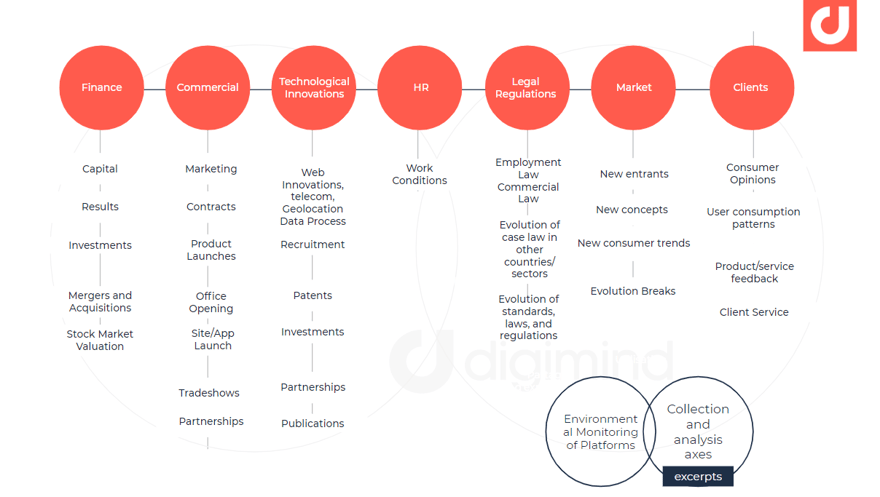 Environmental monitoring axes of disinter-mediation
As we can see, the social media listening axes of established companies are very similar to those of a start-up that has already disinter-mediated its industry. The difference is timing. It is necessary to be aware of the need to collect this information early, in order to start the necessary transformations and mutations as quickly as possible, based on analyses fed by all detected insights.
With a background in consumer economics, marketing, and international business, Alina is a Digiminder passionate about global market insights. In her free time, you can find her reading historical fiction or re-watching old star trek episodes.