Digimind Fall '21 Release: Deepen Your Connection with Consumers with Enhanced Instagram and Web Tracking, improved mobile access, and many more!
As leaves turn from green to brown and cover the ground, we're here to welcome the beginning of Q4 with a warm cup of tea. May you be working remotely or in the office, adjusting to the constantly changing 'new normal' is no doubt challenging. Rest assured our dedication to listen to our customers and provide the best has never faltered.
In the spirit of providing the best, Digimind has unfolded several features this season that will help you build a stronger strategic resilience through the current ups and downs of the business landscape by enriching your consumer insights collection, optimizing your brand reputation with Instagram monitoring, and forging stronger collective intelligence within your organization.
Delve into Consumers' minds with Instagram Comment Monitoring
When starting a new campaign on Instagram, it's important to follow the comments gathered on your post to know consumers' reactions, giving you valuable insights into how effective your communication is. If you're getting positive sentiment, understand the reasons why, and if the sentiment is low, you have the power to quickly change the atmosphere of the discussion to your favor.
With Instagram Comment Monitoring, you have full visibility on all the comments on your posts, helping you gain real and honest insights about your brand. These insights will allow you to manage the conversations and respond quickly to your followers - increasing your community engagement and improving brand trust.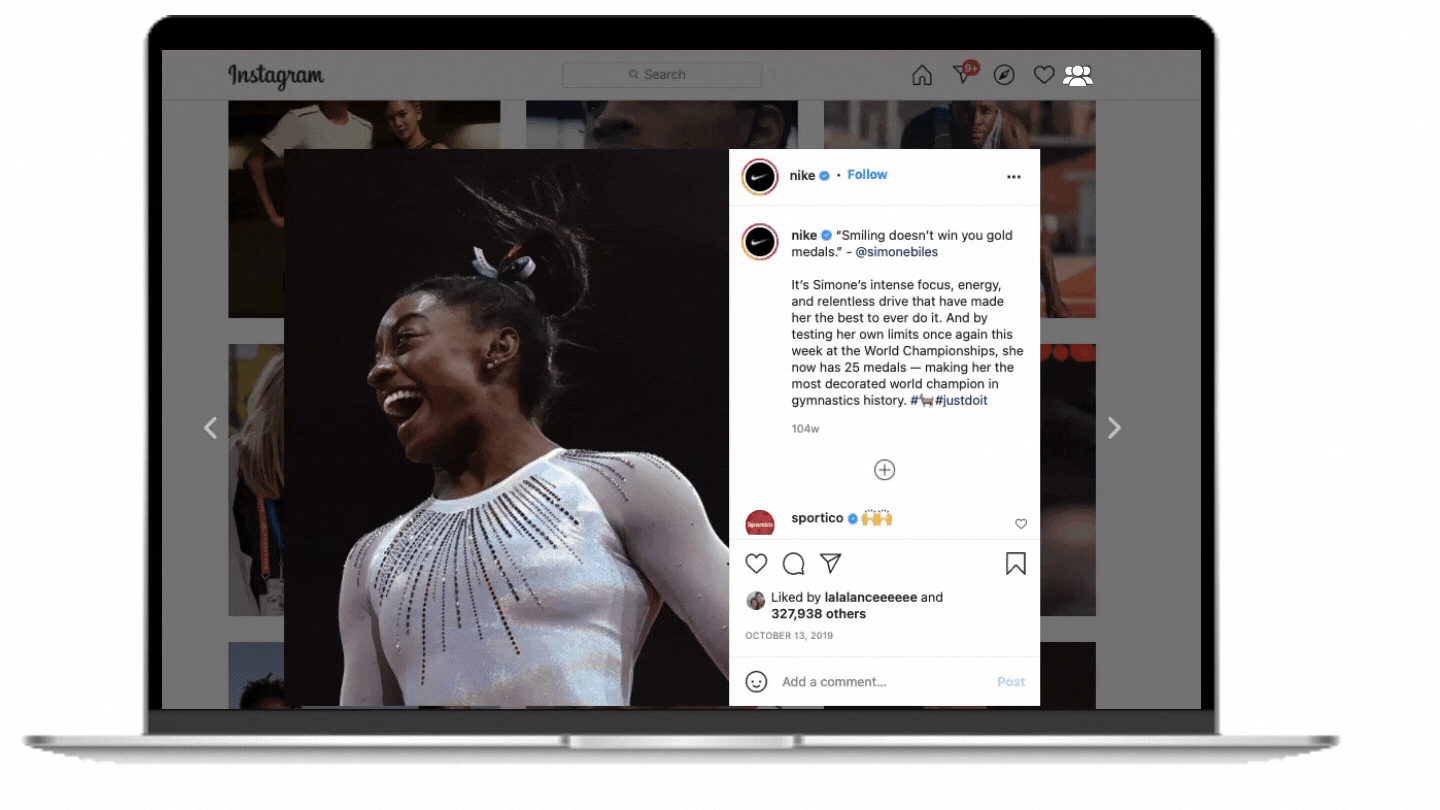 A GIF showing Nike's Post and zooming in on the comments section
Safeguard Your Brand Image with Instagram @Mention Monitoring
In the era of visual content, tagging or mentioning on Instagram is a great way for users, especially influencers, to expand their reach and let their followers know who they're collaborating with. However, as a brand, you can't control whenever users tag or mention your business account. To stay on top of the conversations your brand is involved in and effectively safeguard your reputation from any unpleasant content, it is important to know whenever your brand gets tagged or mentioned by a user.
Instagram @Mention Monitoring can help you to do that. This feature enables you to monitor whenever your business account is mentioned in a post. This lets you identify any account that could be a potential partner or detractor, get to know what they are speaking about, and most of all, discover which products or services they feel most excited about.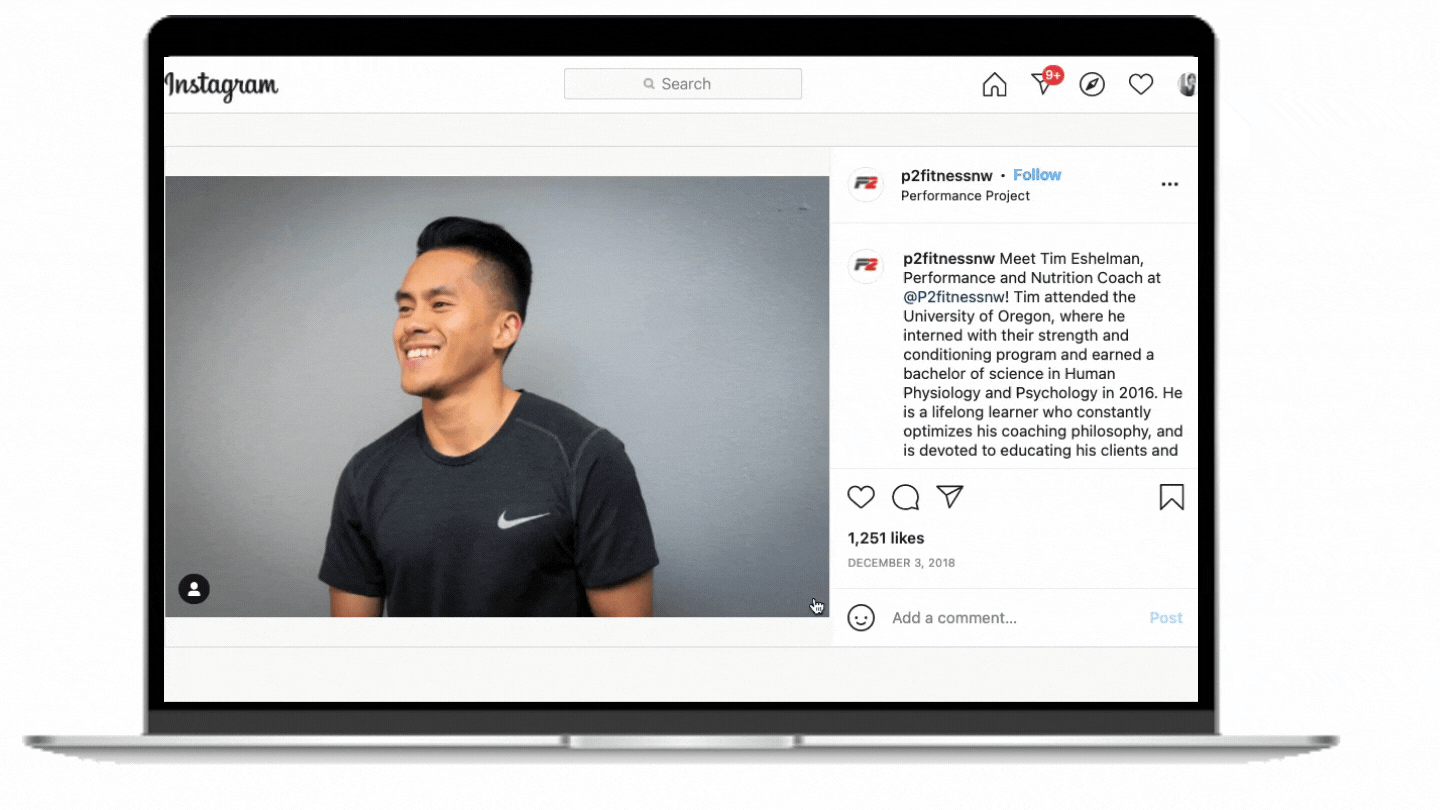 A GIF exposing the tags on an Instagram Post
Get a Live, Visual Overview of Your Campaigns with Picture Wall
As social media marketing becomes one of the most predominant marketing techniques, brands are actively searching for ways to view and analyze the impact of their social media campaigns by the level of engagement and reactions they garner. This is important, especially because of the increased amount of visual content posted by online users, making it imperative for brands to monitor their user-generated content to track potential influencers and follow the sentiment and atmosphere of the conversations.

Having a tool such as Picture Wall provides a full 360° view of live images posted by consumers online. It lets you capture information on how your products are perceived and used through posted images, enabling you to witness how your customers interact and experience your products. Most importantly, it helps you measure engagement and identify a champion for campaign challenges with dedicated hashtags. Picture wall does this by displaying visual posts relevant to a topic on a gallery-style layout, which is then sorted by interaction.
A GIF scrolling through Digimind Social's Picture Wall feature
Stay Current on Industry Trends and Competitors Moves With WebTracker
Monitoring media, industry news websites, or competitors' web pages have become essential for businesses to stay well informed on the latest news and innovations in their industry. Especially with fierce competition, it's necessary to keep a close eye on what's happening in your competitive landscape.
WebTracker is a unique technology that can help you gain that most needed competitive edge by staying current on any relevant information about your industry. Digimind has enhanced and reinforced its Webtracker to go beyond your expectation and access a broader pool of sources for better data coverage. This feature has now three dedicated functions:
1. URL Tracking
Gain insights into the source of your web traffic by tracking new URL links on websites. This allows you to monitor review websites that talk about your brand to better understand your customers' expectations, mitigate issues and prevent ill reputation.
2. Web News Monitoring
Get up-to-date insights about the most recent news about your market and the latest innovations by tracking and detecting news and articles posted on any web news.
3. Web Page Monitoring
No detail is too small. Boost your competitive intelligence by monitoring the strategic moves of your competitors. Track all the changes in texts, images, and links on a webpage such as blogs, product page, release newsroom, etc.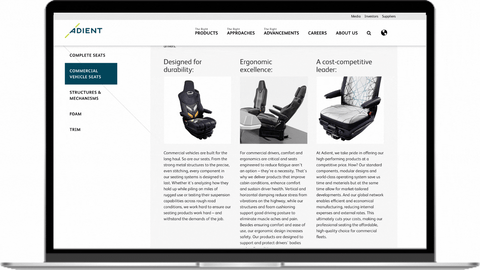 A GIF showing a company's news page, Digimind Social's Webtracker, and its results
All of these features give you the ability to access a broader pool of sources. You can now monitor any website, regardless of the presence of RSS Feed, allowing you to expand your data collection capabilities and capture insights into the latest market trends, or recent competitors' moves.
Leverage Collective Intelligence Within Your Organization
As the workforce all over the world continues to diversify, communication gaps become more apparent. This leads to lower productivity rates as the language barrier impedes the working process. Eventually, information gaps start to widen as not every one is updated in real-time, information is overlooked and crucial details are missed, all due to language constraints.
As a business that seeks to grow, capturing and knowing competitors' movements or market changes in real-time and communicating without any language barrier is key for enhancing your ability to adapt and make informed decisions.
Greater Consistency Across Global Markets With Embedded Translations for Alerts
Conducting a global competitive intelligence in a multilingual environment has never been easier. Language can be a significant barrier when tracking competitors and analyzing the market trends across different countries. Additionally, building collective intelligence within your organization can be a big challenge if your colleagues cannot capture and share information in the same language as yours. This can lead to missing out on important news.

Embedded Translations for Alerts is the ultimate solution to help you overcome this barrier. With the power of Google Translate embedded into the tool, you can save time and increase efficiency by translating and validating new alerts instantly without leaving Digimind. You can select and translate alerts from multiple languages to English and 100+ other languages. This helps you foster collaboration among different teams across the world within your organization!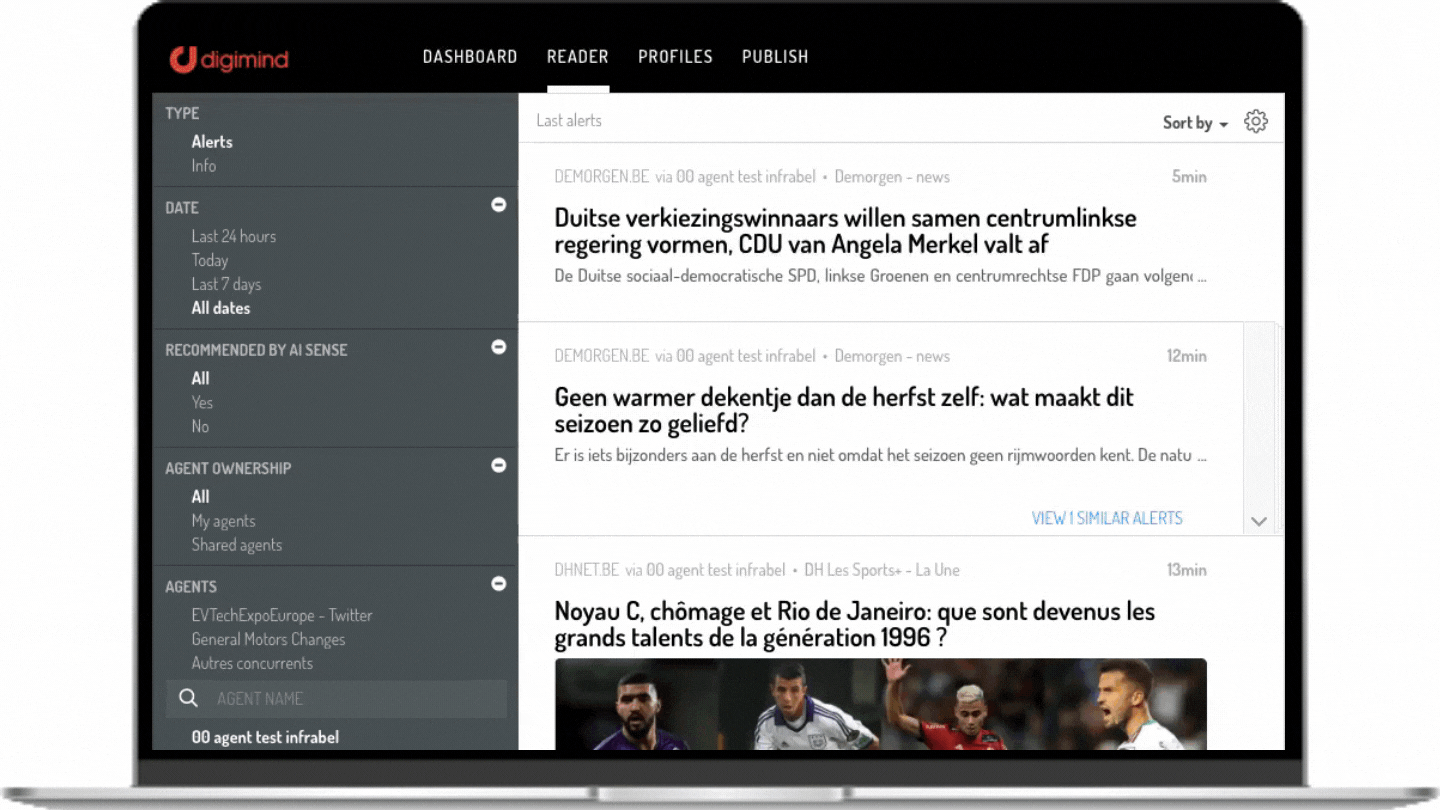 A GIF showing how to translate an Alert to any languages
Stay on top of the news with the improvement of RSS Feed Creation
We all know that RSS Feeds plays an essential role in competitive intelligence projects. It's not only an essential technology to collect information from various sources such as websites, blogs, and social media, but it's also a great way to share information within the organization. Many Digimind users use this feature to share the validated information from a specific project or a specific tag to their internal network such as SharePoint, Yammer, Workplace by Facebook by using the "Create A RSS Feed" feature.
To reinforce collective intelligence and promote collaboration, Digimind enhanced the RSS Feed Creation by extending the RSS Feed lifetime from 24 hours previously to an unlimited period. Now, you can share 100+ articles within your organization simply and quickly without thinking about time limitations.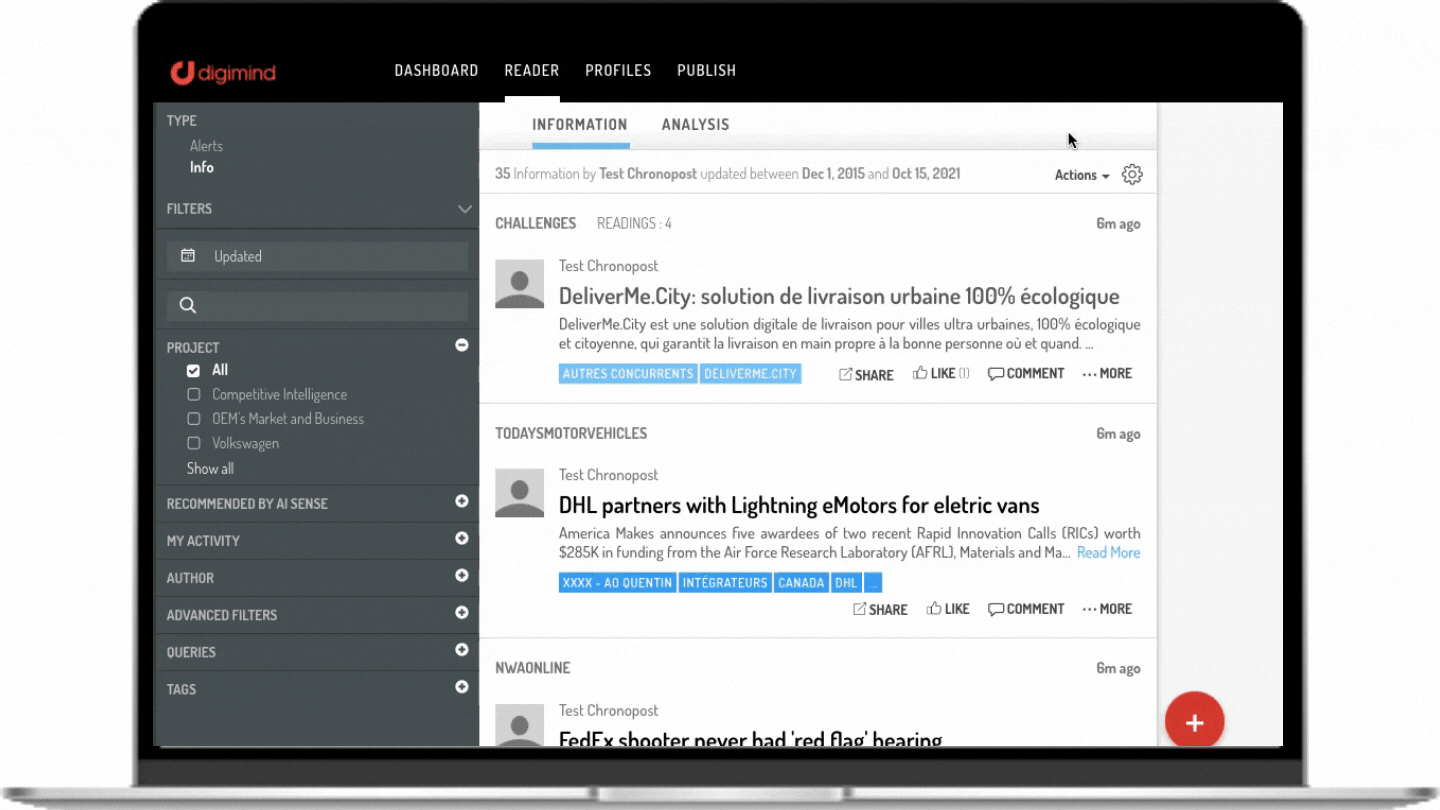 A GIF showing how to create an RSS Feed in Digimind Social
Effortlessly Login to the Digimind Mobile App with mobile SSO
The prominence of mobile phones and tablets in our personal and professional lives has driven the need to reinvent how we operate Market Intelligence projects in today's world. This is why we have created Digimind Mobile App, to help you accomplish your Market Intelligence projects no matter where you are. With the help of the mobile app, trackers and readers can effectively monitor, validate, consult and share information whether they are on the go or sitting in a meeting.
To make all this process even easier, we've enhanced the authentication process into a Single Sign-On (SSO). SSO allows a fast and easy process, it only requires you to log in once, with your company directory credentials, and automatically saves your ID and password for the next time. So you and your team can easily access the information without any log-in requirements.
By having a simple and accessible app, companies can promote stronger collective intelligence throughout the organization and users can maintain an active role in staying up to date in listening to their market and industry updates, even when they're not on the field.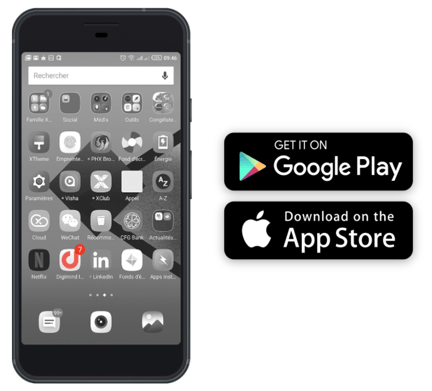 A PNG showing the Digimind Intelligence App in a black and white background
Never Stop Improving. Never Stop Digiminding.

Digimind constantly listens and innovates in order to provide new and impactful features for its clients.
To see how Digimind can help your brand and agency help you fully understand consumer insights, your competitive environment, and market trends, sign up for a personalized demo with one of our experts!
Hailing from beautiful Vietnam, Louise brings her trusted experience and eye for detail to her role as the Product Marketing Manager with Digimind! With a strong background in Market Analysis and years of success, Louise offers her Digimind family a new way to promote Digimind features and products. When she's not busy exploring her new home of Paris, France, you can find Louise getting lost in a new book, enjoying some hot tea, or trying a new recipe.