Find The Influencer Of Your Dreams With The Power Of Social Listening
A short guide on the best ways to use social listening in order to improve influencer identification efforts of marketing and insights professionals.
Finding The Perfect Brand-Influencer Partnership
Me: A lonely Fortune 500 snack cake brand looking for that special someone who enjoys creating content, promoting sugary treat products, and long walks on the beach.
You: A young, hip male or female who's done with playing games and wants to partner with a reliable company that can make great music together (or video tutorials together).
If only finding the right influencer to partner with your brand was as easy as posting an ad in the Personals section of your local newspaper. Sadly, figuring out who might fit best within your brand's messaging, marketing tone, and general content reputation, is a bit more complex a process than one might think. If properly done, identifying an applicable influencer, or set of influencers, takes the right kind of data that can best inform your team about the most qualified candidates to join forces with.
Thankfully for you, you don't have to start listing all your favorite meals to eat by a romantic candlelit dinner for two in the paper, as there's Social Listening, the AI-supported tool that can assist marketing and insights professionals in finding that special someone that won't diminish your brand's market positioning or compromise your brand's image. It does this by analyzing specific data points that highlight an influencer's popularity, output, messaging, following size, content, and more. The vast majority of this information is condensed into comprehensive graphs that would otherwise be hard to fully grasp the scope of without this tool.
Influencers and Brands: Love At First Insight
When done properly through the use of social listening - as well as the expertise of a well-experienced Senior Content Manager or Chief Social Media Analyst - a brand-influencer partnership can bestow incredible benefits to both parties involved. Influencers can negotiate healthy payment packages, as well as increased notoriety, social media status, and an improved messaging reach (not to mention free products or access to services/subscriptions), whereas brands can access a shortcut into the lives and minds of potentially hundreds of thousands (or even millions) of new, pre-established consumers, that wouldn't have otherwise known or cared about such a brand. This is of course assuming that such a partnership is indeed successful.
When done poorly, or without much use of social intelligence tools, like social listening, solidifying a brand-influencer partnership can end badly for everyone involved. Influencers can lose hard-built following bases with a divided fandom, as well as not fully understand or appreciate the brand they're promoting with their content. Content developed with half-heartedness, or by individuals not fully invested in their partnership, are so blatantly evident to their usual viewers, and this can lead to catastrophe that many internet personalities cannot recover from. Brands have much much more to lose however, with their very brand image and reputation on the line. Yes, a partnership can be terminated just as soon as it starts, but consumer trust is not so quickly recovered. Can a brand survive a trial-and-error process of elimination when finally finding that special someone that'll make TikTok videos about their muffin mix brand? Sure. But the loss of resources, time, and customer patience isn't worth it. If you're able to use influencer identification just once, and never have to try again, then you're all the better for it.
So let's break down the basics of what it takes using social listening (in this case we're using Digimind's own social intelligence tool to demonstrate this) to get you started...
Step 1: Let's Meet The Players
Using social listening, marketers can divide their options up into a chart that breaks down the basic components that they can then research further to make some initial judgements. This chart provides fundamental data that'll be crucial going forward, things like their social media label, their exact location, their social media ranking (compared to other candidates), their following size in real time, their total number of published posts online, and so much more. Below is a sample of such a social listening query using terms like "Nike" and "James Harden" to focus the search that an athletics brand might pursue.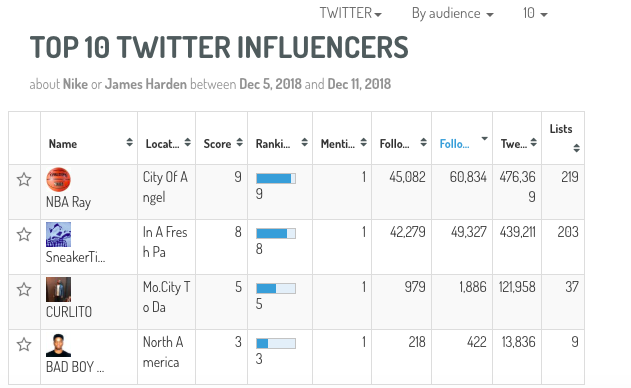 These influencers on Twitter are the top 4 from this search, and already there's a lot to glean from the selection. One very important thing to be aware of, if you're actively involved in this process and are at the beginning of your social listening journey: don't assume that the top ranking influencer is the best man or woman (or anthropomorphized basketball) for the job. Do the necessary homework that involves combing through their content, and better grasping what they could bring to the table, and to your brand.
Once you've done that, make sure to do a supplementary search for influencers based on the general sentiments that are conveyed by their followers, like the example below: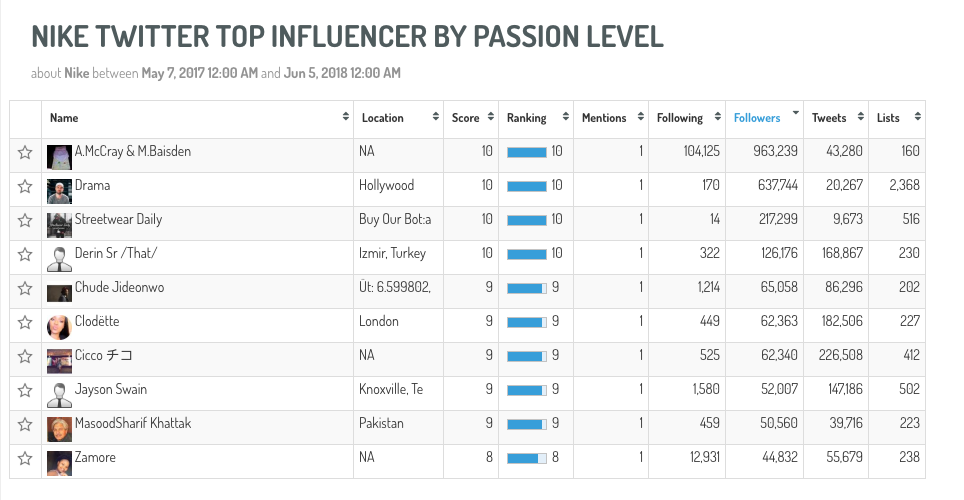 Having a list of additional influencers who're chosen based not just by keyword, but also by the passion level of the netizens online, you can compare and contrast whom from each list overlaps the most, and showcases both the strongest ranking and (positive) user feelings.

Step 2: Check To See Which Social Media Platforms The Brand Performs Best On
It's not enough, of course, to see which influencers are appealing in their own right, you need to bolster that data with a well-rounded knowledge of where your actual brand's content resonates the most, something that should involve as many variables as possible in order to broaden the scope of your social listening efforts. Once you have a solid picture of where your engagement does best, you can adjust your calculations to include a number of points, like the general sentiment (positive, neutral, or negative), ranking per social media platform, the overall volume of mentions, and the platforms via their ranking average.
One great thing with social listening, is you can also identify the mentions per rank with each individual social media platform, thus informing you of how well consumers are reacting and sharing your content with each level of mentions. All of what's been discussed is demonstrated below in a Digimind social listening effort for Nike's content engagement on social media. Make note of how varied their platform selection is, including more than just the usual Facebook, Twitter, and Instagram crowd.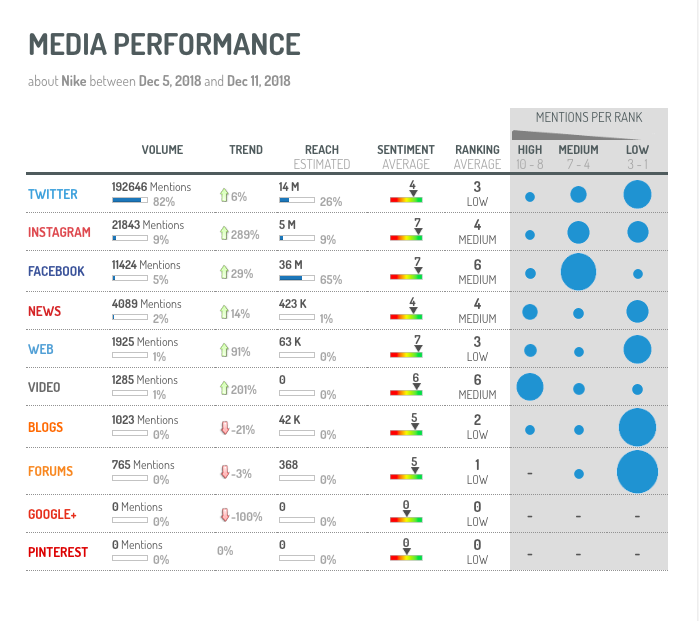 This work is instrumental - in combination with the first step of influencer identification - to fleshing out your broader strategy. Along with this step, you're encouraged to additionally run an Audience Reach query within your social listening process. What's an audience reach query? Simply put, it's a means by which brands can discover which areas of content engagement are getting the most activity, and thus the most engagement and percentage of conversations. Coupled with a specific keyword, this tool can be very illuminating for the second step of influencer identification, as shown below: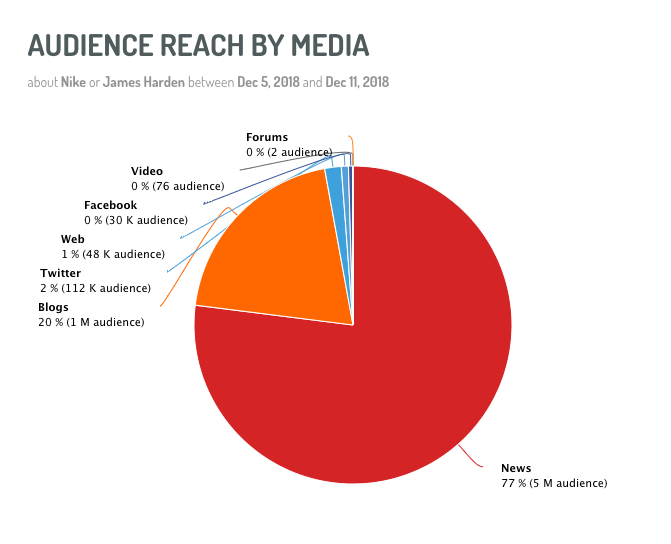 Here we can see how "News" and "Blogs" were getting the most reach out of the various other places of content engagement in the second week of December, 2018 when it comes to the subjects of "Nike" and "James Harden". With this, an athletics brand could hypothetically see which influencers devote the majority of their content towards published news articles and blog articles, or at least influencers that have diversified into those field beyond just the Facebook and Twitter options.
Step 3: Review Influencers Actual Content And Use Your Best Judgement
Lastly, once you've keyed in on a select few influencers whom you and your team believe could each positively affect your brand, take the necessary time to go through their body of work, videos, articles, and pictures, and determine who would be the best possible pick for a brand-influencer partnership. It's not rocket science, and there's always an element of taking a leap of faith, but beyond just directly interviewing each person and figuring it out that way, you'll need to look out for a couple of things that are important to consider, such as:
Do they share similar values and interests that your brand holds?
Are they not only prolific in their content creating, but professional enough to make sure everything is of the highest quality as well?
What kind of influencer are they? Micro-influencer? Celebrity influencer? Profession/Career-based influencer?
Have they had experience with other brands, or with promoting various other products before?
Are the KINDS of followings they have reputable?
That last point is especially important, because when you partner with an influencer, you take on everything that comes with them, including their fan base. A kid's shampoo brand wouldn't want to necessarily partner with a hypothetical mom influencer whose following are partly made up of controversial, or even scandalous groups of people. Without properly vetting both their content and their followers, your company could be transitioning from doing a content creation strategy, to an emergency brand crisis aversion strategy.
Have Brand-Influencer Partnership, Will Travel
If you've come this far and finally settled on an influencer who checks off all the boxes, and is willing to aid you in your mission of increasing consumer engagement on social media, and thus boost sales and brand awareness, then you've clearly made the most out of social listening. Your goal now will be to create, and uniquely develop, the best content you can that works in tandem with your influencer, not alongside them. This success for your partnership is never guaranteed as it's always an in-progress situation, but the more you put into the relationship, the more you'll get out of it, and that's good for not only the bottom line, but also for any future efforts to use social listening to aid in an influencer identification journey.

With a background in creative writing, advertising, and psychology, Micah is a copywriter in name and a Digiminder at heart. When he's not developing content for agencies, you can find him crafting novels, cooking and running around in Brooklyn, NY.