30 Media Agencies in APAC Ranked for Their Online Community
While they are the go-to solution for any branding campaign and a hub for some of the world's most creative minds, media agencies do not always put their priorities back into their own online communities.
Building an online presence often starts and ends with social media — that's when word of your agency gets out the quickest, in an ever-ceaseless cycle — but somehow, it is not always regarded as vital among agencies to achieve or allocate resources.
How do clients get a first impression of your agency? The answer is social media. For big, household names, there is a good chance that the agency is top of mind even before clients do their searching. But that does not mean that agencies, even as prominent as Ogilvy and Publicis, can ignore the social media factor.
Growing your client base is critical in this digital age, where clients have the freedom of choosing which agencies would best fit their own branding. To add a further challenge to an already saturated agency market, clients have open information on reviews and feedback on past and existing client experiences readily available on the web and social sources.
Standing out in the social media space can mean the difference for your client, as they themselves may consider how agencies maintain their positive reputation through community engagement. Do potential clients actually think about the date of your last post, or does that one negative comment resemble a stain on your white shirt? You ask me!
As agencies grow, they must actively manage their owned social channels befitting of their successes. There is a key benefit in using social media effectively to propagate organically, where it keeps both internal and external stakeholders well informed of the company's progress.
Bonus: Discover how to use historical, social data to create winning pitches by understanding your client's needs are and strategies to circumvent past campaign obstacles.
Ranking Media Agencies on Their Community Presence 🎯
In this latest study, we analyzed some of the biggest media agencies, namely advertising, marketing, and public relations (PR) firms, in Asia Pacific (APAC). We focused on highlighting community numbers taken from social channels dedicated to the APAC community, ignoring global accounts to avoid skewing the data.
We also want to reference the importance of community engagement through the interactions generated by followers (coming from likes, retweets, and comments) and the number of owned publications within the same period.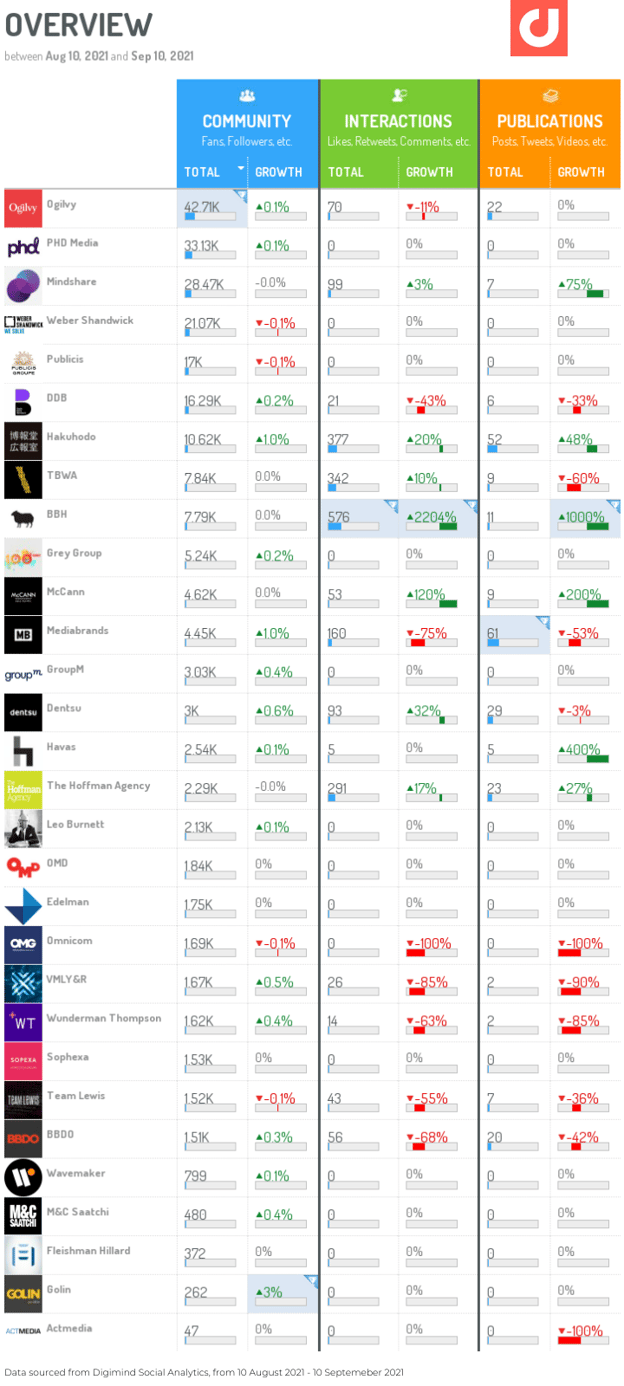 Digimind Social's Analytics tabulated quick results of media agencies based on their social performance.
Among the 30 brands listed, the top 10 media agencies include mainly both advertising and PR firms:
Ogilvy (Advertising, marketing, PR)
PHD Media (Media planning and buying)
Mindshare (Marketing)
Weber Shandwick (PR)
Publicis Groupe (Advertising, PR)
DDB (Advertising)
Hakuhodo (Advertising)
TBWA (Advertising)
BBH (Advertising)
Grey Group (Advertising)
This blog can help you develop strategies worth acing and provide valuable insights into why we think some media agencies have gotten ahead in their social network communities.
Illuminating the Limelight on Employees
Ogilvy
The award-winning creative network came up top for having the largest online community in APAC with over 42K followers, a growth of 42 followers (0.1%) from the month before.
Digimind Social categorizes publication by media
Ogilvy's most significant online activity seems to have been on Facebook, boasting 14 owned media publications, compared to Twitter, with only 8. Social activity on Instagram appears to have fallen off for some time, as their last posting was on 1 July 2021.
Their top Facebook post was in celebration of Nizwani Shahar, the youngest chief executive in the Malaysian advertising market. Similarly, in another post, Abiseshana, creative group head at Malaysia, was also spotlighted in a feature article on young talents in the industry. Employee branding is an excellent strategy in driving brand awareness, where there are only plus sides in showcasing the human side of any business.
BBH
BBH, an iconic creative powerhouse in APAC, clinched the 9th largest online community. While it did not manage to grow its community at little under 8K followers, stagnation is definitely not one of the reasons why.
Their Instagram activity is colossal compared to other agencies, where they consistently adhere to their strategy around employee branding, providing a firmer sense of brand identity in and around different stakeholders within the establishment. One of their highest-engaged publications received 226 interactions, an interaction rate of 144% out of their account's entire following (1.5K).
Employee branding is one key strategy in building brand identity among internal stakeholders, and there are only plus sides in recognizing your agency's talent. You will enforce a strong agency culture which can become synonymous with preserving a well-knit community. The effect of employee engagement is cyclical, where doing so can even ensure your agency attracts the desired talents.
Going Hyperlocal
DDB
DDB, the most-awarded Effie agency in Singapore, fell under the 6th largest online community in APAC with over 16K followers, managing to grow by 32 followers (0.2%). In addition, interactions with DDB dropped by 41% under all social channels, which could be attributed possibly to having also produced fewer publications compared to the efforts made in the period prior.
One of their biggest highlights was a vaccination campaign commissioned by Singapore's Ministry of Communications and Information. The campaign by Tribal DDB was envisioned through a music video — a format that seems to best leverage the appeal needed to drive up the vaccination rate of local elderly citizens, as it adds a pop-friendly jingle through an ethnic vernacular and some zing to the 80s-inspired theme.
TBWA
TBWA came up 8th on the ranking, with no growth reflected in its community numbers as it hovers around 7.8K followers. However, the agency had achieved an 11% increase in interactions even with fewer publications posted.
In their latest campaign with Samaritans of Singapore, a non-profit suicide prevention center, they gathered locals from various generations to talk about their own experiences with depression and anxiety. This campaign evidently brought aplenty of traffic to their social channels, as their top post received 171 interactions, resulting in a 65% interaction rate when their Instagram followers total at around 2.6K.


The advantage of orientating your social media strategy around a community, even as large as a region like APAC, is to expand your market reach within that targeted audience. When creating social accounts dedicated to a community, you achieve resonance by continuously delivering messaging that best reaches your audience. Your agency becomes highly associated with the local community, thereby keeping your agency top of mind.
Celebrating Every Win
Mindshare
Mindshare is positioned among the top 3 rankings for the largest online community in APAC and managed to generate close to a hundred interactions while maintaining a slight growth of 3%.
The top publications for Mindshare were primarily announcements on new partnerships, where they had won Unilever's global media review and retained existing partners, like Yum! Brands. Sharing such news provides a good eye for potential clients when reviewing Mindshare's competencies and portfolio — ensuring that their agency's brand reputation precedes their own, if not in the same breath.
Corporate announcements are an easy way to communicate to both internal and external stakeholders on the agency's progress on its vision and goals while influencing movements around the industry.
Furthermore, publicly announcing on on social media drives news amplification. Such a strategy assures your agency a wide net of coverage that could put in effect various benefits for reputation building, from establishing trust with future clients to fostering more robust relationships with existing clients.
Benchmarking Competitors via Social Listening
Community building is the same regardless of whether you are managing it for a client or an agency. Online communities are critical to nurturing from the get-go as we move into a digital-first environment, where users and clients predominantly search for information. Social media is not any different from your web pages, in fact, it may be more pivotal to prioritize if your agency is already established.
Finding the right success on your owned media channels is an aspect that's not impossible to come by. With enough effort and staying informed through insights, you may be able to create content that resonates with your audience, tinkering with different topics, and leverage trends in real time for your community to flourish.

With agencies left, right, and center all jostling for attention, social media is one place you have to optimize to stand out. Social listening tools, like Digimind Social, enable you to approach strategy with an eye on your competitors, all while monitoring trends and hotspots across the industry.

Jared is a member of the APAC marketing team at Digimind. Besides hashing insights into content, he loves a good ol' sit-down of board gaming and film rhetoric. Catch him diving in other shenanigans on Instagram @jarrds