Why Do Businesses Listen To and Analyze Social Media?
Why do businesses listen to and analyze what's happening on social media? Marketers, customer experience teams, and data analysts in companies, big and small, are investing in social media intelligence tools. And they have already reaped multiple benefits for their business.
What is social media intelligence? This term refers to all activities and processes relating to social media listening. From monitoring conversations and analyzing messages to sharing insights and KPIs to plan and inform operational and strategic decisions, social intelligence covers a large spectrum of business operations.
Why do marketing, PR and customer relations professionals invest in social media intelligence tools (such as Digimind Social)? What are they looking for? And which channels are they observing? Clutch, a B2B research firm interviewed social listening tool users to find the answers. Here are the main takeaways:
1. Why do companies invest in social media listening?
Professionals prioritized customers, with 42% of them investing in social media listening tools for reasons such as targeting new customers (21%) and improving customer service (21%). They also used social media insights for competitive advantage and reputation management.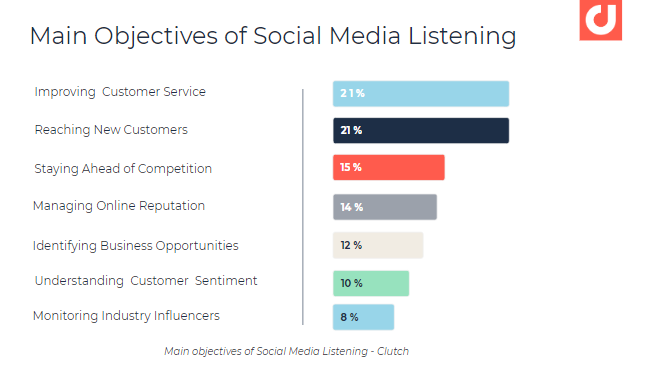 2. What are the main benefits of social media listening?
The top 3 benefits of social media listening are product improvement, capturing new customers and improving customer experience. It's no surprise that these points align with the objectives of social listening, mentioned above.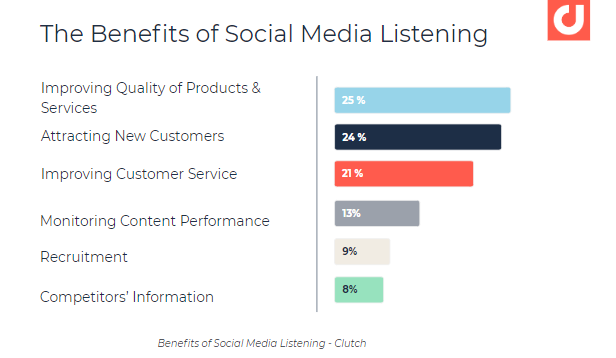 From conversations on social media platforms to customer reviews, businesses can tap into these valuable pieces of data to improve existing products and communication strategies. Businesses can even zoom in on particular features that consumers are drawn to for new product launches.
In another study, 74% of professionals stated that exchanges on social networks are less commercial, resulting in a less aggressive sales atmosphere that encourages open and honest discussions. This is one of the many reasons why social selling is an effective complementary activity to market your business and engage with your prospects.
In addition, customer relationship processes and approaches can be optimized and enriched by listening to and analyzing conversations and queries on social media channels. Here's an example of this theory in action for insurance brands.
3. What do companies monitor?
What do companies listen out for? 86% of companies look out for customer-centric information that includes requests, concerns and questions from consumers. 77% of them look out for news and buzz related to their competitors and about 75% of businesses look out for information relevant to their own brands and products. This allows them to monitor what stakeholders (customers, prospects, journalists, experts, associations, NGOs) are saying about their brand, and to perform competitive benchmarking for a strategic business approach.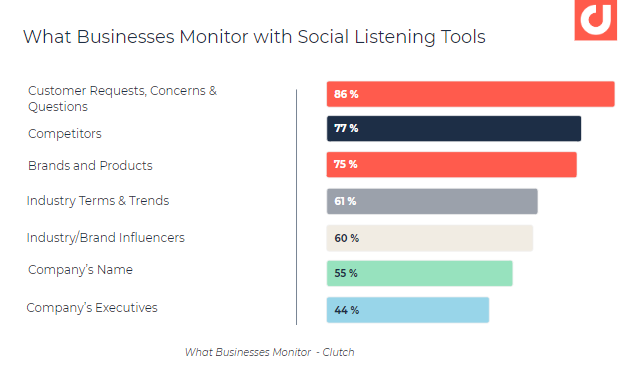 4. Which social media channels are being monitored?
Users of social media listening tools are not contented with only listening to major social media platforms. Instead, they also look out for a wider range of conversations happening on the web. This means that other than Facebook and Instagram, companies also monitored channels such as blogs, news sites, review sites, and forums.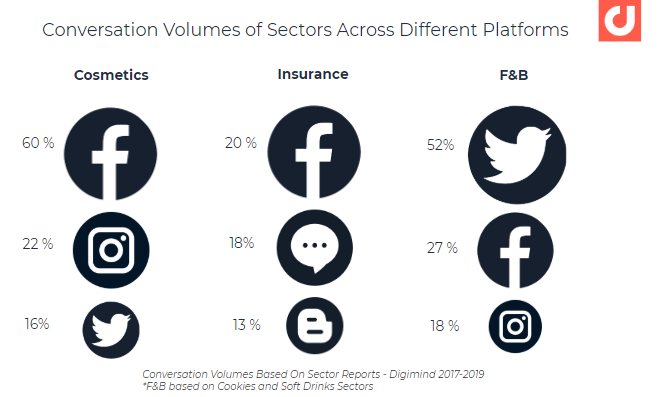 Conversation channels will vary according to your industry and we've conducted sector studies to reveal the differences between industries. Conversations in the cosmetics sector (e.g. Maybelline, YSL Beauty, Fenty Beauty) happened the most on Facebook and Instagram, while conversations for the Insurance sector took place mainly on Facebook and Forums. This information can help marketers understand where their target audiences are, so they can better plan their marketing channels to generate the most interactions!
*Above study by Clutch was conducted amongst 300 large and medium companies. Business-to-consumer companies (B2C) make up 74% while 26% represented business-to-business (B2B) companies.