Key Marketing Concepts in 2017 II: Technology
Technology is changing rapidly, with new platforms, updates, and user interfaces being brought to fore for both customers and marketers. So what are the updates marketers should not miss?
In Part 2 of our 3 part monthly series on 2017's key marketing concepts, we shift our focus to the tech side of the marketing: the technology that could revolutionise customer experiences, the ones that will further empower marketing in the new year, and why it's now or never for businesses to digitise.
Customer experiences in the age of technology
In 2017, it's all about tailoring experiences for the right audience to ensure the highest returns on your marketing activities. This can be achieved through 2 channels: personalised experiences based on user behaviour and insights, and insight driven marketing.
Google Waze is one example. Country Manager France, Jerome Marty states that " mobile revolution has given rise to new data being available to advertisers and agencies: geo-localization of users in real time. This new signal, coupled with the context in which the user is located, truly enriches our understanding of consumers and increases the relevance of advanced advertising messages and their impact in the real world, at the point of sale."
The bots are coming
It's no secret that messaging apps are the new social, what with a vast majority of online sharing and conversations happening in what we call "dark social". While the battle of the messaging apps (Facebook Messenger, LINE, WeChat and the like) will continue to shape the social media landscape, there is one feature that marketers should definitely keep a look out for: the bots.
Bots aren't exactly new; they have been used in the early 2000s on MSN Messenger and other desktop messaging platforms. According to Matt Collette, Managing Director for Zeno Group Singapore, "Back then, they were very simple and used to fulfill basic requests such as allowing users to check sports results or the weather. Since those early bots, we have seen some significant progress in AI and Natural Language Processing which allows bots to interact in a more intuitive manner and understand/respond to people very naturally."
Customer care, e-commerce, and even gaming companies can leverage bots to optimise interactions with customers. It's all about knowing what needs and conversations bots can drive for the brand!
What's in it for businesses?
As the digital and social media landscape grows in complexity, so too will the channels for market research. Companies need a way to centralise their data gathering and decision making across departments.
Digital command centers are one such channel. Clement Teo, Principal Analyst at Ovum, defines it as an "organisational construct that brings together multidisciplinary teams like web, social, production, creatives, and media buying to run campaigns". For CMOs, a command center can be instrumental in:
Correlating different data sets
Mapping out customer profiles and journeys
Formulating the ideal customer experience
Want to take these insights to go? We've got more marketing concepts in our first ever digital marketing glossary. Download it now: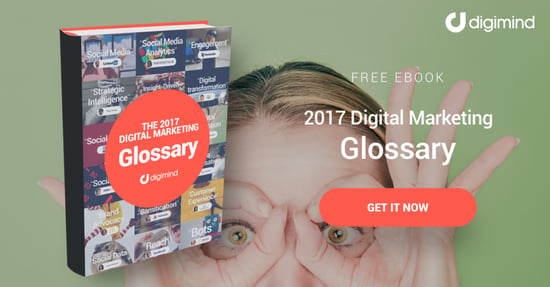 Melissa is a digital advocate who loves diving into the latest trends in digital and social media. Since joining Digimind's marketing team in 2015, she has written studies for over 15 industries in Asia Pacific. When she is not telling stories about data, Melissa can be found exploring her favourite cafes and hangouts on Instagram @chuepachups.