4 Types of Consumer Insights You Can Derive from Analyzing Social Media Users
Just as the way to a man's heart is through his stomach, the way to your customers' hearts (and wallets) is through understanding their behavior, needs, and wants. In fact, a 2020 study on customer expectations by Gladly found that 84% of consumers will spend more with brands that provide personalized customer service.
Knowing what your customer base wants from you and your competitors, as well as their habits, is essential if you want to increase sales and improve customer retention for your company. But with consumer preferences changing ever so frequently, it can be difficult to develop a deep and thorough understanding in a short amount of time with traditional market research, which often ends up outdated by the time it's delivered.
So how can you gather and share information about your customers in real time? By using social media listening tools to observe public posts and conversations on social media, and the people behind them!
With 3.8 billion users active on social media every day (We Are Social, Digital in 2020), many of them sharing photos and videos, social media platforms and forums are abundant in real-time customer insights and market trends. Companies like yours can use this data to better understand your customers and improve business fundamentals such as product development, customer experience, and customer relations.
2 Ways Businesses Benefit from Gathering and Analyzing Consumer Insights from Social Media
Identifying Key Consumer Types
Aside from serving as a cost-effective, secondary channel of modern market research, social media listening can help you identify key types of consumers who are posting about your brand. Look out for common characteristics among these social media accounts, such as demographics and interests. Use this information to help you identify key customer profiles, as well as questions to craft for focus groups.
Better Localize Strategies
It goes without saying that the most effective marketing strategies and product positionings are shaped by precise and accurate consumer data. For marketing and insights teams that are overseeing regional campaigns, it's even more important to localize your strategies so that you can deliver a better customer experience overall.
Social listening tools like Digimind Social are handy for segmenting conversations and profiles by locale, so you can analyze and benchmark different sets of data to find out what gets every market ticking.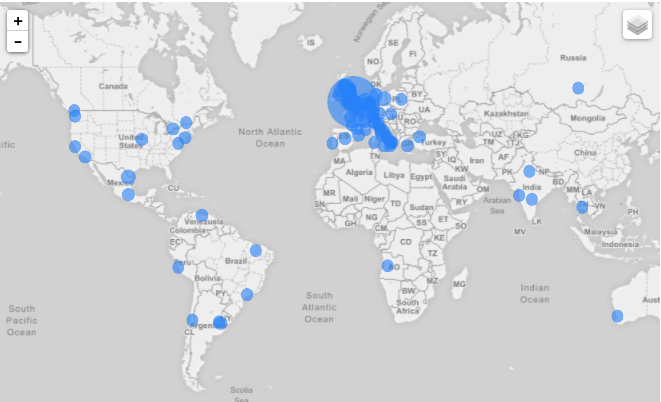 Social listening chart displaying the distribution of online posts and discussions around the world. You can drill down into specific conversations happening within each market.
Bonus: Download our guide on Personalizing Marketing Campaigns with Social Media Listening.
4 Types of Consumer Insights You Can Attain From Analyzing Social Media Users
Every social network site, be it Facebook, Twitter, Instagram, or LinkedIn, is home to usage and posting habits that are vastly different from one another. For brands, this means you can gain a wealth of information on your customers. This includes:
Socio-demographic characteristics

Personal interests and lifestyle

Motivations for purchasing

Brand perception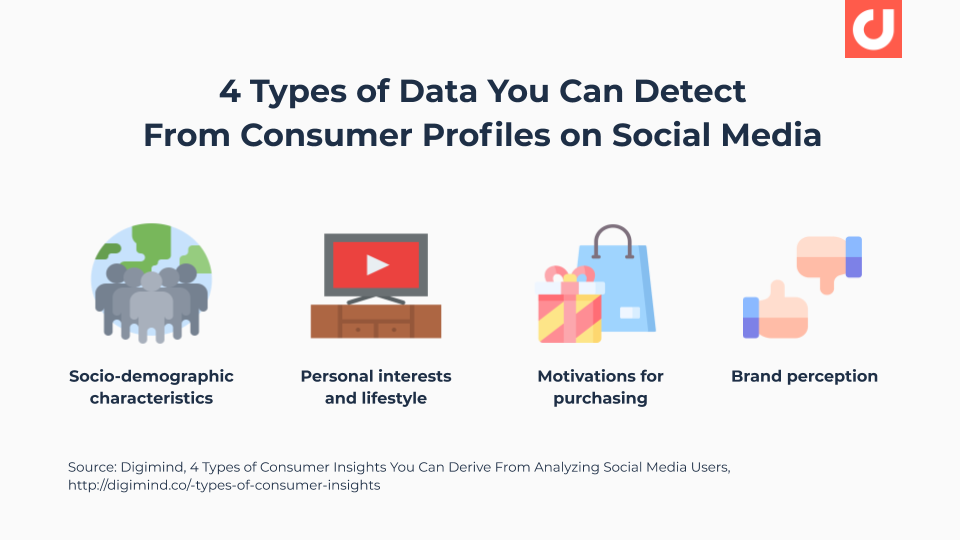 1. Socio-Demographic Characteristics
Who are the people posting about your brand on social media? What age group are they from? Are they working professionals, students, or stay-home parents? Public profiles of social media users can contain vital clues about this.
Depending on the social network in question, marketing teams can detect the following socio-demographic data to identify clusters of key consumer profiles:
Age

Gender

City of residence

Marital status

Profession and industry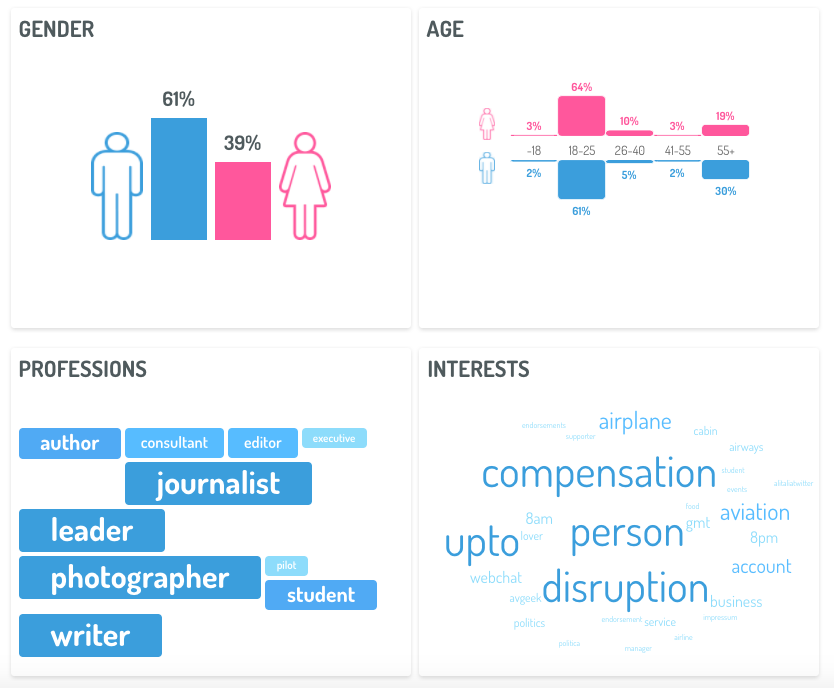 Socio-demographic data of posters being displayed on a social listening chart.
2. Personal Interests and Lifestyle
Behind every purchase is a person with a unique set of personal interests and goals that keep them going. Aligning your brand with these interests, and tailoring experiences and offers that satisfy them, can go a long way in resonating with your customers and turning them into long-term advocates.
Study patterns in posts made by public social profiles that have also mentioned your brand or products, to identify common interests among specific groups of consumers. You can then match these interests with other socio-demographic qualities to get a more holistic understanding of your customers.
For example, a study on gamers by Digimind revealed that meme culture is strong among video game enthusiasts in Asia Pacific. They often post about gaming moments through memes, and derive fun from being "in on the joke".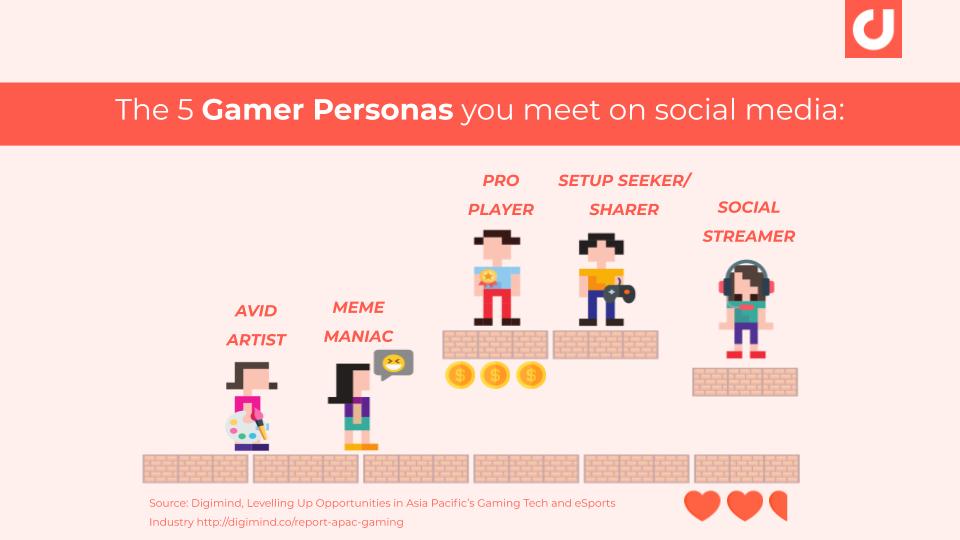 3. Motivations for Purchasing
Knowing what drives customers to purchase from your brand is another crucial source of information that can help you position your products better. Customer needs, preferred brands, and common issues that your brand can help solve are different purchase drivers you can detect based on public posts and discussions started by an individual consumer.
Forums are particularly rich in conversations between customers seeking and exchanging opinions about different brands and products. Marketing and insights teams can also detect reasons or objections from purchasing a certain brand's products, based on analysis of these discussion threads.
Identify purchase drivers for specific consumer types by analyzing and matching it with other information from the user's profile, such as demographic information and posts.
4. Brand Perception
One last vital piece of information you can infer from social media users and their posts about your brand, is how they perceive it. If you're a brand that sells luxury goods, do you customers think of you as prestigious and exclusive, or one whose clout is diluted? Are you their go-to leader for the latest trends, or are your products outdated and leaving you in the dust?
Similar to purchase drivers, you can match this data with the respective key consumer profile, and do a comparison to find out which group perceives you optimally, and which group's outlook needs optimizing. Additionally, you can compare this data across markets.
Putting It All Together
Social listening enables you to deep-dive into:
Specific consumer profiles based on social conversations around your brand

Data pertaining to key patterns in buying behavior, personal interests, values, and lifestyles

Such data will be instrumental in helping you answer questions about your customers' interests drivers, create a sophisticated overview of your key buyer personas, and inform long-term strategies in data-driven ways.

Melissa is a digital advocate who loves diving into the latest trends in digital and social media. Since joining Digimind's marketing team in 2015, she has written studies for over 15 industries in Asia Pacific. When she is not telling stories about data, Melissa can be found exploring her favourite cafes and hangouts on Instagram @chuepachups.