7 Ways you can Optimize your Monitoring on LinkedIn
How to utilize LinkedIn company and conversational data for monitoring your competitors, reputation, or even track trends?
The company profile template is one of the very basic tools utilized for Competitive Intelligence. Many sources are used to feed data to it. Some of them are: Company corporate sites, legal and financial information sites, news sites, press, specialized magazines, and field monitoring as well as any other data coming from your current strategic and competitive monitoring…And then there's LinkedIn. LinkedIn, the world's leading professional network, has 810 million members, including more than 174 million from the US. 52.1% of them are men, and 47.9% of them are women and the most represented age group in the country is 25-34 years standing at a huge 57.6%.
More than 57 million companies including 2 million SMEs are present on the platform. The network is full of rich information for your competitive intelligence and for monitoring evolving company profiles in your space. But, there is a lot more to it as how brands can benefit from LinkedIn data!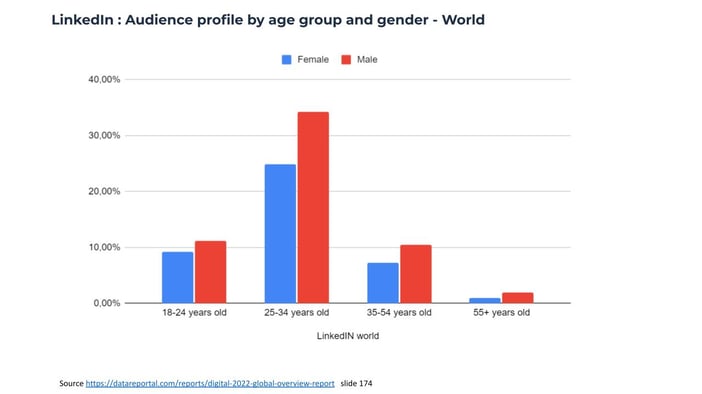 Demographics of the LinkedIn network in the world in 2022. LK campaign manager via Datareportal
What to monitor on LinkedIn?
We can synthesize the data necessary for this monitoring, especially the competitive monitoring in 7 groups: Finance, Commercial, R&D, HR, Legal, Production, and Customers (by refining, we can find specific types of technological monitoring as well as very targeted monitoring such as pricing and suppliers). Moreover, a combination of some of these data points will constitute the bricks of the company's reputation and will feed its "Drivers". With your monitoring on LinkedIn, you will be able to obtain a certain volume of this information. The major advantage: this info is often much more up-to-date and exclusive compared to other sources such as the company's corporate site, which is fed more episodically and by fewer contributors.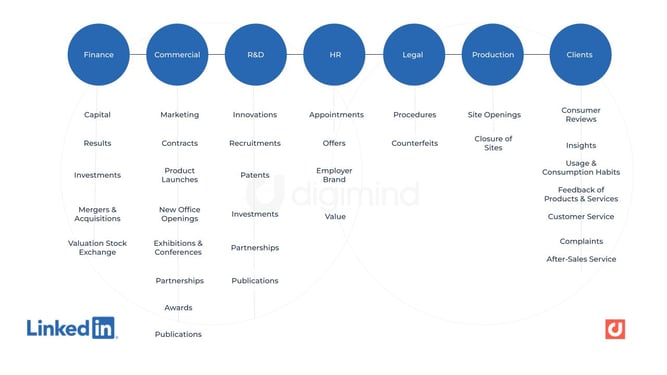 What types and areas of monitoring should be fed with LinkedIn? Source: Digimind
Let's say you want to study the environment and ecosystem of the latest start-ups that have achieved Unicorn status in the US. The now 524 US Tech unicorns reach millions of Internet users each month. But who are these companies? To help you build your profiles and automate your monitoring, and carry out any type of analysis such as their communication on social networks, let's take a look at the valuable information that can be found on 'LinkedIn company pages' in particular.
1. Company organization and structure
On the Company Page, you will be able to find information about the size of the company, its subsidiaries, and its acquisitions. You will learn, for example, that Stripe, a US-based financial services unicorn that specializes in mobile and web-based applications since 2014 and has nearly 4000+ employees, has acquired an African-based startup called Paystack for $200 Million as a part of its broader expansion to the country.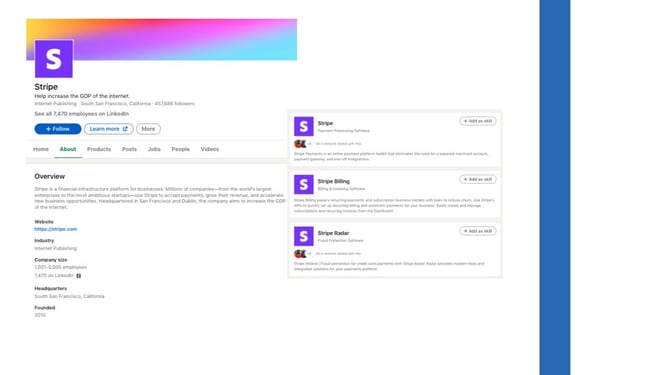 2. The founders, managers, executives, and employees
LinkedIn, by virtue of its vocation, is obviously a gold mine of people working for a company. You get up-to-date data on the founding executives, senior executives, and employees. It is also a place where many profiles will potentially post information on the company, its sector, trends...
For example, at Instacart, an online grocery unicorn in the US since 2014, you will obtain a lot of information not only on the founders, marketing, communication, HR, and product manager but also on sales managers, engineers, social media managers, SEO, data, UX, security, among others profiles!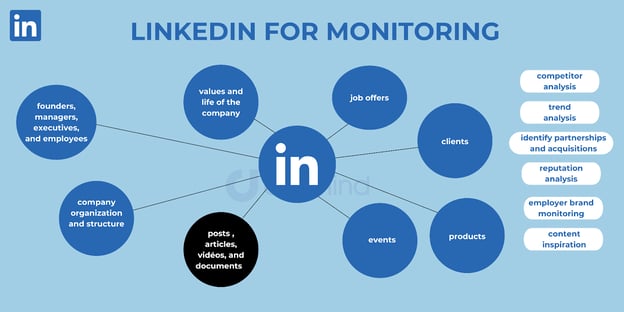 LinkedIn monitoring: explore data from "Company" pages
3. Job offers
This is obviously a central focus of monitoring on LinkedIn. Beyond HR/Recruitment monitoring, monitoring job offers of companies provide information on the strategic and tactical orientation, if not on the health of the organization, its product and service developments, international expansion, maturity, the importance of certain branches, etc.
4. Values ​​and life of the company
This data constitutes a strong reputation driver for the company. However, it is often complicated to obtain this type of information, as, beyond the field and press monitoring, not much is published on companies in this field. On LinkedIn, a watch on the "Corporate life" section will bring you a lot of information. You can have access to data on a company's missions and values, on its daily life, the perspectives and testimonials of employees, the content posted by specific employees, and a focus on the technicians and engineers.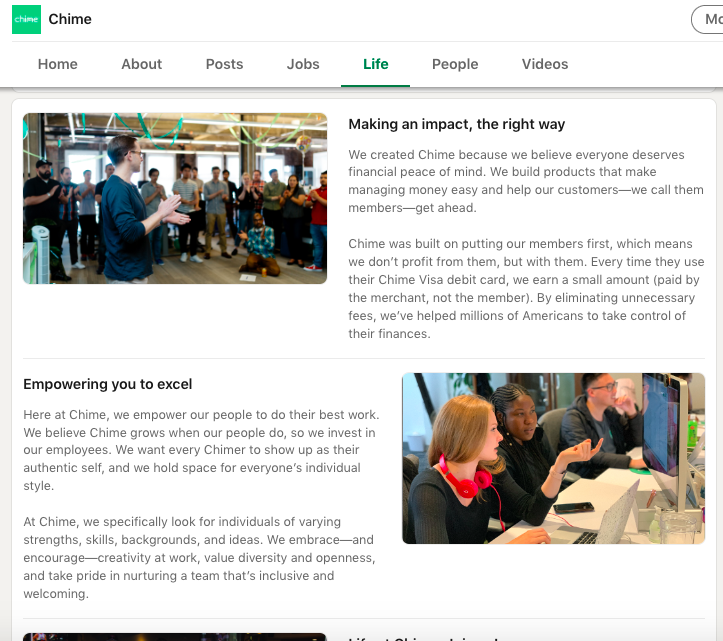 5. Customers
This is another type of data that is not always easy to collect. On LinkedIn, companies select some of their associated customers on the Products page. This is for example the case of Spendesk, a unicorn since January 2022.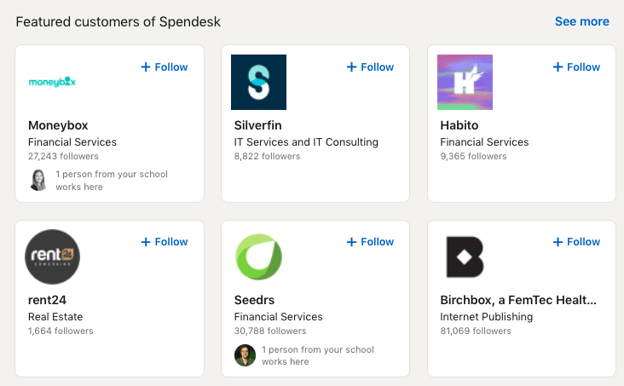 6. Events
Monitoring this section will teach you even more about a company when it publishes its events there, whether they are online, face-to-face, or hybrid. This is also an opportunity to start collecting information as well as field monitoring for upcoming in-person events.
7. Information posted about the company
Not only messages posted by and about the company (posts) but also articles, videos, and documents constitute as many potential and fresh data points on the current news, marketing, product, commercial, HR, financial, R&D, Customers, Production, new contracts, and sector trends (Chime LinkedIn Page example)! Of course, in the context of expanding start-ups and unicorns, financial data and the use of fundraising constitute a significant part of the messages posted. Also, consider exploring potential groups your target businesses can post to, or even groups of which they themselves are administrators.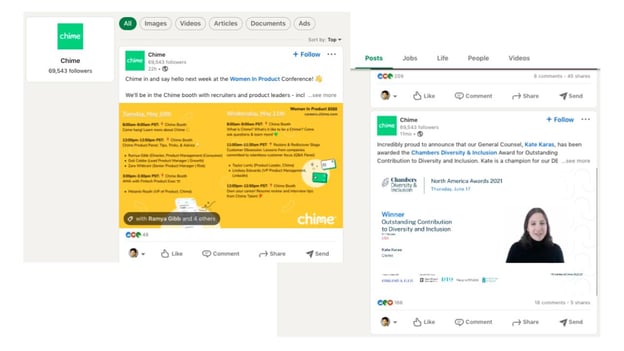 You will therefore be able to set up your monitoring on the LinkedIn company pages to detect new publications and modifications as well as on keywords and hashtags of your themes, people, and companies that you wish to monitor and analyze.
II. Why monitor LinkedIn? Applications and use cases
You have therefore identified the interesting categories to provide you with up-to-date data on your target companies and sectors. What will be the uses of this monitoring though? There are potentially multiple of them:
Competitor analysis
As said earlier, this is the first use, but not the only one. You will indeed have access to all the new posts, videos, and documents published by your competitors about their products, services, and employees. You can therefore collect additional data on tactical and strategic developments, through job offers, site openings, acquisitions, etc.
Trend analysis
On LinkedIn, many companies publish posts, documents, and videos about their innovations. In addition, multiple start-ups and innovative organizations, emerging in a micro-market segment, without necessarily having a developed website, will appear on LinkedIn.
Partnership identification and acquisitions
Monitoring new technologies, products, and companies in certain markets allows you to nurture your base of potential partnerships.
Reputation analysis
You will find information on reputation drivers, both yours and those of your target companies in your sector. By exploring reviews of your products, services, and employees, you can gain key insights for managing your reputation.
Employer brand monitoring
By scrutinizing the posts of companies, managers, and employees as well as job offers, you can feed a watch to your own employer brand or those of target companies.
Content inspiration
Many agencies, institutes, firms, and companies publish and share high value-added content on LinkedIn. By choosing a panel of key organizations for you and your sector, you will therefore be able to take advantage of this rich and diversified content to inspire your own publications.
Analysis of campaign performance
This is another dimension beyond monitoring: marketing analytics. This is to analyze the performance of your campaigns and their impact on your own LinkedIn Company Page. You can indeed monitor the performance of your campaign in real-time with social media KPIs like reach, impressions, and engagements to get actionable insights about the reactions of your audience: likes, comments, and followers.
Monitoring and social listening platforms like Digimind allow you to easily:
Carry out your monitoring on Linkedin by monitoring and analyzing the business pages, themes, and organization of your choice via keywords, hashtags
Analyze the performance of your own LinkedIn page: growth of your community, engagement, interactions, the most effective publications, etc.