4 PR Lessons from Scoot's Flight Delay
On the evening of 20 June, a flight from Singapore to Perth was delayed for more than 22 hours, making it the second flight delay in 3 days for the budget carrier.
Using our monitoring tool Digimind Social, we put our listening ears on how Scoot handled the crisis on the social media front, as well as what lessons we could learn from this incident.
1. Evidence speaks for itself on social media
With social media making it possible for news to spread like wildfire, first-hand accounts of passengers stranded at the airport quickly caught attention online.
In particular, a YouTube video showing angry passengers demanding answers and compensation, after being made to board and disembark the plane several times, highlighted their suffering as well as the airline's incompetency in handling the situation in an efficient and humane manner.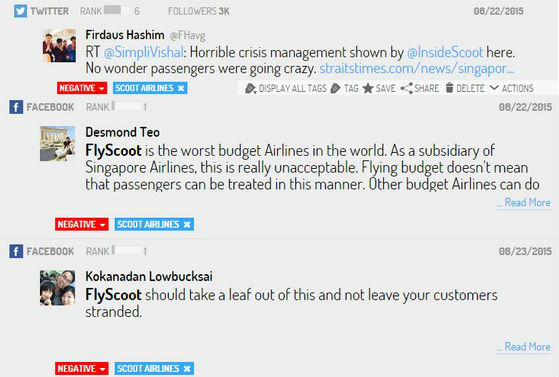 Evidently, customers are social media savvy, taking to online platforms to express their dissatisfaction while forcing companies to act on potentially damaging reviews. It is important for companies like Scoot to constantly monitor what is being said about them by customers in real-time, and address them promptly before it proves detrimental to their online reputation.
2. Act fast
It took nearly 3 days before CEO Campbell Wilson finally apologised for the delay on Channel News Asia, with 2-3 updates on the company's Facebook page. In the world of social media, half a day is considered a long time, let alone 3 days.
By then, online sentiment towards Scoot had taken for the worst, with more than half of online conversations about the airline being negative. Mentions also spiked by almost 100% from 20 - 23 June during the CEO's online absence.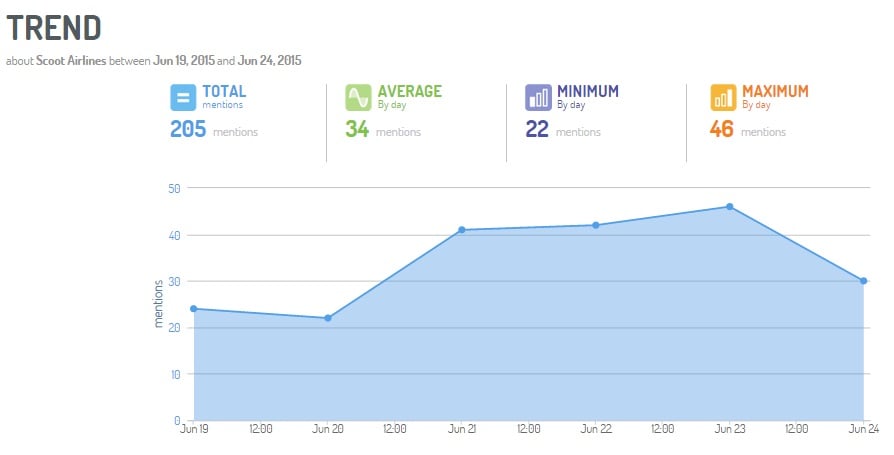 Had Campbell addressed these issues immediately, it might have mitigated the situation. Putting off addressing your customers suggests disorganisation and insincerity towards them. It is better to have an active social media presence or none at all, instead of an inconsistent one.
3. Act well
For a brand that's known for staying (relatively) ahead of the social media game, Scoot's (and Wilson's) apology was sorely lacking.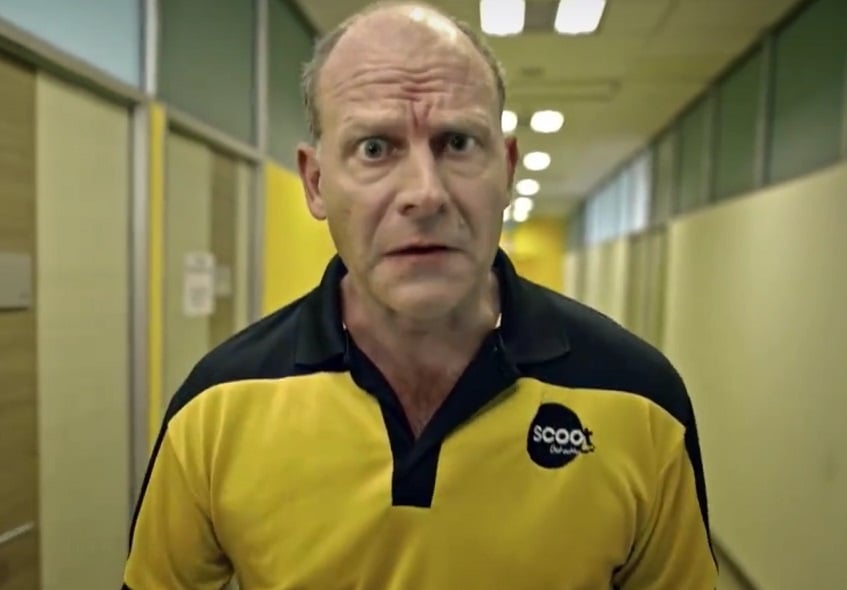 Quoting the Latin phrase "quid pro quo" with regards to not securing accommodation for affected passengers, Wilson failed to explain why passengers were made to deplane twice, as well as the lack of operating crew and staff on hand.
Needless to say, Internet users were not pleased and slammed Wilson's poor answer, including local influencer @mrbrown who added his own twist to his quid pro quo!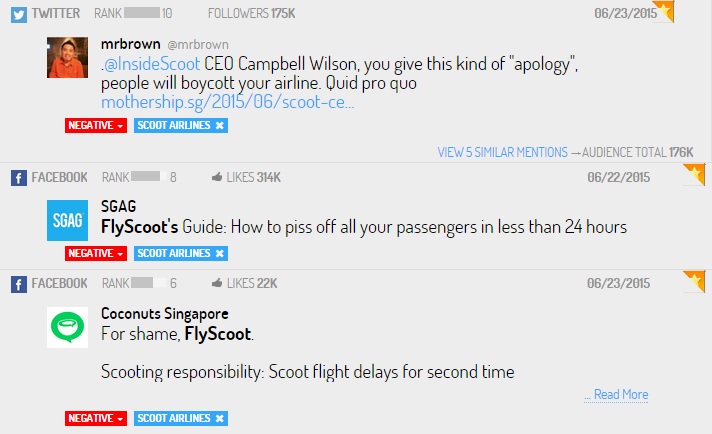 4. Your staff's social media activities reflect your company's
To make matters worse, a Scoot stewardess took to her personal Facebook page to chide affected passengers for complaining, even commenting that they should have flown with Singapore Airlines, a national carrier, if they wanted better services.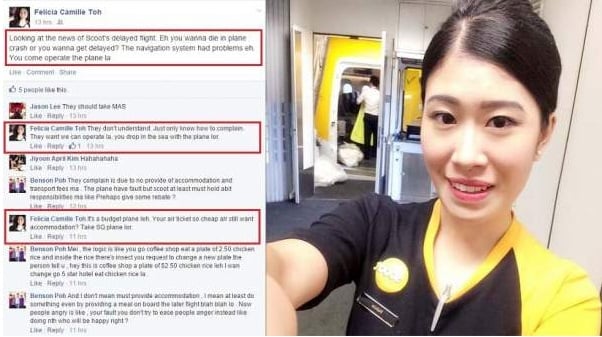 (source: All Singapore Stuff)
Regardless of who is at fault, staff must retain a neutral and professional front in a time where the line between personal Facebook accounts and official company pages is becoming more and more blurred.
Employees are like your brand ambassadors, and their online behaviour reflects on the company and affects how it is being perceived. Therefore, companies should invest in training their staff on social media etiquette, or even monitoring their social media activities to avoid similar situations from taking place.
Melissa is a digital advocate who loves diving into the latest trends in digital and social media. Since joining Digimind's marketing team in 2015, she has written studies for over 15 industries in Asia Pacific. When she is not telling stories about data, Melissa can be found exploring her favourite cafes and hangouts on Instagram @chuepachups.