Pinterest Insights
Pinterest is a social network mainly oriented towards visuals. For businesses, one could compare this platform to a shop window. A shop window that not only highlights the company's products but its universe. This means conveying the company's values and brand image to their online users. Pinterest brings together, above all, the extraordinary, luxury and dreams. The major difference between Pinterest and other social networks is that here the user is the one going directly to the content (searching by keywords) and not the reverse, such as on Facebook where the user scrolls through their newsfeed). Moreover, the interaction is not overly present: comments are not at the forefront and despite external links, it is complex to create commitment.

Some stats on Pinterest :
The network has 100 million active users (September 2015)
69% of users who've seen a product on Pinterest bought or wanted to buy it, compared to 40% for Facebook (Source HuffingtonPost).
The most shared themes are home and garden, fashion and fitness, food and drink and shopping (source: ShareThis).
Unlike other social networks that are fairly equal in terms of gender, Pinterest is a platform that has 85% female users (Source: DMR).
Brands are very present on Pinterest: the network can provide a wealth of information on consumer habits ... as well as your competitors'.
Client Insights: better understand consumer habits and lifestyles



With Pinterest, you'll be able to identify your target audience's tastes. Through the boards, you will be able to immerse yourself in your audience's world, what they like but also what they dream of.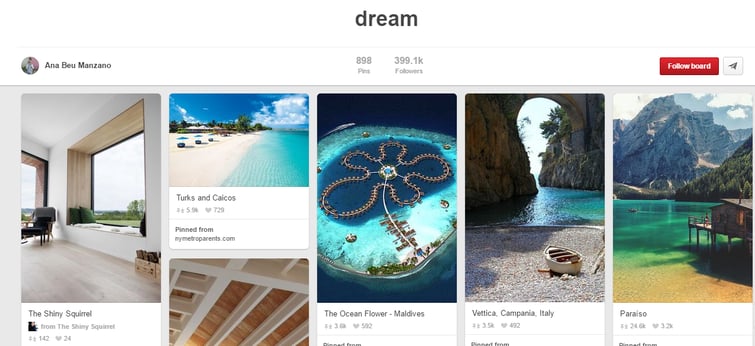 Generally, Pinterest users prefer to subscribe to a specific board rather than a user. This allows them to filter what is displayed on their newsfeed. What's more, on this network, users discover passions and interests in subjects they normally don't pay attention to. This is to create a different world away from everyday life, a universe that is often comforting and enjoyable to watch. Lindsey Bachelder, a very active Community Manager on Pinterest, points out that "Visual imagery drives inspiration, it's what makes you want to buy things." (source: Case Study Pinterest for Business). On Pinterest, you can anticipate your customers desires. By knowing what content they pin, you can learn more about what they dream of, so you can create a similar customer experience.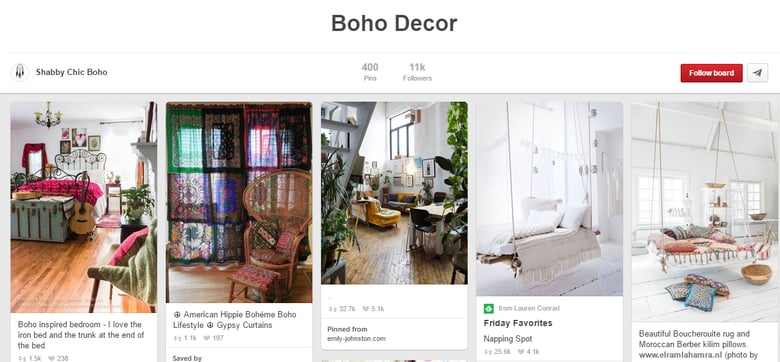 Client Insights: better understand their needs



For most Pinterest users, this network allows them to establish sorts of benchmarks: regrouping and comparing necessary product information for future purchases. Whether it's decorating, fashion style or even hairdressing, pins allow users to find what they are looking for. By browsing the interface you can look at the most popular boards and therefore understand what your customers need. You'll see how "Do It Yourself" (DIY) projects are growing as a trend, showing you which products are playing a big part in your customers lives, but also the knowledge that is needed to be able to use and create your products.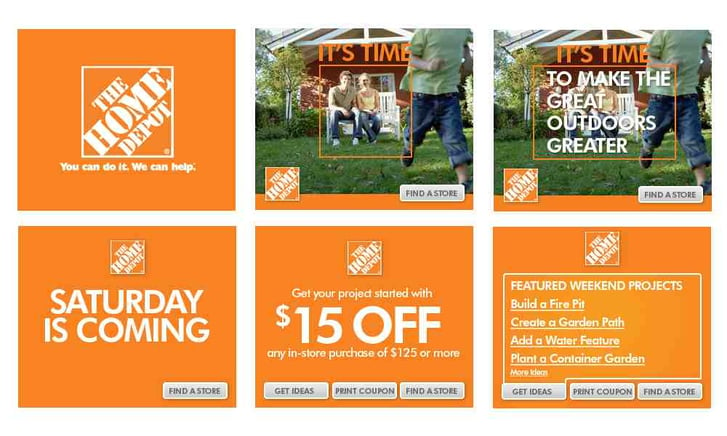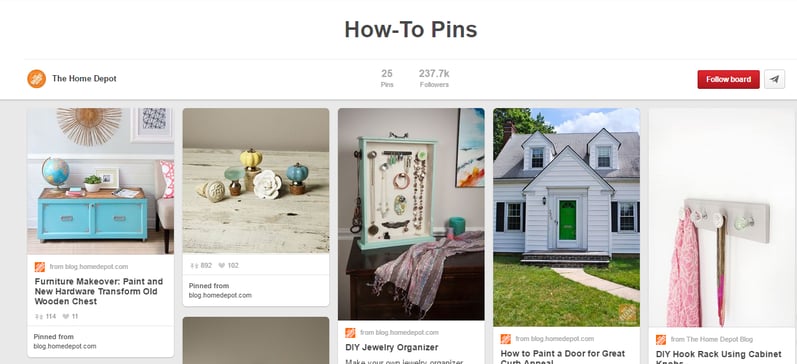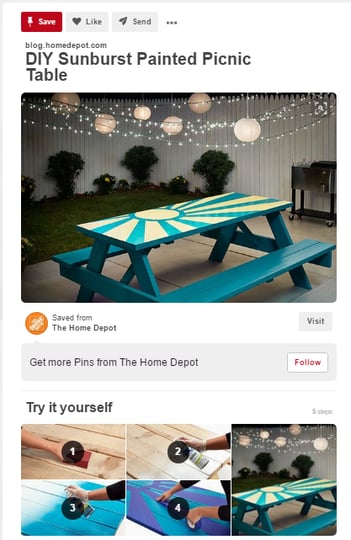 Competitive Intelligence: How your competitors communicate, what offers win user followings



It is equally as valuable to visualize competitors communication styles as well as their preferred Pinterest content. If we take the example of Target and Walmart, we can see two different types of presence.
In qualitative terms: Target's Pinterest account is enhanced with content that is similar to that of a catalog. It includes stagings of products with links to influencers who have created styles with their products and features. This spreads over about 60 boards of dense information, far beyond simple images.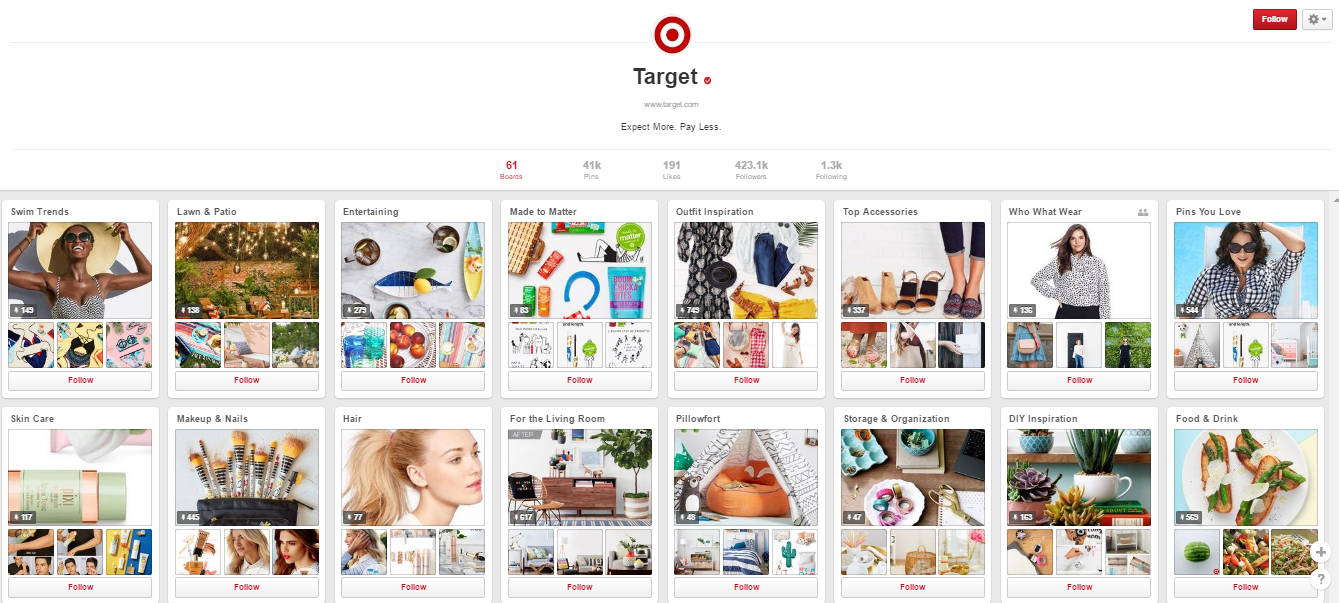 Walmart's account is more about the atmosphere that the brand wants to share with its desired audience. The chain offers boards on engaging, yet classic themes like 'For The Home', 'Outdoor Deco & Tips' & 'Back to School'.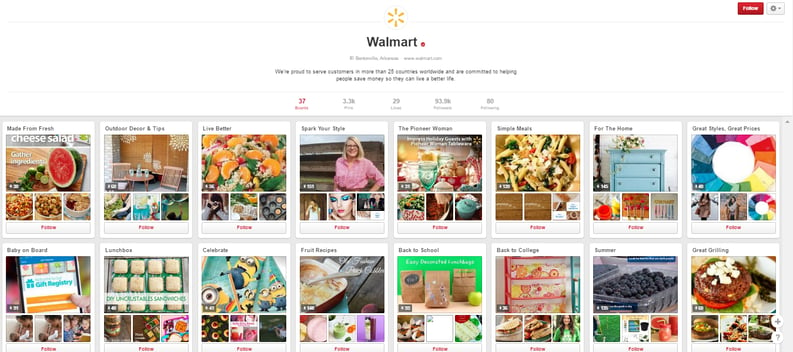 In quantitative terms: via Pinterest analytics (number of subscribers & number of times a picture is repinned), allows you to distinguish between competing visual strategies that work best on Pinterest. Here, for example, we can see that Target has more interactions than Walmart: an original profile that combines both products with influencer styles and the overall feel of the brand seems to be a winning mix.
Client Insights: their passions



It's difficult to understand all users individual tastes via Twitter or Instagram. Through Pinterest accounts, you will be able to collect more qualitative data about your customers and their lives, including their profession and their passions. Like many users, Leon Sarantos created a profile both personal and professional, allowing him to add visibility to his creations and also present what inspires him. This shows that it is possible to meet customers, to better understand them and to adapt your strategy to their personality. As a company, you will be able to identify your own customers' influencers by seeing, for example, how often boards are followed or how many pins there are.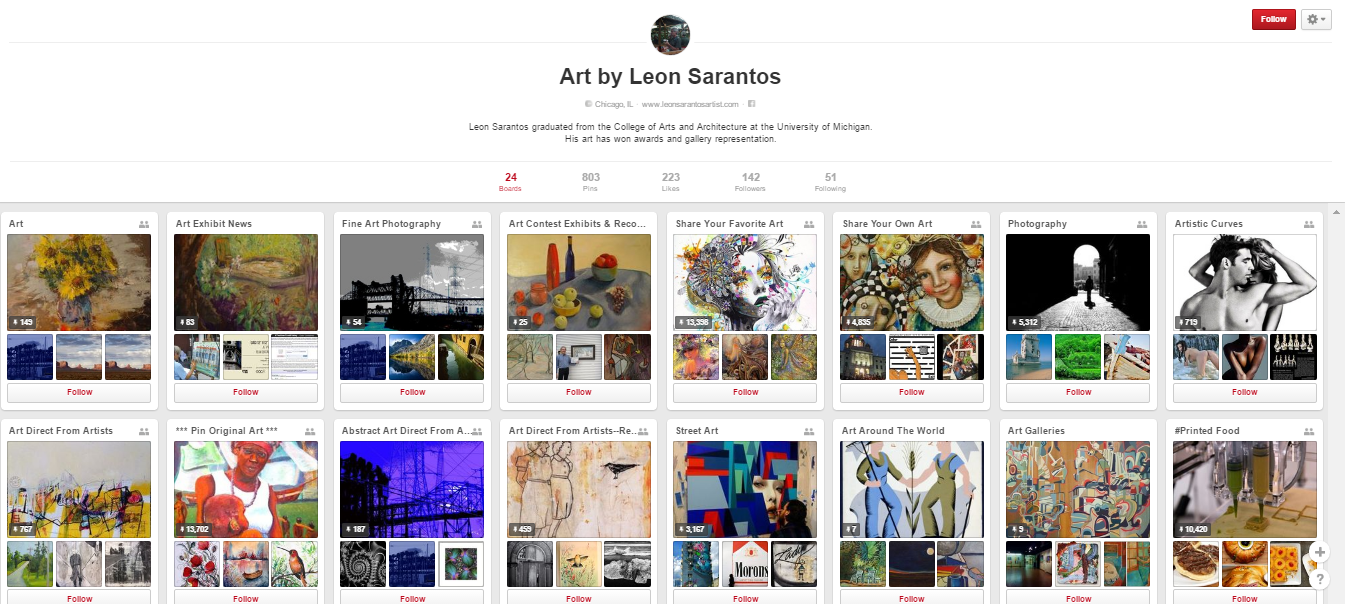 Get a glimpse at future market trends
Going through the various boards, including using keywords, you will be able to discover future trends. For some sectors, Pinterest will be a gold mine in terms of information. You can easily visualize what is fashionable and what is not. In the example below, the keywords are enough to clearly identify how users are interacting with the bold Kylie Jenner lip trend, providing how to's, as well as the colors clients are using. This type of search is very fast and effective as the most successful pins (most re-pinned) come up first. Thus, it becomes easier to visualize trends on a daily basis.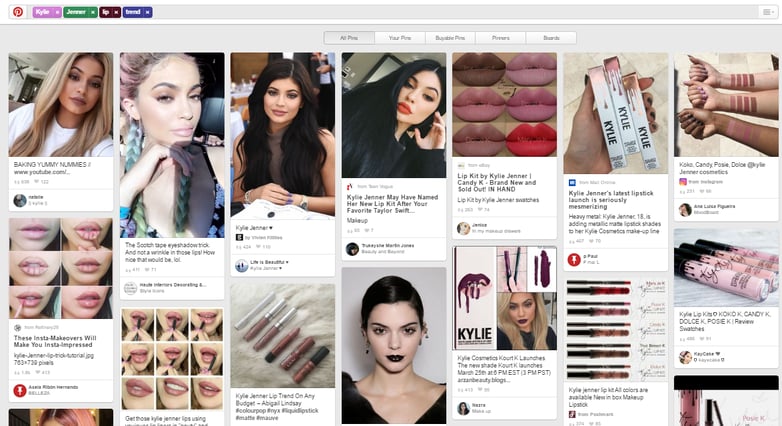 Pinterest is a platform that can show you many specific client insights. Beyond this, it also allows you to anticipate and understand trends, so you can be responsive to fast-moving markets.
Interested in the monitoring and analyzing Pinterest? Sign up for a demo with Digimind Social today!