Improve client relationships with social media
There are many advantages to incorporating social media into your routine work process. Improving client relationships is perhaps one of the most important.
Your clients will appreciate and be reassured to know that you are following their online reputation and know how they are working on social media platforms. So go beyond your standard responsibilities and take a few minutes everyday to do a quick check-up on your client's digital footprint and activity. This will allow you to alert them to any red flags, better understand their business and prove to them that you are a social media and industry expert. Giving a brief overview of your client's online reputation is often a great way to kick off a meeting or phone call.
Below are a few examples of how the most common social media platforms can help you successfully manage your client relationships.
Twitter
A company's tweets reflect what topics are top of mind for them. They could be launching a new product, expanding to new markets, or attending an industry event. General tweets such as links to articles or retweets of content can help you better understand your clients' business.

You can also use Twitter as a search engine to find out what is being said about your client's company.
Facebook
Corporate Facebook pages often reveal the more human side of their business. Companies may publish photos that reflect their corporate culture, atmosphere, or brand image. Are they more relaxed or conservative? This can help when preparing for a first meeting and your initial approach to them.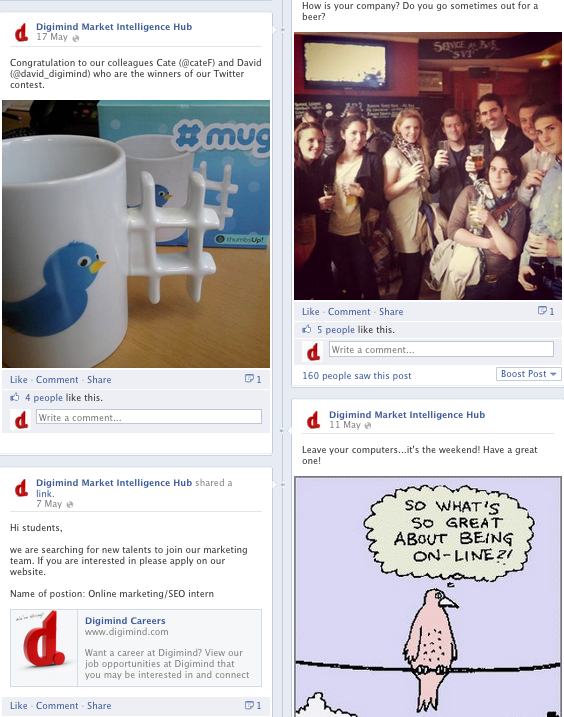 LinkedIn
LinkedIn is the primary social platform for B2B relationships. Always have a look on LinkedIn before a meeting to know who you are going to meet and his or her background. You might discover you have a common connection which can help with networking and small talk. Connect with as many business and personal contacts as possible, as this will really help improve your credibility.
We're interested to hear how you're currently using social media and how these tips work for you. Please share your comments.
Marketing Manager @digimindci. Passionate about big data & social marketing. Photography, music and hiking lover