Top 7 Valentine's Day 2019 Social Media Trends in North America
Valentine's Day is all about spreading the love, whether that be with a handwritten card or a social media shoutout. This year's sharing of affection was no different, and using our social listening tool, Digimind Social, we were able to gather data from Valentine's Day mentions to depict trends, sentiments, and much more.
We're breaking down all of the trending topics on social media from Valentine's Day 2019 in the United States!
1. Fact Checking
Typically, Valentine's Day has been more associated with femininity and the idea of spoiling a lady. But this year, men mentioned V-Day even more than women and made up 54% of mentions compared to women's 46% of mentions. Men and women between the ages of 18 and 25 mentioned Valentine's Day the most on social. And thanks to social monitoring, it was revealed that many users aged 55 and up took to social media to express their love for long-term partners and to talk about Valentine's Day plans. While this group is certainly very vocal and shares often, when we look deeper we can see that many men between 18-25 utilized the platforms to talk about what gifts they would be giving their significant others.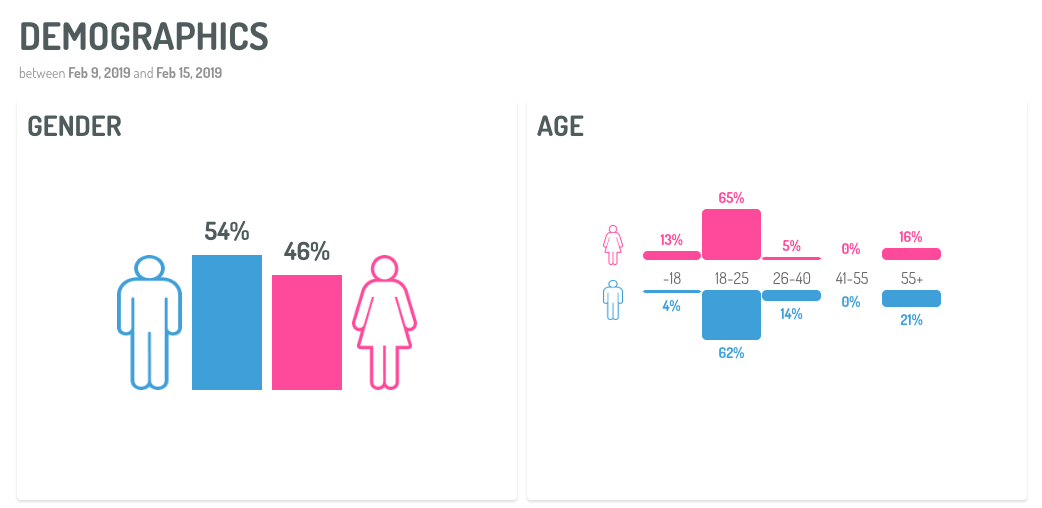 Evidently, love is in the air in Washington, DC! The city remained in first place for the most Valentine's Day mentions, with Los Angeles and Ottawa coming in second and third, respectively. By the end of the day, DC was ahead by nearly 1,200 mentions.
Now you know where to head if you're on the hunt for love.
Facebook carried the bulk of mentions, with 83% of Valentine's Day mentions coming from the platform. Twitter came in second with only 10% of mentions, ahead of Instagram's 2%. This data also encompasses mentions from large brands and influencers, and often the percentages reflect the number of people in each age bracket, which can vary.
Twitter's Valentine's Day conversations included more discussions about plans and gifting by individuals compared to Facebook's brand promotions.

2. What's V-Day Without a Little Gifting?
If you take a look at Digimind's overview of social insights, we can understand the social ranking of users talking about Valentine's Day topics. The higher the ranking, the more reach an account has. Most topics had mentions by social media users with medium rankings, which can mean that a combination of smaller brands and micro-influencers did the most talking.
Typically when we think of Valentine's Day gifts, chocolate comes to mind. But photos actually had a staggering number of mentions in comparison to chocolate, with 85,152 people talking about giving photographs during the period. Chocolate and cards came in behind photos, and honorable mention for gifts also goes to dinner and Amazon cards.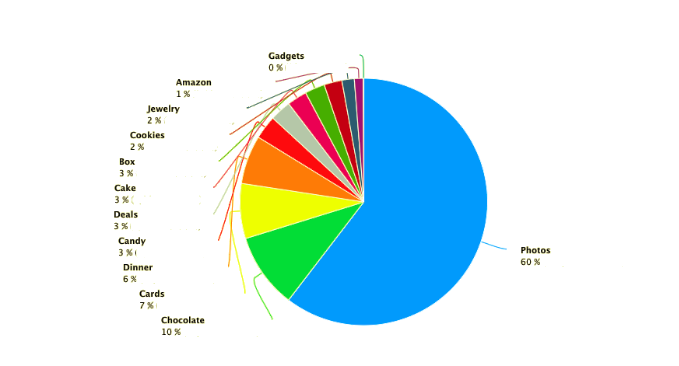 As a leading retailer with lots of traffic and buzz around Valentine's Day, Amazon enjoyed great visibility during this period.
Professional artists, bloggers, and authors (in that order) did the most talking about Valentine's Day on social media. Creative professionals were vocal and expressed the most sentiments. Aside from the word "Valentine", "special" was one of the most mentioned key concepts. Understandably, "lover" was the most popular interest.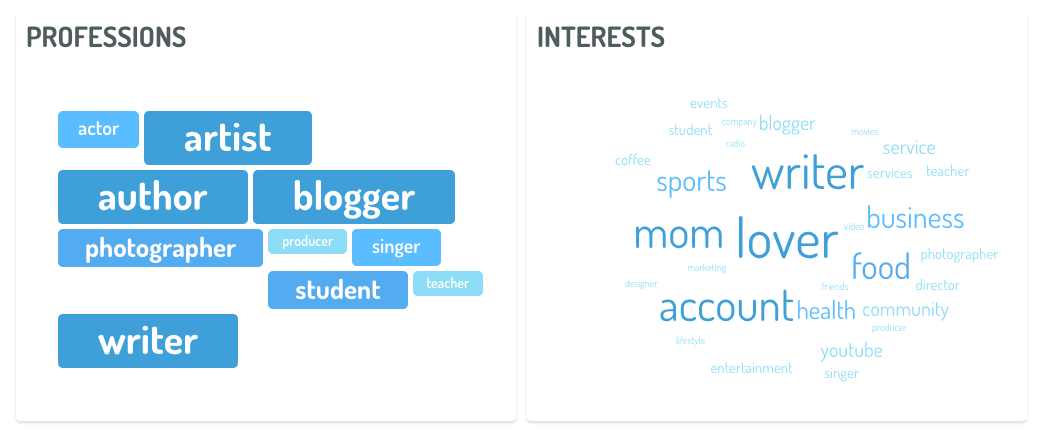 And it's never too late for a history lesson! One of the top links visited was "The Catholic Origins of Saint Valentine's Day".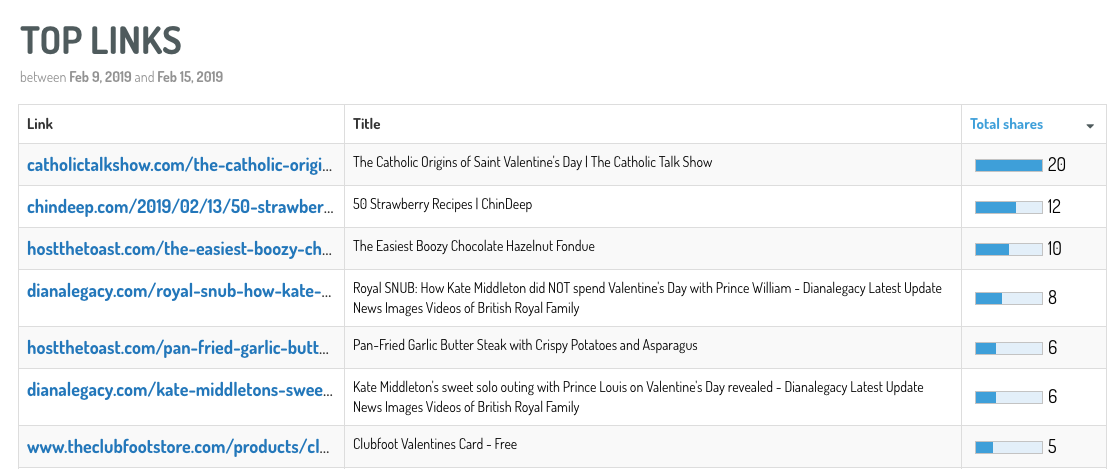 3. Getting "Sentiment"al
Digimind Social allows users to track and understand consumer sentiment towards different topics. The Valentine's Day sentiment came out to be almost entirely positive, with 86% of mentions having positive sentiments. 2019 is moving in a great direction!

Singleness was another frequently mentioned concept on Valentine's Day. With a positive sentiment of 66%, it's clear that with no significant other, there's no problem. Brands took advantage of the single status in an effort to recruit anyone lonely and hungry, and there is truly no end to the possibilities of Valentine's Day treats.
4. Amazon and NYC's Dramatic Split
Digimind Social was able to identify several key trending topics during the Valentine's Day period. Most prominently on the actual holiday was New York City and Amazon's "Breakup". Amazon announced on February 14th that they would not be continuing with their plans to build a new headquarters, which would have created 25,000 new jobs, in Long Island City.
Content writers had a field day with the endless ways to describe the dramatic split using relationship puns, and the topic managed to drown out many genuine posts about love due to its precedence.
5. Bugs for Everyone
There was another interesting Valentine's Day trend certainly worthy of a spotlight. The El Paso Zoo volunteered to name a cockroach after your ex before feeding it to a meerkat on Valentine's Day. The topic earned an estimated reach of 5.7 million. This is a fantastic example of customer engagement and raising brand awareness.
6. Gal Pals > Lovers
Grab your girls! 2019 was the year of Galentine's Day. The term brings an element of friendship to the traditionally romantic holiday, and those without significant others are more inclined to participate in festivities with their girl friends and make purchases around the holiday. Brands targeted towards women, both small and large, did not miss the opportunity to get their Galentine's Day on and show their support for women empowerment.
7. #ShopLocal
This year, there were an astounding number of mentions referencing #ShopLocal. Local businesses were eager to capitalize on the Valentine's Day shopping wave, and were quite successful in competing with their corporate counterparts. #ShopLocal secured one of the top spots under most mentioned hashtags for the Valentine's Day period. Thanks to social media, smaller businesses are able to compete on a much larger scale.
Bonus: Get the ultimate guide for optimizing your retail customer's journey with social media intelligence.
Spreading the Love
Whether it's with a gift or a sweet social media post, people definitely showed their Valentine's Day affection for lovers and friends on social media. Brands have historically taken advantage of the business opportunities during the Valentine's Day season, and social media has certainly not slowed them down. Cheers to spreading the love all the way into V-Day 2020!
Find out how you can use social media intelligence to track mentions, identify trends, and create well targeted campaigns. Request a free demo!
I enjoy looking for unique labels in grocery stores and sipping matcha in hidden tea shops. I have a passion for content and innovative marketing, living in NYC, and I'm currently finishing a graduate degree in International Marketing.