Tesla's Cybertruck Product Launch: What's All The Fuss About?
On November 21st Tesla announced the release of their newest vehicle, the Cybertruck. Conversations surrounding Tesla spiked after Tesla's CEO, Elon Musk, live streamed the Cybertruck's reveal, putting the truck to the test in front of a live audience. Consumers, critics, and companies took to social media to express their sentiment surrounding the Cybertruck reveal.
We got curious and used our Digimind Social Listening tool to find out what all the social chirping was about. Let's take a closer look at the conversation spikes involving Tesla's Cybertruck.
Live-Streaming To Test-Driving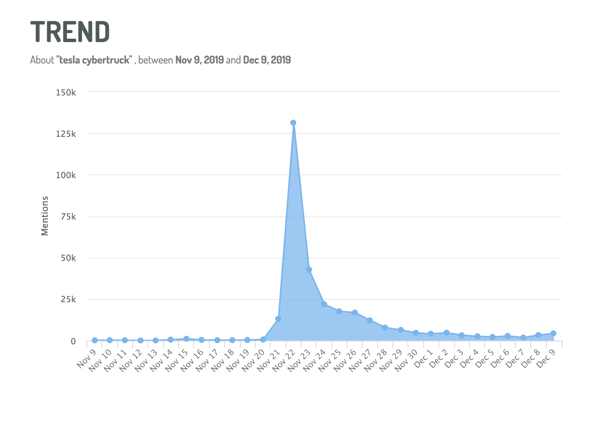 Conversation trends including "Tesla Cybertruck on Digimind Historical Search"
From first glance, we can see there's a significant spike in mentions on the 21st of November. This peak occurs on the day of Tesla's Cybertruck reveal, and tops out at around 130k mentions in the US and 350k mentions globally (not shown).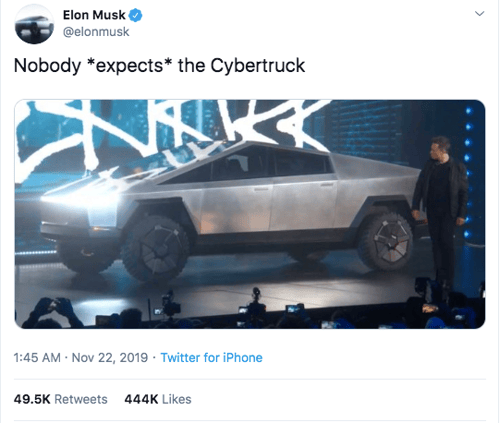 Elon Musk's Twitter Announcement of the Cybertruck
Additionally, a sustained spike in mentions occurred after Elon Musk was spotted driving the Cybertruck in Los Angeles in early December, in which Musk was seen driving over a traffic pylon cone.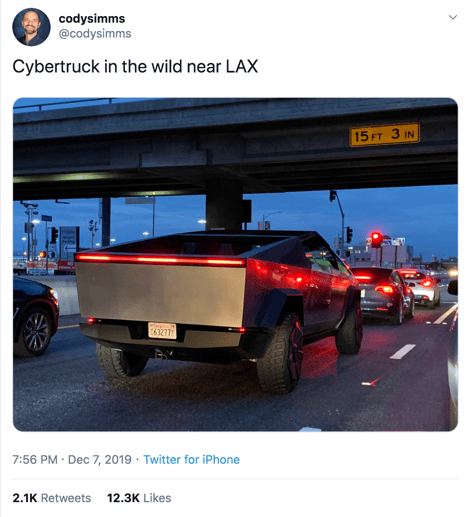 Tweet showing Elon Musk test driving the Cybertruck
Social Media Autopilot: Other Brands Are Also Driving Cybertruck Conversations
In addition to the spike in mentions Tesla saw, the Cybertruck reveal also created an increase in conversations on social for other companies including: Ford, Halo, Lego, and Rivian.
Some brands created owned content after the Cybertruck reveal, while others earned mentions from consumers in the form of memes. For instance, Lego responded to Tesla's Cybertruck reveal livestream on Facebook, taking a dig at the faulty window test.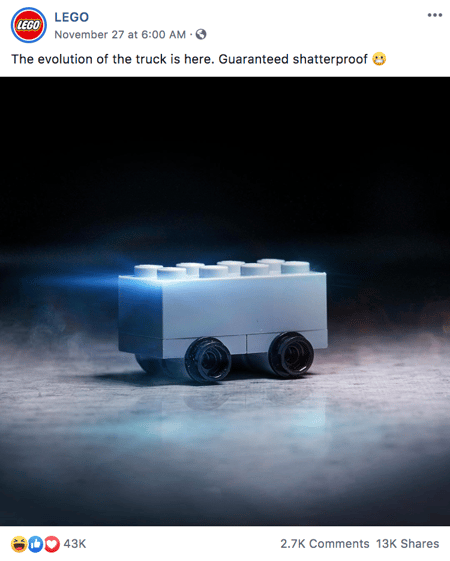 Lego's version of the Cybertruck on Facebook
Many conversations surrounding the design of the Cybertruck surfaced on social after Elon Musk claimed the Cybertruck's design was inspired by the popular video game Halo.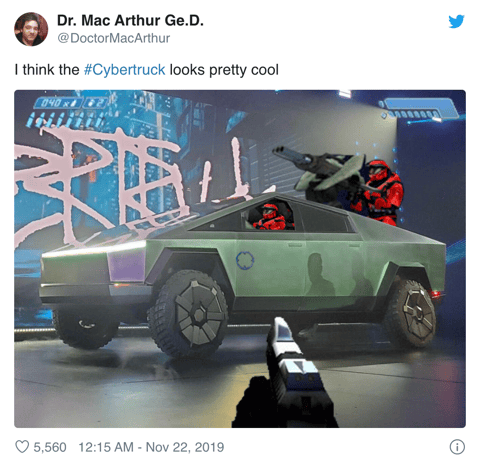 As shown below, prior to the Cybertruck release Halo's mentions were relatively stagnant, yet Elon Musk's comments coupled with Twitter's meme driven platform created a large conversation spike for Halo.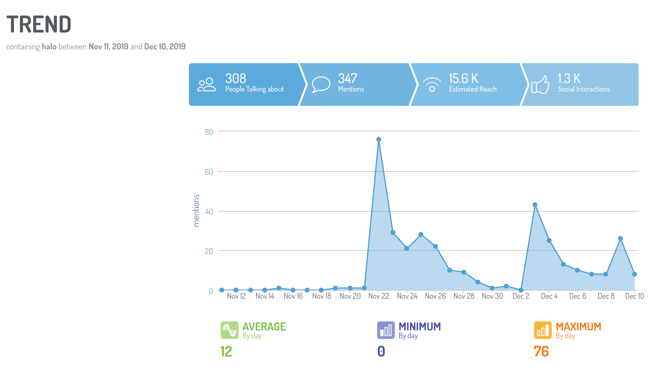 Halo conversation spikes during Cybertruck reveal on Digimind Social
Likewise, Ford also saw an increase in mentions on social. Ford's conversation spike occurred after Tesla's CEO, Elon Musk, compared the new Cybertruck to Ford's top-rated F-150 truck.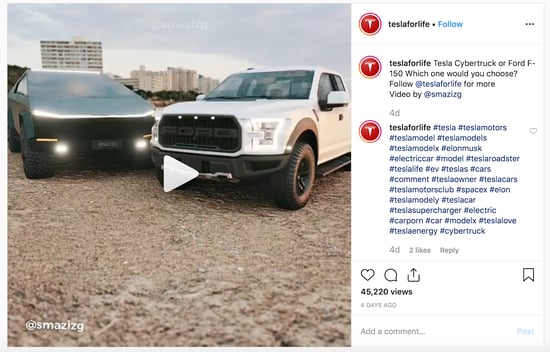 Tesla fan account comparing the Cybertruck to the F-150
Many Tesla fan accounts looked to social media to get consumer opinions after Musk's comments, drawing considerable controversy from Ford and critics alike.
The Overall Sentiment for Cybertruck Is Positive On Social

Digimind Social Sentiment Analysis Overview 'Cybertruck'
Despite the illusion of negative sentiment surrounding the design, functionality, and faulty window test of Tesla's new Cybertruck, social listening reveals that the overall sentiment is positive.

Digimind Social Sentiment Analysis breakdown by concepts
Taking a closer look at sentiment, different keywords appear upon comparing positive to negative sentiment. For instance, Elon Musk claimed that Tesla's Cybertruck could outperform Ford's F-150. Many pointed out their frustration with this statement and came to Ford's defense, stating the Cybertruck and the F-150 have different wheel-drive capabilities. The controversial nature of Elon Musk's claims against the F-150 created a negative sentiment in social mentions surrounding the Cybertruck's release.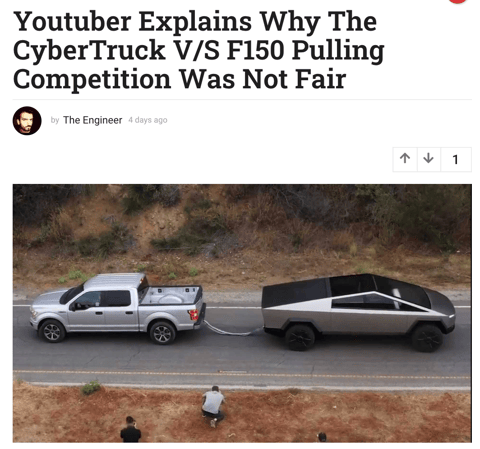 Youtuber debunking Ford versus Tesla claims
Overall, social listening tools such as Digimind Social and Digimind Historical Search allow companies to analyze both owned and earned content before, during, and after campaign launches. Additionally, creating alerts on social listening tools allows you to monitor your competitors product launches.
To learn more about how Digimind Social and Digimind Historical Search can help with your product launches book a free demo today!