Social Media Shops at The Great Singapore Sale
It's that time of the year to say hello to the Great Singapore Sale, the most awaited one by shopaholics and brands alike in Singapore. Even before the sale went to the floor, Digimind's social media monitoring tool kept its ears on various social media platforms to find out the latest updates. So, which one has the most buzz about GSS 2015?
Twitter rules again

With 64% of GSS-related buzz happening on Twitter, it's evident that many brands are leveraging it to reach out to customers. Much excitement abounds on jewellery, accessories, clothes, and even tips on how to shop like a pro.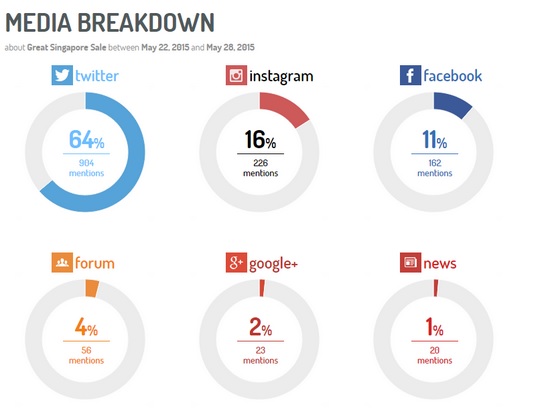 Instagram is the second most used platform, especially for hotels, handmade accessories and stationery.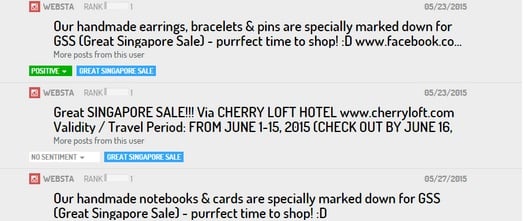 Alongside major brands like Bosch and shopping malls like Ion Orchard, online shopping brands such as Zalora are making the most of social media to promote their big discounts.




Coming in third is Facebook, where major Asian brands like Uniqlo and Watsons are holding contests to generate more business this season.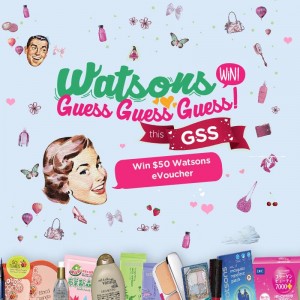 On your marks, get set…. shop!

As expected, most internet users are looking forward to the sale, as it means getting their hands on great discounts on their favourite brands.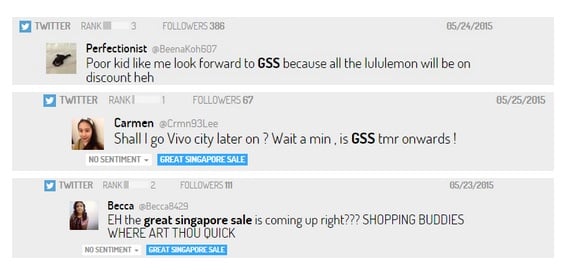 Men vs Women
From the looks of Digimind's demographic segmentation, it seems that both men and women are eager to fill their shopping bags. Brands both big and small should target both genders for maximum sales.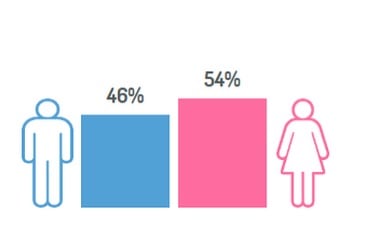 UberX, a cab service company in Singapore, for one, has caught on the GSS fever, reducing their minimum fare in a bid to entice shoppers with a happy ride.


With all that buzz and promotion across three major social media platforms, GSS 2015 has definitely gotten a lot of attention even before it has started. Looks like the wallets are going to get a bit lighter after this shopping season!
<
I'm a marketer by day and a writer and content creator by night. At Digimind, I oversee content and events for the Asia Pacific market. AMA about social media!