Social Media Report: New York Fashion Week 2016
New York Fasion Week is a world-class event, and big business; drawing approximately 232,000 attendees to over 500 shows, the show generates around $887 million in economic activity for the city. Top celebrities were in attendance, including: Taylor Swift, Gigi Hadid, David Beckham, Jessica Alba, and more.
The event was memorable with Kanye West blunders, Tom Ford's return to the runway, as well as a groundbreaking plus-size model catwalk. Tom Ford pioneered a new service by making his entire collection available for purchase online, during the actual event.
Digimind decided to monitor this year's fashion week in New York to see if any interesting insights could be gleaned from our social media monitoring tool, Digimind Social. Judging by the sentiment analysis of the period we can say that it was a successful event overall, with 96% of the total mentions of social media being positive.

The positive sentiment came in a variety of forms, from first time Fashion Week attendees:

To the sharing of breakthrough stories of the event: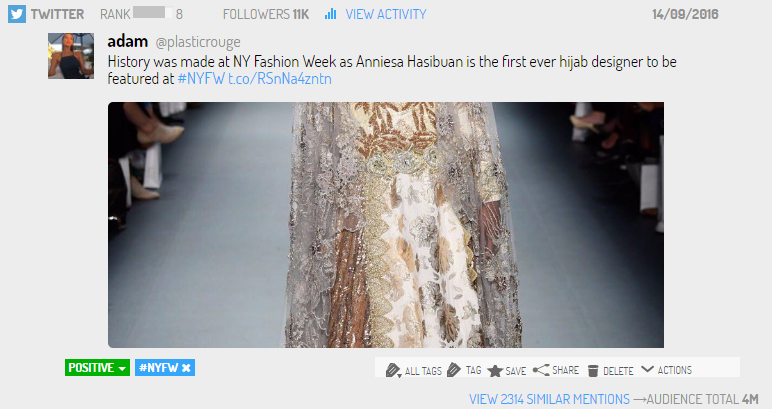 Now let's get into the data.
We found the concepts that received the most attention were: Anniesa Hasibaun, Michael Costello, Brandon Maxwell, and Tommy x Gigi.
However, Anneiesa Hasibaun stole the social media show overall with her luxury hijab designs which caused a flood of queries along the line of "Hijab Designer". Access to this information allows marketers to understand which topics grabbed the attention of attendees, and tailor their content accordingly.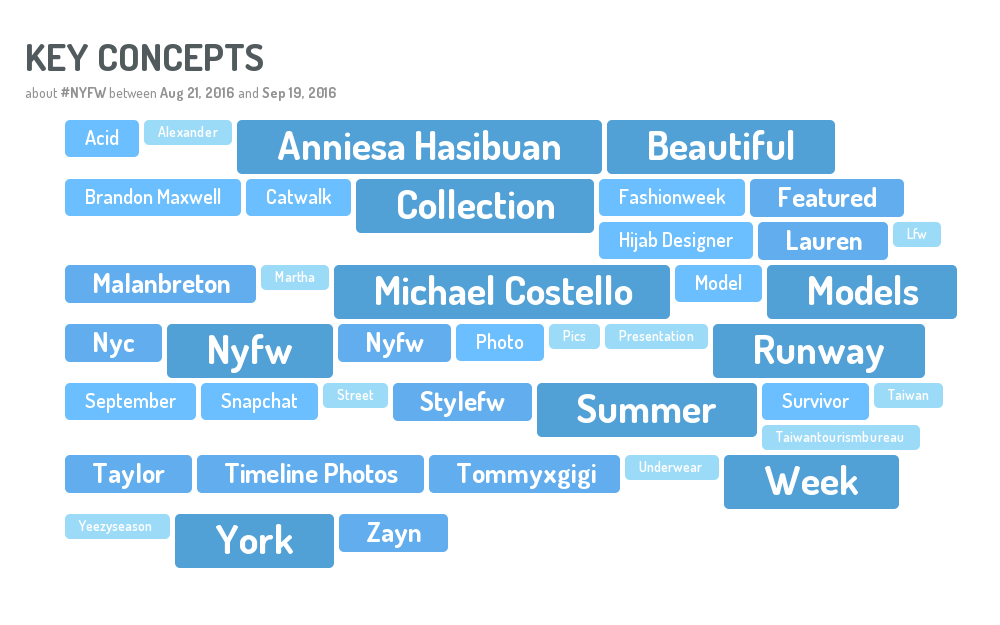 The top hashtags associated with #nyfw over the course of the week are seen below. Brands that excelled in this metric were: Malan Breton and Tommy Hilfiger.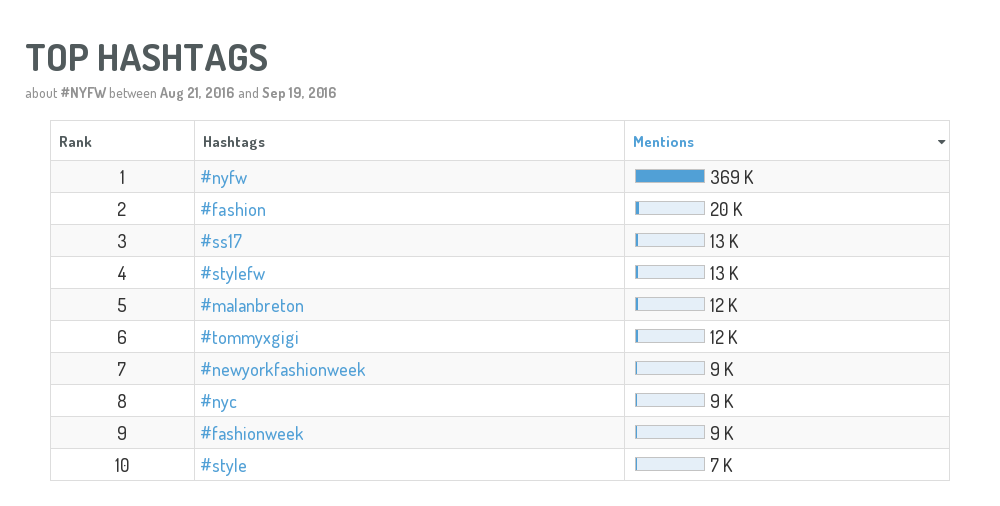 Tommy Hilfiger's social media success can in part be attributed to a variety of news sources and social influencers sharing stories regarding the brand.
The fashion week began officially began on September 8th, and finished on the 14th. We see that the trend graph below tracks this timeline very closely, with the volume of discussion building on September 7th, and dropping off around two days after the final events. This is another useful feature for live event-tracking, as it allows you to understand which individual events are generating the highest volume of conversations, and make inferences as to why this occurred, and how it can be taken advantage of in real time.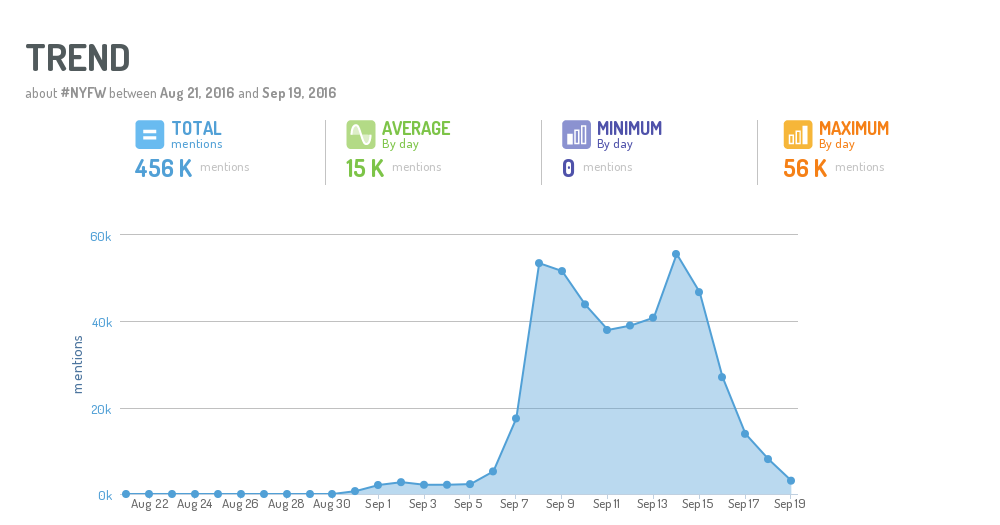 We found that the vast majority of the discussion occurred on Twitter, with Facebook and Instagram recieving 6% and 4% of the share respectively. The subject of the largest discussions were regarding the 'chic hijabs' as well as the Tommy x Gigi exposition.

The most shared URLs seemed to be related to Anniesa Hasibaun, due to the fact that hijabs were featured so prominently in the show for the first time in history. Again, the availability to analyze social data to this level of detail is invaluable for understanding which trends are developing, before they fully develop. For example - a U.S. retailer may try to take advantage of a potential new market by selling a similar product that generated buzz at NYFW.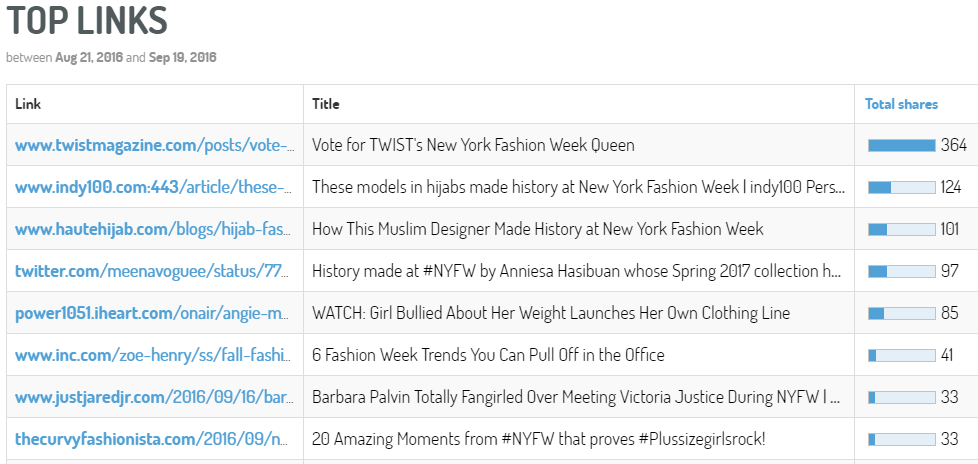 The top influencer list is determined by a combination of each account's total audience, number of mentions, and number of shares it receives. Independent users that are featured on this list make for great potential targets for brands looking for a social influencer to partner with. To continue with the hijab example, Anniesa Hasibaun could be targeted as a potential partner for a retailer looking to sell that product (or, they could partner with a younger designer to build a brand from scratch.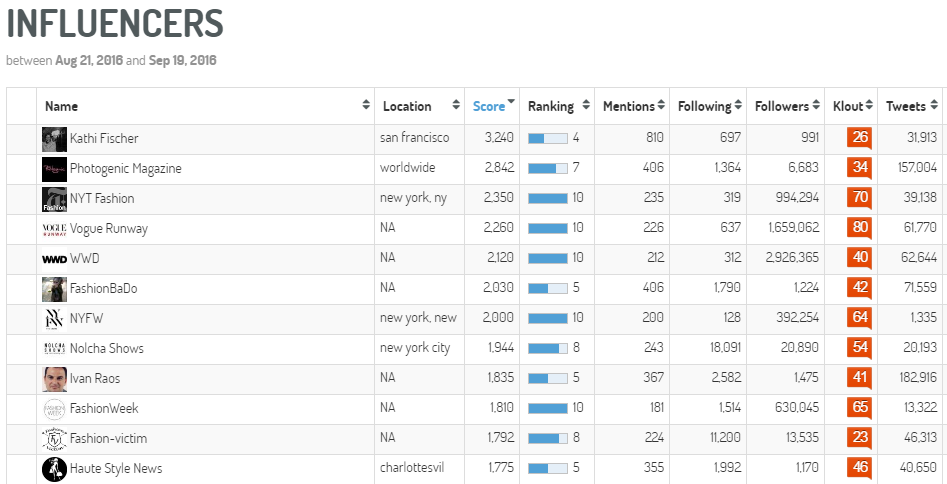 Unsurprisingly we found that the majority of users who mentioned #NYFW we females between the age of 18-25. However having this confirmation of the demographics gives peace of mind to marketers to validate their promotional strategies.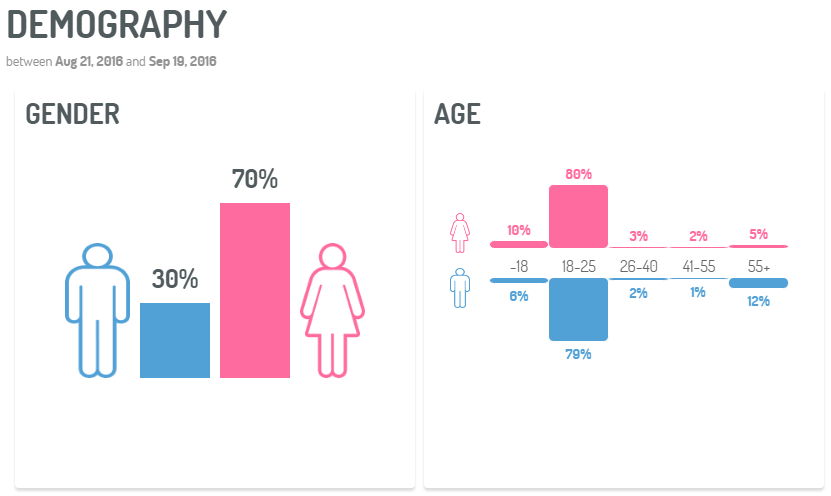 Their list of interests include: designer, stylist, blogging, snapchat, and lifestyle.

Brands are able to leverage this data to better inform their marketing initiatives, increasing their chance of success for similar events in the future. For example, brands may be interested in partnering with proven influencers from this year's fashion week, for next year's fashion week in 2017.
If you're interested in learning more about how to use social listening to track live events, check out our blog post on the subject!
Want to dive deeper into social media? Try Digimind Social for FREE!

Marketing Manager @digimindci. Passionate about big data & social marketing. Photography, music and hiking lover