Oscar Buzz: What Social Media Says About Upcoming Academy Awards
The 87th Annual Academy Awards are just two days away, and stakes are high. Whether it's Best Picture, Best Actress, or Best Dressed, hopefuls of all kinds have their eyes on the little gold man. To take a closer look, we monitored online conversations in the last few days to see how users are feeling on the cusp of the #Oscars2015.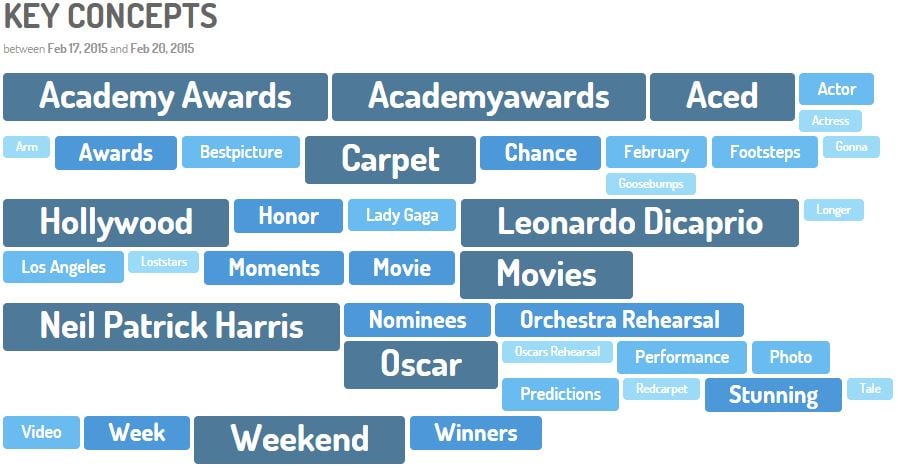 This year, users are especially excited to cast their predictions (694 mentions), watch Neil Patrick Harris host for the very first time (1,190 mentions) , and (of course) live to see the day that Leonardo Dicaprio (2,217 mentions) wins an Oscar. Lady Gaga (662 mentions) will also take the Oscars Stage for the first time. Throughout the week, she gave her 5.4 million Instagram followers a backstage look at her journey preparing for the performance of her life.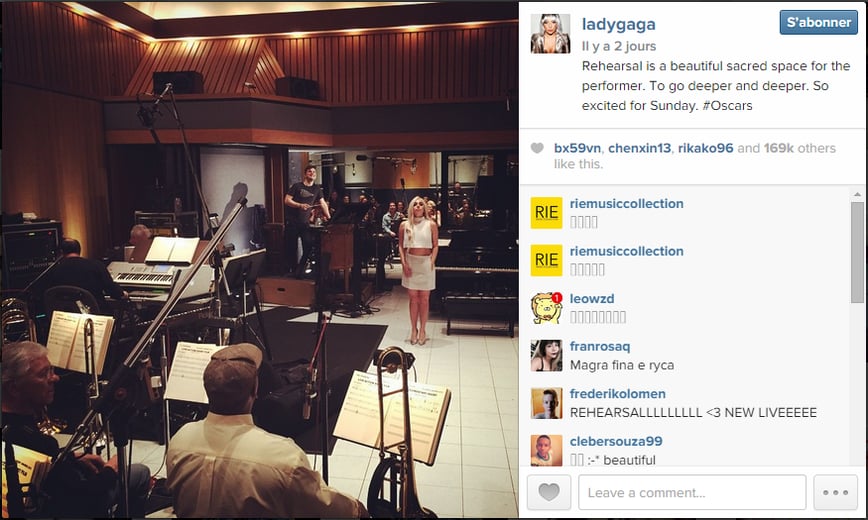 As everyone, from directors to sound engineers, continue to push the bar year after year, there's no telling who will finally take home the Oscar. What does social media think? Looking at both volume of mentions and user sentiment, we took a comparative look at how nominees for Best Actor, Actress, and Picture stack up against one another.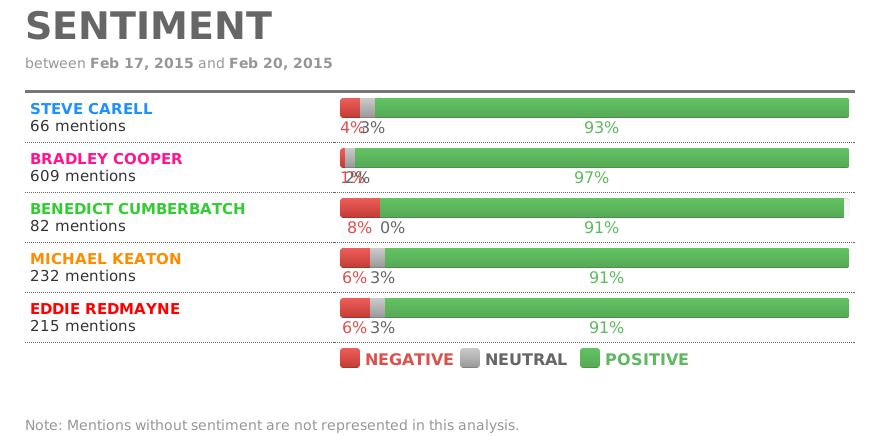 Among the nominees for Best Actor, Bradley Cooper takes a consistent lead on social media. The lead actor commanded 36% of total mentions, with 97% of them positive. It's no surprise that his role in American Sniper hit home for viewers across the web. Eddie Redmayne has also become a household name for his role in Theory of Everything. He commanded 23% of total mentions- 91% of them positive.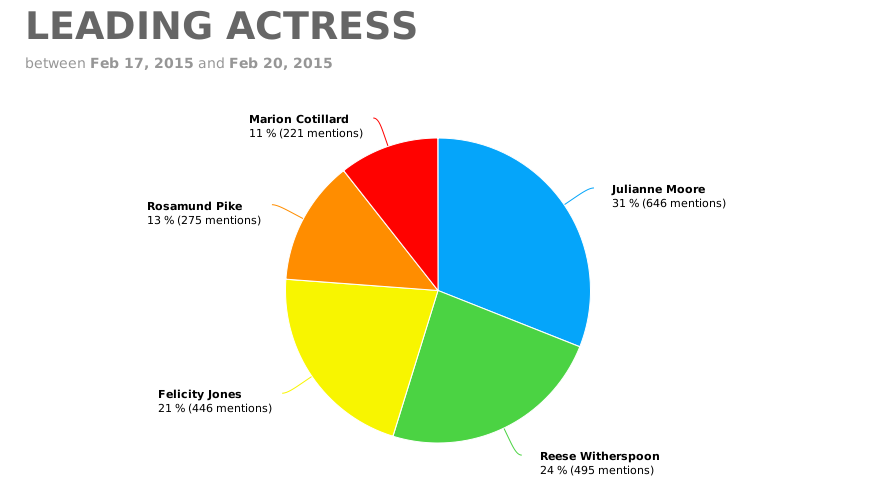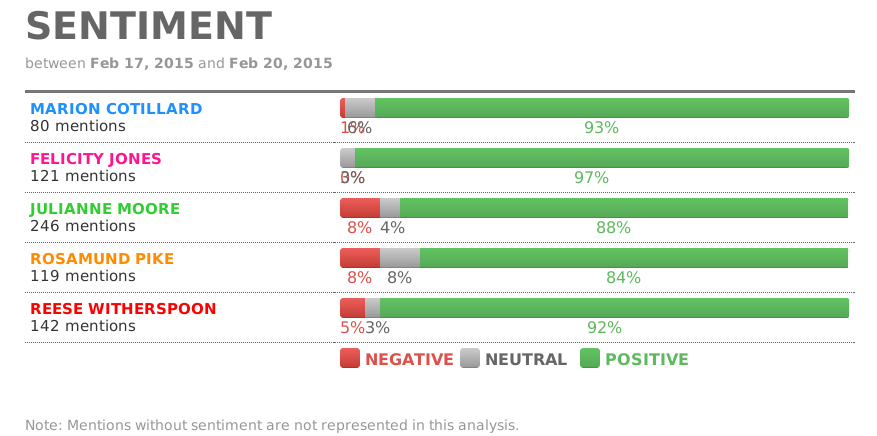 Looking at leading actresses, our analysis shows that Julianne Moore comprises 31% of the conversation, with Reese Witherspoon following at 24%. The sentiment analysis, however, shows that Felicity Jones is perceived most positively with 97% positive mentions. Social Media definitely hasn't made up its mind.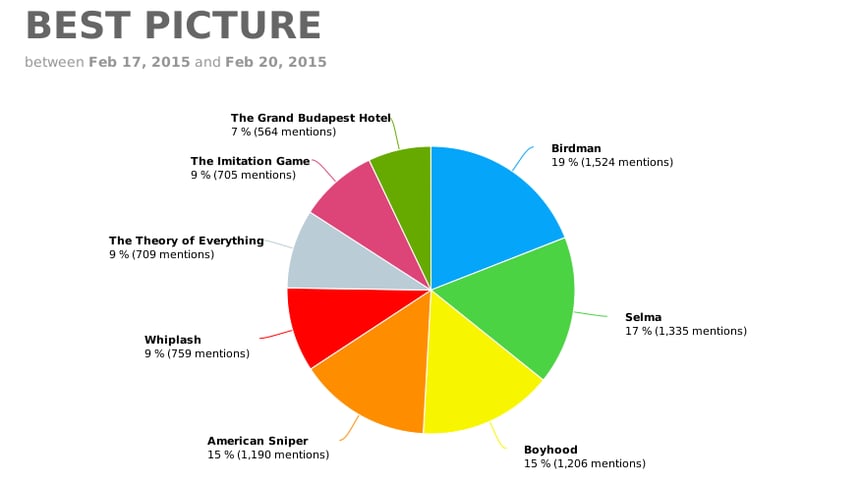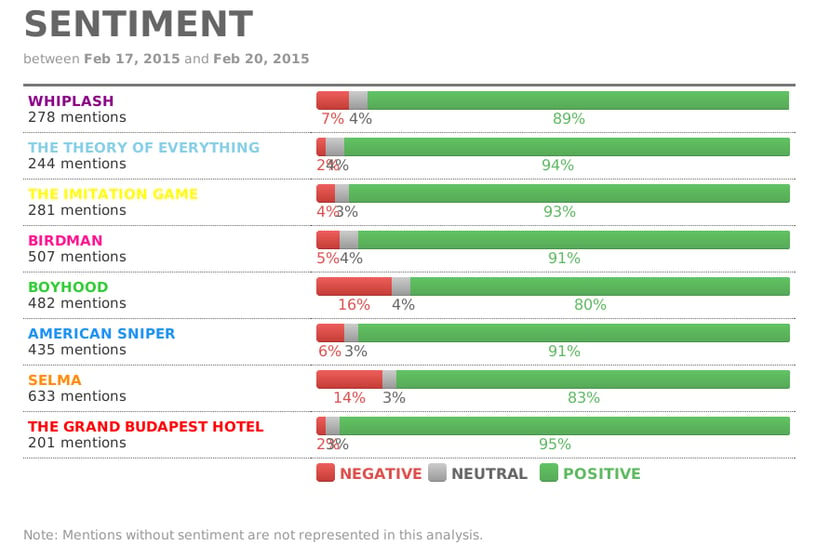 And lastly, mentions about Best Picture are spread across the 8 nominated films. Birdman takes a slight lead at 19% of total mentions, with Selma following closely behind at 17%. A comparative sentiment analysis shows us that The Grand Budapest Hotel takes the lead, with 95% of mentions favorable. Boyhood is a bit more polarizing on social with 80% of mentions positive.
It looks like we're just going to have to wait till Sunday to find out. Happy Oscars from Digimind!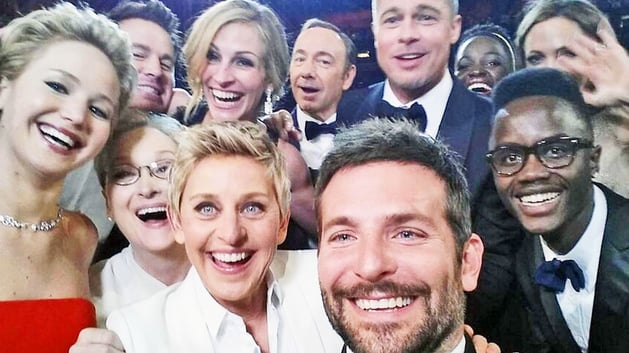 Marketing Manager @digimindci. Passionate about big data & social marketing. Photography, music and hiking lover