For Presidents Day, Incorporate 'Political Listening' Into Your Social Listening.
Other than being known for its great sales, President's Day is nationally recognized as a day to celebrate all U.S Presidents, past and present. Legend has it, America's first President once nobly uttered the phrase "I cannot tell a lie." Over 200 years later, we now have a President with a somewhat malleable definition of the truth, to put it mildly. Consequently, many Americans are at odds with their own Commander in Chief. As a part of that consequence, some brands have been caught in the crossfire. On this day of remembrance, all brands should reflect on the past few months, and evaluate the importance of incorporating political listening as a part of social listening.
As we mentioned in our Valentine's Day case study of Uber, once a brand fools around with Trump, consumers almost instantly fall out of love, and competitors swoop in, hoping to be their rebound.
Most notably, in early February, Nordstrom dropped Ivanka Trump's eponymous line of clothes and accessories—much to the chagrin of her father.
https://twitter.com/realDonaldTrump/status/829356871848951809?ref_src=twsrc%5Etfw
The luxury department store claimed low sales as the reason behind their decision. A closer look at their numbers revealed sales did in fact drop for the Trump brand around the same time the political movement, Grab Your Wallet, urged consumers to boycott any brands, stores, or products associated with Donald Trump.
While Nordstrom was left off the list of retailers to boycott, they figured the Trumps were bad for business, and put forth the necessary effort to stay off that list. Although they waited for sales to decline, there's an easier and more cost effective way for brands to determine whether or not they should cut ties with Trump—and it's right within the realm of social listening.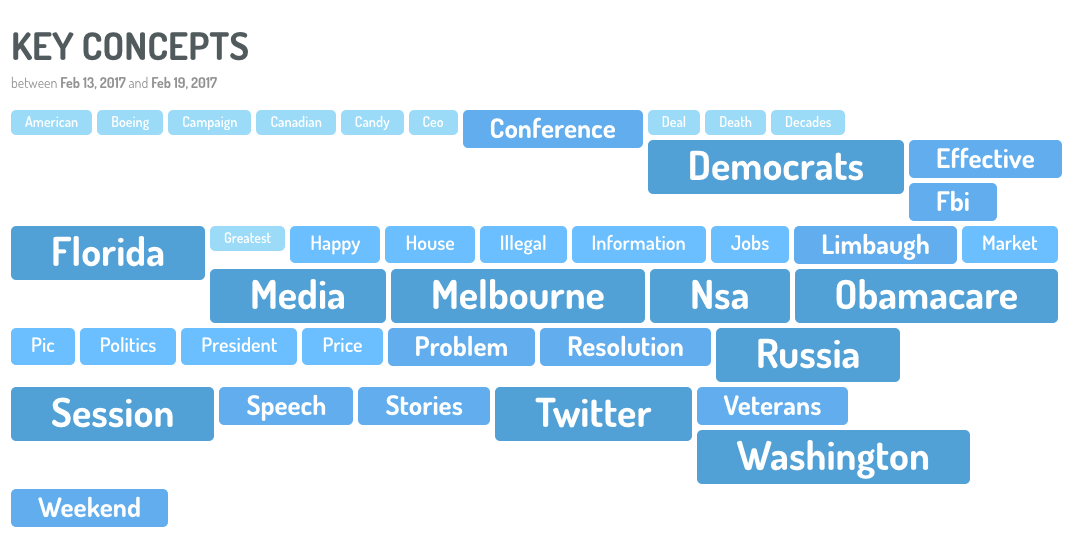 What you see above is a collection of "key concepts" Digimind gathered from tracking Donald Trump's tweets. Concepts like Obamacare, the media, and Democrats.
Let's say you're a brand with a core audience of 18-25 year old women. A simple way of avoiding the type of backlash Uber received would be to immediately take note of Trump's sentiment as it relates to one of those key concepts. For example, his sentiment as it pertains to Obamacare: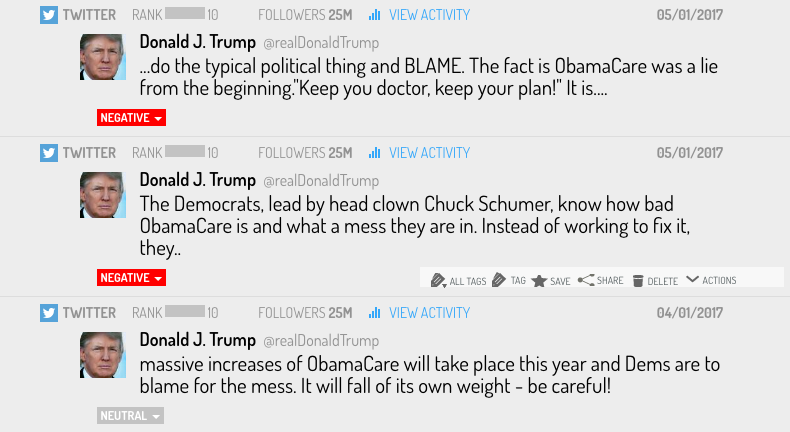 Once you have an accurate assessment of that sentiment, the next step is to cross reference it with that of 18-25 year old women. If you do that with every other key Trump concept—like illegal immigration, or Russia—for your brand, it'll become clear whether or not cutting ties with the President would make the most business sense.
In the end, the analytics will probably be similar to what Digimind discovered when we tracked how folks were tweeting about Trump during the presidential debates.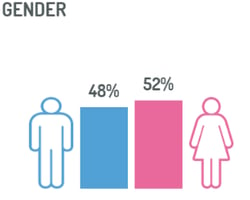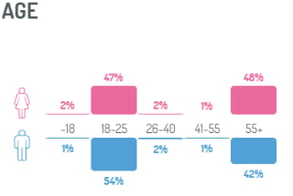 Given how badly Donald Trump lost the popular vote, and how forceful the folks who voted against him have been in boycotting brands he's associated with, it'd be wise to incorporate this type of political listening into your social listening.
Uncover more insights in our first ever Digital Marketing Glossary:
A New York based writer and pop culture enthusiast, Austin is your best bet if you ever want to know about the MTA or Love & Hip Hop.