Top 5 Attributes of a Social Media Manager
The role of a social media manager is multifaceted and requires many different skills. But which qualities are most important and how does a good social media manager stand out from the crowd? We've created a list of the top five building blocks for a successful career in social media management.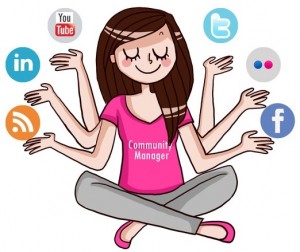 Genuine passion for social media
The role of the Social Media Manager is more than just a 9-5 job. Good Social Media Managers have a genuine passion for social networks and have trouble falling asleep at night without checking their Twitter feed one last time. They live and breathe digital, are full of curiosity about the latest trends and above all truly enjoy their work.
Multi-tasking ability
The ability to tackle multiple assignments at once is a must-have in this career. While a community manager is preparing a Facebook post, he or she is simultaneously monitoring and managing Instagram, Google+ and other communities. Thankfully, there are intuitive monitoring tools to help with that.
Solid understanding of the target audience
A social media manager isn't just an expert in social networks, but also for the industry or topics their communities discuss. They knows how their target audience ticks and how to promote valuable conversations. The communities aren't bombarded with endless sales pushes, rather they are infused with enriching content and comments that generate genuine engagement.
High adaptability
Social media marketing guidelines are constantly undergoing changes, so a social media manager needs to keep up to date and adapt strategies and processes accordingly. Additionally, social media professionals need to balance being both creative and organized in order to create great content and promote it effectively. Working in a team where individuals have various strengths is a big advantage.
The power of persuasion
For community managers, it's not only important to uphold a positive brand image among target audiences, but also to promote the importance of social media internally. The business values and insights gained from social media activities need to be clearly communicated internally, so that as many departments as possible can benefit.
A good social media manager must also be well-equipped. If you'd like to see how a social media monitoring tool can support your social media activities, click here for a demo with Digimind Social today!

Marketing Manager @digimindci. Passionate about big data & social marketing. Photography, music and hiking lover