The (not so) Secret Recipe of a Successful Digital Command Center | Socialize Singapore July 2018
According to Forbes, data-driven marketing leaders are more than six times more likely than laggards to achieve competitive advantage in increasing profitability. With so much data readily available, marketers are hungry for real-time insights. But more is not always better. How should marketers structure data in order to make it relevant and actionable?
Over 60 high level marketers from Singapore's leading brands and agencies, including AXA, Exxon Mobil, Nespresso, and Mullenlowe gathered for an evening of drinks, networking, and discussions on how command centers can help effectively manage and analyze social media data.
Setting the stage, Stephen Dale, Digimind APAC's General Manager spoke about the importance and impact of real-time insights from social listening on marketing strategies. Guest speaker, Intel's Sophie Khang, Digital Optimization and APJ Digital Hub Lead, shared stories about the thrills and perils of managing day-to-day operations in a command center, and tips on how to obtain, use, and disseminate social intelligence from command centres to increase marketing effectiveness and ROI.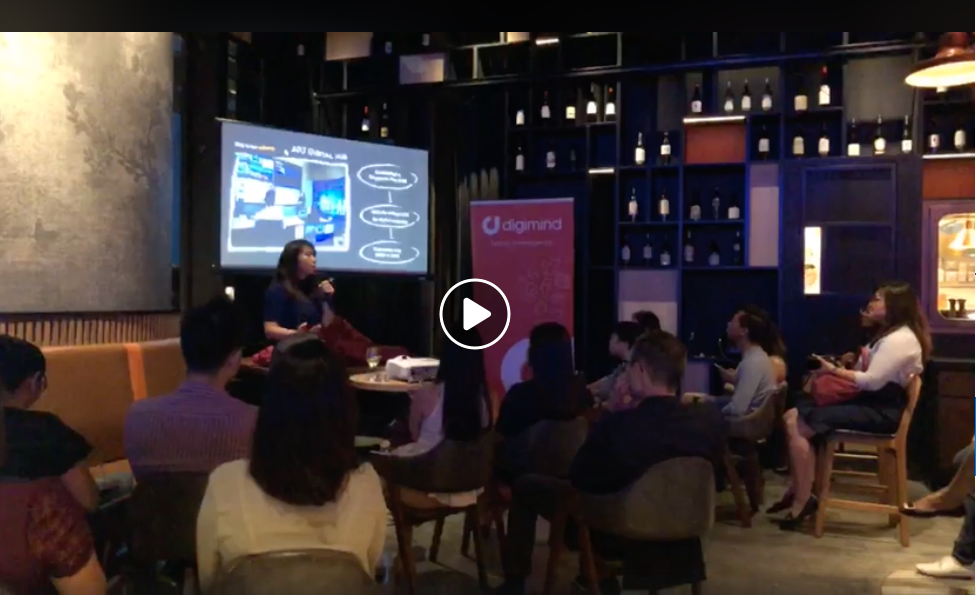 Status Quo
With more data than ever at their disposal, the desire to gain real-time insights into brands, competitors, and consumers has led numerous digitally savvy brands, advertisers and agencies to build their own command centers or social media war rooms.
Social command centers are not cheap to operate, but with the correct setup they can quickly become a highly profitable business unit, providing other departments actionable insights to make data-driven decisions.
Establishing a Social Command Center
At the heart of all social command centers is expertise and technology. Skilled data analysts and technology stacks that support the process of collecting, organizing, analyzing, and disseminating data in real-time are critical to turning big data into smart data.
Knowing which business areas and objectives the command centre will support and measure will also determine the types of data and technology required. AI will also play a large role in categorizing data, and alerting users of any potential trends and crises around their brand.
Key points
Here are a few things to remember when building a command center, or any kind of data center:
Bigger is not always better: The more data you have, the more cleaning you will need to do in order to get relevant insights.
Keep it lean: Improve the cost efficiency of data centers by collecting and keeping only data that is necessary.
Timely insights are more impactful than post-mortem insights: Use real-time insights to spot potential problems as they occur to improve overall performance
Don't be afraid to try new things and fail! Be open to using data to test different types of hypotheses. At the least, you'll learn what data can be used for.
Data is the new oil
Data can be likened to oil. It comes in a raw format, and requires effort to be refined in order to be converted into a useful format. However once you're able to refine your data, you will be able to derive rich insights that can fuel business strategies and drive ROI.
Thanks to our guests and speaker for making #SocializeSG a night to remember! See you at the next #SocializeSG event. In the meantime, check out the Socialize Singapore photo album, and tag yourselves!
See how Digimind Social can help you collect, organise and share data throughout your company!
With a background in marketing and psychology, Sophia loves to analyze and understand consumer behaviour through observations and data. After hours you'll find her practicing yoga or baking sourdough.