The Analytics of Outrage: How Social Media Reacted to United Airlines
Sadly, social media users have become accustomed to seeing horrific and barbaric acts of violence play out on their timelines. Consequently, they've also become accustomed to voicing their outrage through hash-tagged tweets and Facebook statuses. What feels specific to the outrage United Airlines recently inspired, though, is this is the first time in a long time—or perhaps the first time in social media history—one of these viral acts of violence came at the hands of a commercial brand.
As we've written before, the afforded ability to manage a crisis is one of the great benefits of social media listening—a practice that should be paramount for any brand boneheaded enough to wind up in this sort of situation.
On Monday morning, footage of a man being forcibly removed from an overbooked United Airlines flight surfaced and quickly made its way around social media. According to reports, on a Sunday evening flight out of Chicago, a passenger was asked to exit the aircraft due to the lack of available seats. Upon his refusal, United Airlines staff members opted to have law enforcement officials drag him through the aisles and off the plane—rather than simply ask another passenger to give up his or her seat.
Not only did this story break on social media before any major news outlet, it also went viral in a way that inspired tons of chatter online. Here's a quick rundown of the data: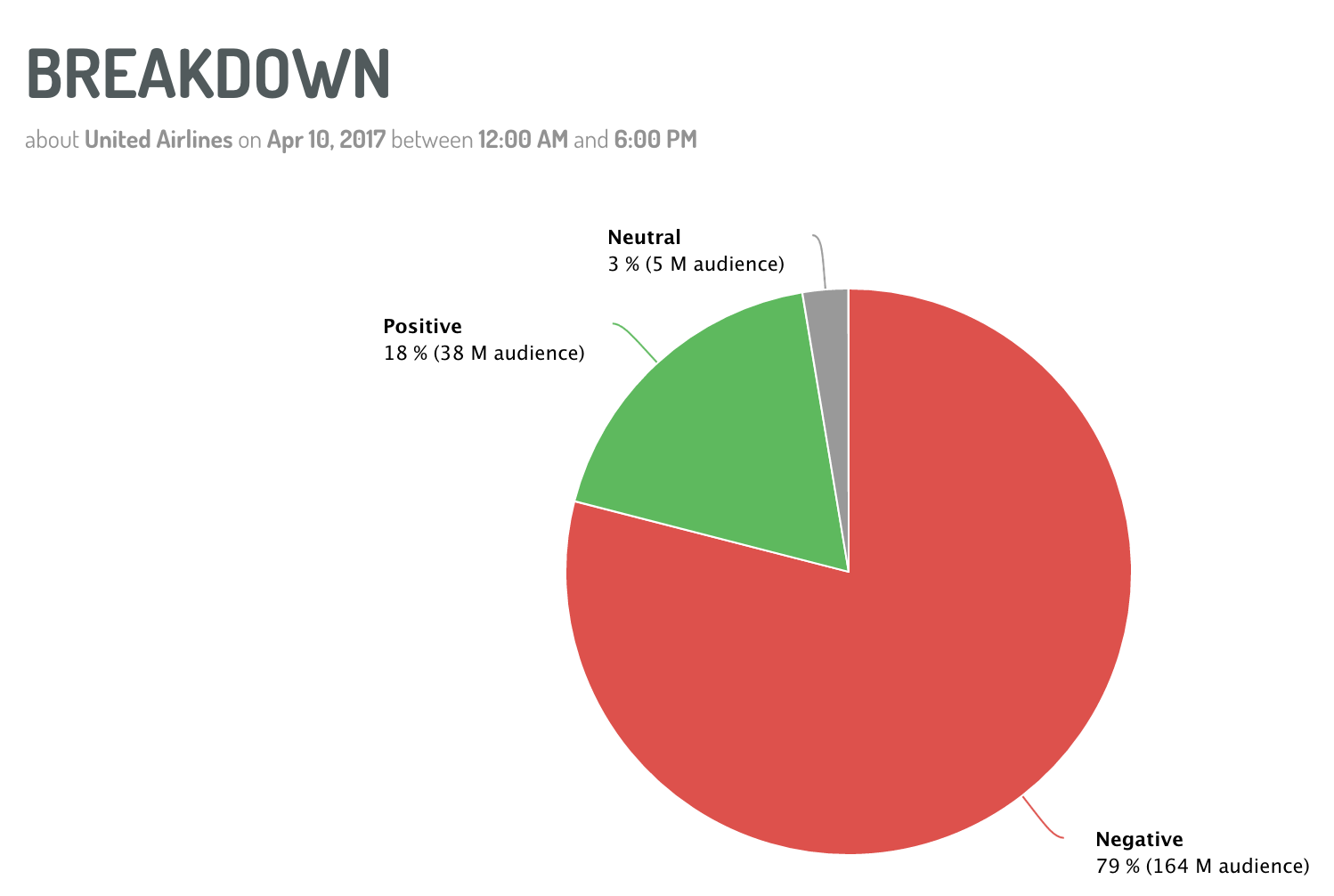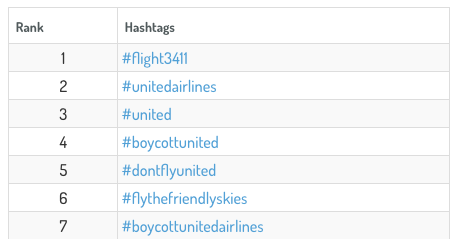 As indicated in this data, online sentiment as it pertains to United Airlines is trending negatively, and will continue to trend that way as more people discover footage of the incident. Among the 128 million users who voiced their opinion, some of the top hashtags were variations of #boycottunited and #dontflyunited—folks have clearly made up their minds. The outrage is unanimous.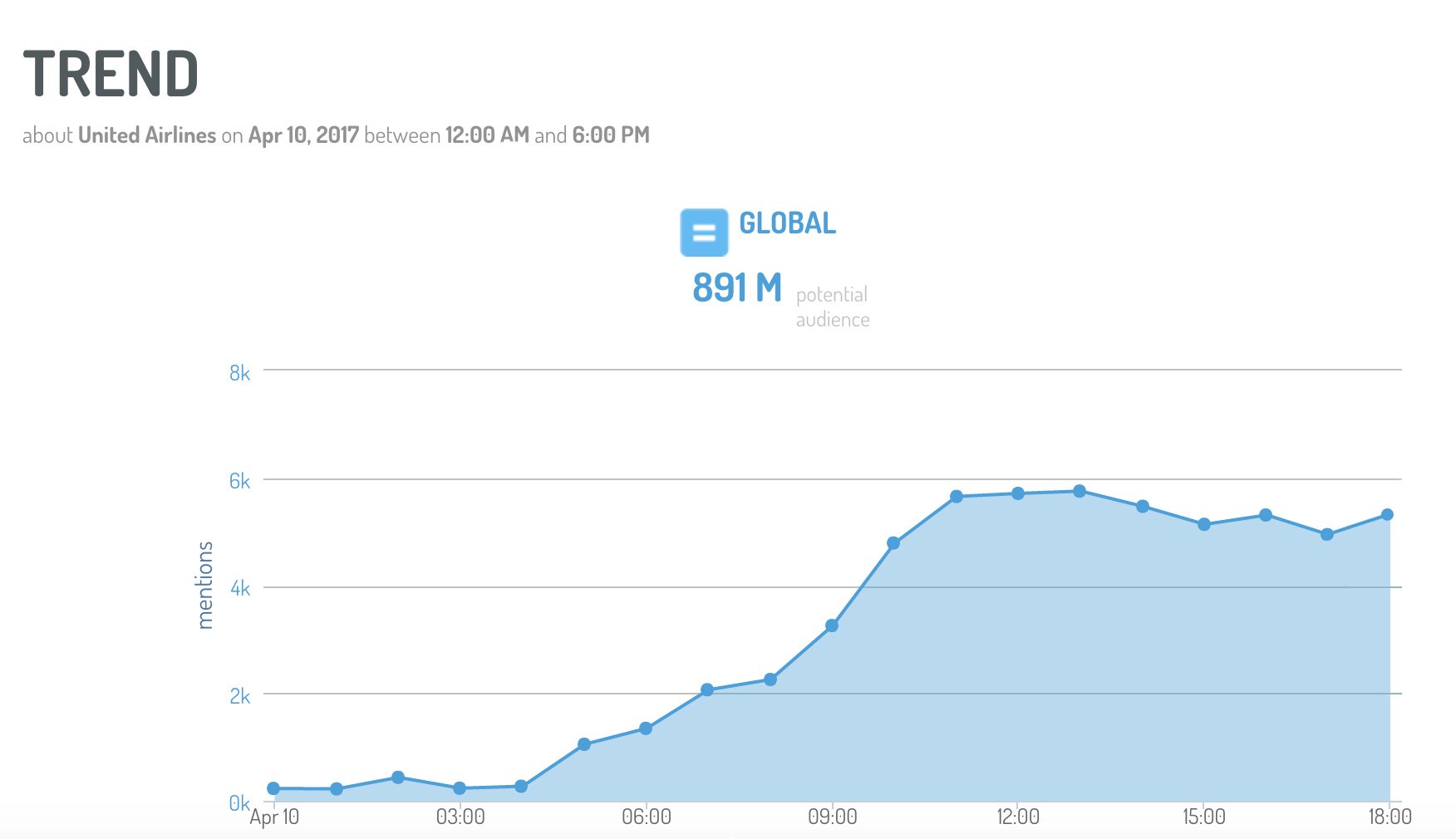 With this type of cut-and-dry crisis, best practice as far as social media listening is concerned is simple—figure out what the consensus of the public is, respond to that specific sentiment with a sincere apology, and properly accommodate whoever was harmed by your actions.
So far, United Airlines has done none of the above. In fact, the statement released by their CEO, Oscar Munoz employs a level of tone-deafness that suggests his airline has yet to open their social listening tool once today—whatever that tool may be.
https://twitter.com/united/status/851471781827420160
In Munoz' statement, there's no hint of an apology, he positions the airline as some sort of victim, and suggests there needs to be further review of the situation, as if there's a possibility the passenger could be the party at fault.
A much better example of how a brand should handle a crisis that finds itself at the intersection of civil decency and consumerism (albeit a way less violent intersection), would be Uber's response to the criticism they received after undermining a taxi strike at JFK in response to President Trump's travel ban.
Even our emoji cloud—a new Digimind feature that collects the most used emojis attached to any one topic—indicates users are either scoffing or laughing at United for their mistake.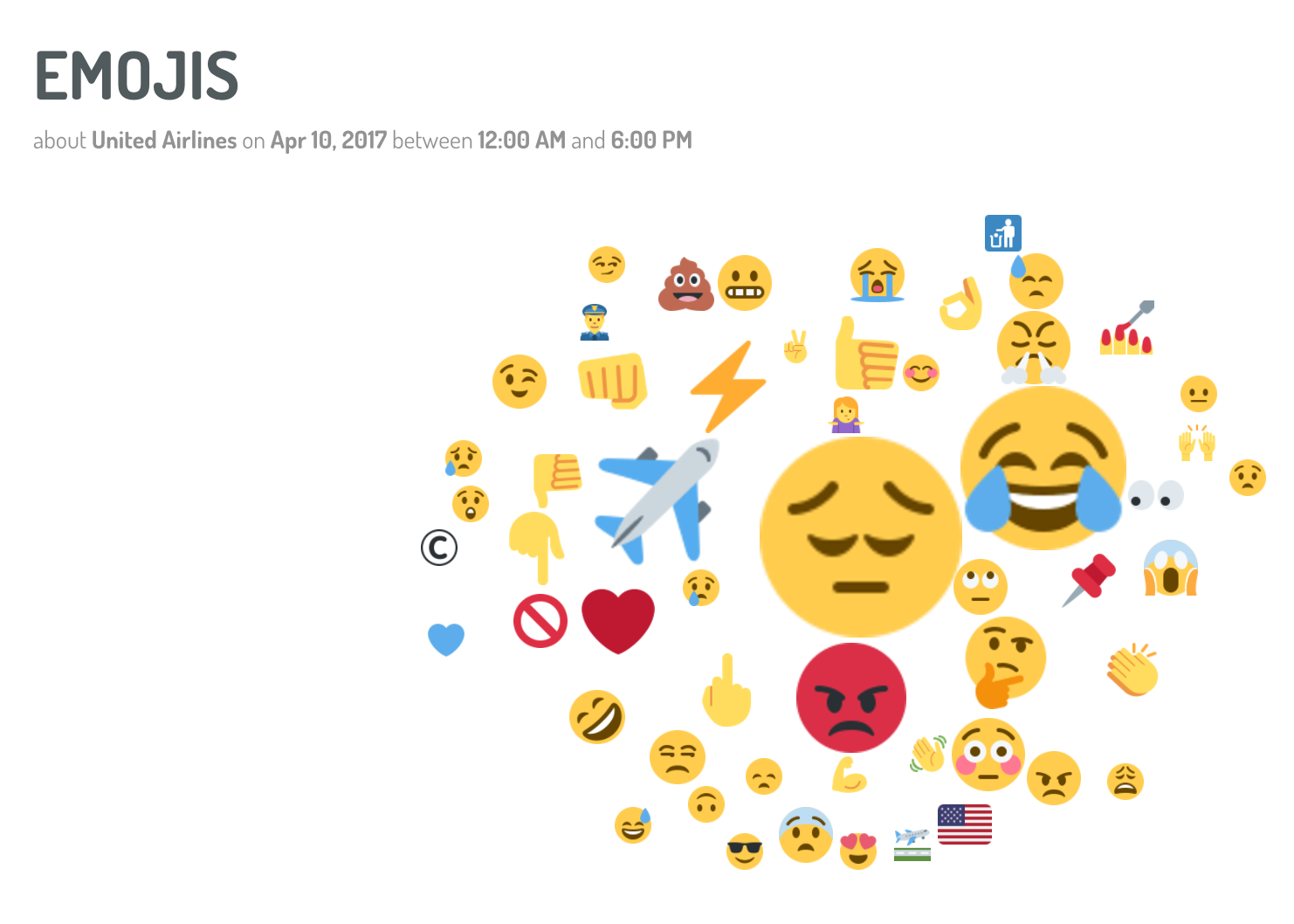 With the right social media listening tools, sincere intent, and a couple of terminations, there's a way out of this crisis for United Airlines—but that way out does not include combative and defensive statements like the one they've offered thus far.


A New York based writer and pop culture enthusiast, Austin is your best bet if you ever want to know about the MTA or Love & Hip Hop.